Tim Robinson: Connemara
Saturday 15 November 2014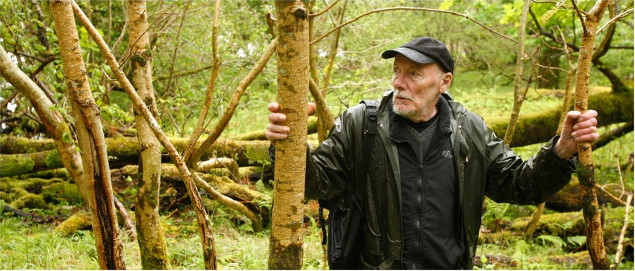 Saturday 15 November, 1:30 – 3:30pm at Triskel Christchurch • National Sculpture Factory Cork Film Festival Collaboration 2014
National Sculpture Factory in collaboration with the Cork Film Festival will present a special screening of Pat Collins' extraordinary documentary Tim Robinson: Connemara. This is to be accompanied by an illustrated talk on the making of the sound-score and soundtrack directly after the screening.
This presentation will include director, Pat Collins, musician and composer, Sue Stenger and sound recordist, John Brennan. The topic of this discussion will focus on the construction of, and methodologies used, in the design of the specific soundtrack/sound score for this film. This will be interspersed with extracts examples from Tim Robinson's writings and clips from the film as well as recordings and compositions from both John and Sue's practices. This event should be of keen interest to sound designers, sound recordists, composers and editors.
Pat Collins: Since 1999 Pat Collins has made over 30 films. He has directed films on a wide variety of subjects including Talking to the Dead on the Irish funerary tradition, Oiléan Thoraí on Tory Island and Abbas Kiarostami – The Art of Living which he directed with Fergus Daly. More recently he completed two film essays on Ireland, What We Leave in Our Wake in (2011) and Living in a Coded Land (2013) as well as short films for the Arts Council of Ireland. He completed his first feature film Silence in 2012, which was released by New Wave Films in the UK.
John Brennan: A former Merchant Marine Engineer, John has travelled to all five continents. An IFTA winning sound recordist he has worked on many productions including Pat Collins' Silence and more recently the western Klondike for TG4. Describing himself as an 'acquisitive' sound recordist, Brennan strives to capture the natural world in its stark reality and beauty.
Susan Stenger: Susan began her career with Brooklyn-based SEM. She soon began making her own work for flute and electronics. In 1986 she co-founded seminal guitar group Band of Susans. In 1996, Stenger formed performance group The Brood and all-bass-band Big Bottom and began collaborating with acclaimed dancer/choreographer Michael Clark. In 2006 she created a 96-day sound installation as part of Soundtrack For An Exhibition in Lyon. She has toured as a bassist with Siouxie Sioux, John Cale and Nick Cave and has been composing and producing soundtrack, installation and performance projects with London writer/filmmaker Iain Sinclair since 2007.
Saturday 15 November 2014
Tobin Street
Cork City
Telephone: +353 21 4272022
Admission / price: Free