Tim Hawkesworth: Sweet Song
Friday 14 November – Friday 19 December 2014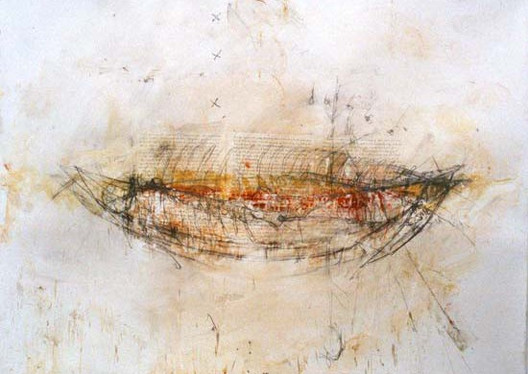 In Ireland the sky harries over you. It is on its way, directed, always moving. It remembers the heat of the great plains of America where it slowed, turning its intensity to a still hum, the vibration of an oven. Then the choppy turns and stormy marriage with the water – the endless Atlantic – and at last those fingers of land, a mere whisper below. It hurries past, pulled by the grandeur of the Alps, looking for something worthy of its scale. On its way it slowed down over the rich land of southern England and France. But Ireland is just a wild place to pass over. Incidental. Small fry. A taste of land after the trauma of endless ocean.
This makes the Irish quick and alert, accustomed to change, to movement, to swollen rivers and changing light. History, poverty and oppression combined to make us migratory. The weather just mirrors this truth. We are blown around. All over the place.
Down in the valleys you see the speed of the sky. It is delineated by the mountains either side – it races by. Higher up on the open heather it surrounds you – you are fully exposed – buffeted. Blown open.
The valley is pulled at by the river – dragging at its banks – carrying off debris – the fallen trees, the loose earth – anything not well rooted. I grew up in this valley, pretty much unschooled, free to be formulated by these forces, my doorway, and my paintings – a way past the confines of myself.
We are all visitors – just stopping by – migrating in consciousness – on the move whether we know it or not. Behind all our great monuments and civilisations and our accumulations of power and wealth, this truth prevails. It colours our achievements with pathos. It leads us to those moments of seeing where the movement of it all catches us up and lays us out. It is here we touch into the source of our creativity. We know it inhabits the older part of our brains. It is old in us. it is origin – source. Our art is not the product of civilisation, of curators, of universities, of canons of learning, of culture. It prefigures it. Drawing is as old as song. It arrived in its earliest manifestations, fully realised. Everything we have, every word we use comes from our creativity, from going out beyond what we know – from raiding the inarticulate – from going below the floor on consciousness.
Tim Hawkesworth
Out beyond our ideas of wrongdoing and rightdoing
there is a field. I'll meet you there.
When the lies down in that grass,
the world is too full to talk about.
Ideas, language, even the phrase each other
doesn't make any sense.
Jelaluddin Rumi (1207-1273)
Translated by Coleman Barks
Born in Wicklow in the mid 1950s Tim Hawkesworth graduated with a B.A. in History and Political Science from Trinity College, Dublin. He then moved to Boston where he graduated with a M.F.A. from the School of the Museum of Fine Arts Tufts University, Boston, MA. Following this Hawkesworth continued to exhibit extensively in the US for the following two decades when he then returned to Ireland to take up a residency at Ballinglen Arts Foundation Fellowship, Co. Mayo, Ireland. Throughout his career Hawkesworth has also continued to give public lectures at the Pennsylvania Academy of Fine Arts and currently runs a series of drawing workshops at the Norristwown Arts Building, Norristown, PA. Solo exhibitions have included Littlejohn Contemporary, New York, 2012, 2011, Taylor Galleries, Dublin 2008, Redbrick, Beverly MA, 2007, Royal Hibernian Academy, 2006. His work is held in the following collections: Irish Museum of Modern Art, Dublin, Dublin City Gallery Hugh Lane, Dublin, Anglo Irish Bank, New York, Brooklyn Museum, Brooklyn NY and Museum of Fine Artds, Boston, MA.
Friday 14 November – Friday 19 December 2014
15 Ely Place, Dublin 2
Telephone: +353 1 661 2558
Opening hours / start times:
Monday 11:00 - 17:00
Tuesday 11:00 - 17:00
Wednesday 11:00 - 19:00
Thursday 11:00 - 19:00
Friday 11:00 - 19:00
Saturday 11:00 - 19:00
Sunday 14:00 - 17:00
Admission / price: Free