Tim Goulding: Patching the Void
Friday 20 February – Saturday 14 March 2015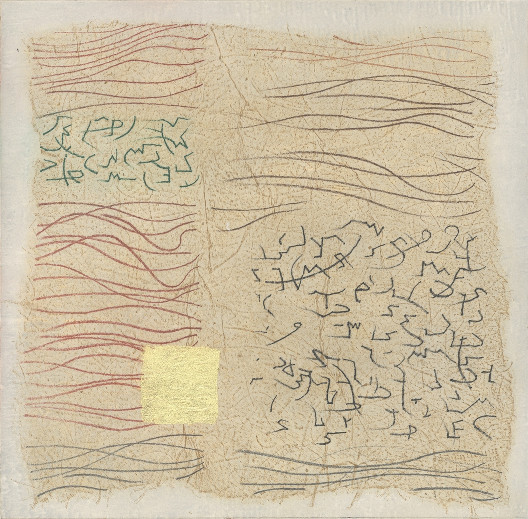 Opening Reception Thursday 19 February, 6 – 8pm
Taylor Galleries is pleased to present Patching the Void, an exhibition marking the launch of a boxed set of etchings and poems by Tim Goulding. The exhibition also features related paintings and drawings.
The Patching the Void suite of six colour etchings is based on unravelling and patching and was printed as an edition of 30 at Graphic Studio Dublin in 2014*. The prints are inspired by energetic particles, veins, threads and used textile surfaces and make sparse poems with textural and calligraphic features with a nod to the Wabi-Sabi aesthetic of Japan. The accompanying poems investigate the path of self-realisation. They speak to the part of humans that loves truth and are unflinching in their acceptance of whatever presents itself; celebrating the sacred in the commonplace.
Born in Dublin in 1945, Tim Goulding grew up in Co. Wicklow and moved to the remote Beara Peninsula in Co. Cork in 1968. Largely self-taught as an artist, his work aims to investigate the contradiction of the simultaneous duality and oneness of the material and spiritual, the figurative and abstract, the scientific and the poetic. Goulding represented Ireland at several international exhibitions in the 1970s and has had solo exhibitions with the Catherine Hammond Gallery, Lavit Gallery and Crawford Art Gallery, Cork. His work has also been included in group shows at the National Gallery of Ireland, Royal Hibernian Academy, Boyle Arts Festival and Éigse Carlow Arts Festival. A member of Aosdána, Goulding's work is represented in many private collections and in the public collections of The Arts Council / An Chomhairle Ealaíon, OPW / State Art Collection, Teagasc, Irish Museum of Modern Art (IMMA), Arts Council of Northern Ireland (ACNI) and the Ashmolean Library, Oxford.
* Edition numbers 1 to 13 include an original poem by Tim Goulding set in letterpress on the same
page as the image.
Image: Tim Goulding: Patching the Void 4, 2014, monoprint, 23 x 23 cm
Friday 20 February – Saturday 14 March 2015
16 Kildare Street, Dublin 2
Telephone: +353 1 676 6055
Opening hours / start times:
Monday 10:30 - 17:30
Tuesday 10:30 - 17:30
Wednesday 10:30 - 17:30
Thursday 10:30 - 17:30
Friday 10:30 - 17:30
Saturday 11:00 - 15:00
Admission / price: Free