The Willows
Thursday 14 October – Saturday 27 November 2010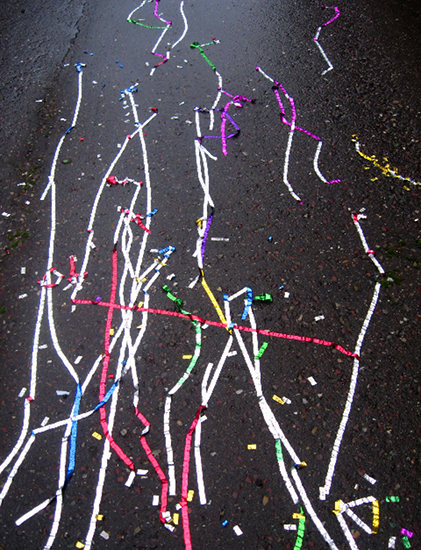 Crawford Art Gallery is delighted to present 'The Willows' – (October 15 – November 27) – an exhibition by Katrin Hornek (Austria), Alana Riley (Canada) and Oliver Jacobi (Germany). 'The Willows' explores possibilities and outcomes drawing on experiences and practice during the artists' three month residency in 2009 in Cork, in partnership with National Sculpture Factory and Pépiniѐres Européennes pour Jeunes Artistes.
Katrin Hornek's practice unfolds in a variety of interventionist strategies, based upon her interest in architecture to focus on counter-intuitive systems of migration. Her work featured in 'The Willows' focuses on the Irish Travellers who have been forced to become settled over the last few decades due to modernisation, urbanisation and strict trespass laws. Working with the Travelling Community in Cork, Hornek explores their changing culture and parallels ideas of freedom professed by Irish society and architecture.
Alana Riley probes the actions of the artist at work and how the notion of the studio space traditionally recalls painting and drawing. Who's Afraid of Red, Yellow and Grey shows the artist from an aerial perspective mopping the studio floor. Whilst alluding to colour-field painting in her performance, Riley comments on general perceptions of the artist and the differering values society places on labour.
Oliver Jacobi's work revolves around a physical manipulation of architectural spatial conditions. His use of materials varies greatly but always manifest themselves in sculptural and architectural interventions, which have a human response and force interaction. For this exhibition, Jacobi has created three mild steel sculptures derived from notionally overlapping triangular pyramids counteracting the traditional galleries in which they are sited.
Catalogue launch and guided tour: Thursday 18 November with Dr Ed Krčma (University College Cork) at 5:30 pm
Please contact Dawn Williams for further information: dawnwilliams@crawfordartgallery.ie
Image: Alana Riley
Thursday 14 October – Saturday 27 November 2010
Emmet Place, Cork
Telephone: +353 21 4805042
Opening hours / start times:
Monday 10:00 - 17:00
Tuesday 10:00 - 17:00
Wednesday 10:00 - 17:00
Thursday 10:00 - 20:00
Friday 10:00 - 17:00
Saturday 10:00 - 17:00
Admission / price: Free