'the soil and the atmosphere'
Saturday 7 May – Saturday 18 June 2011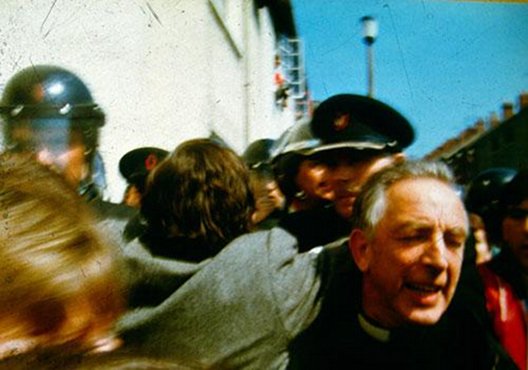 A civil history according to Mervyn Smyth, Sean McKernan, Gerry Casey and others
In 1982, a small group of Belfast based photographers initiated an exhibition of photography to be shown at the People's Theatre in Conway Mill, a community centre in a disused linen mill situated between the Falls and the Shankill. A call for work was sent out, with entry open to "any amateur photographer wishing to explore any aspects of the city or its people". The exhibition was called Belfast Exposed.
Belfast Exposed, as the group itself came to be known, showed work from predominately young, male, working class perspectives from both sides of the divide. Opening the exhibition at the Bank of Ireland Gallery in Baggot Street, Dublin in 1984, Seamus Heaney remarked on the "powerful, democratic feel running through these photographs" which documented a common experience of unemployment, poor housing and economic deprivation, at once intensified by the effects of conflict and sectarian division and alleviated by the gritty humour of working class Belfast life. Through harnessing the power of photography to challenge mainstream representation of community experience Belfast Exposed offered a platform for local people to tell their own stories. Over the years, the group continued to produce and exhibit images taken by participants on community projects as well as their own documentary images of more overtly 'newsworthy' political activity. In the archive, photographs of boys playing football, courting couples and families eating Christmas dinner, sit alongside riots, rallies and political funerals, often on the same contact sheet.
Born out of a strong photo-journalistic ethic, rooted in everyday experience, thirty years on Belfast Exposed remains a space for production, learning and the exchange of ideas, a place where people, politics and photography meet. The Belfast Exposed archive represents the city at a revolutionary moment, when a resilient population carried on with their lives amidst a backdrop of radical change and often harrowing violence. This selection of images from the collection reflects on the power of photography to give individuals a voice and illuminate lived experience within the historical moment. While presenting the photographs and contextual information in a museum-like format under categories of 'City Infrastructure', 'Trades', 'Community Arts and Culture' and 'Key Political Moments', we celebrate the city of Belfast and the people and stories, which shape our understanding of it.
We would like to thank the original photographers – Sean McKernan, Mervyn Smyth, Gerry Casey and all other contributing photographers to the archive. Copyright of the original archive material remains with these photographers and with Belfast Exposed.
Saturday 7 May – Saturday 18 June 2011
The Exchange Place
23 Donegall Street
Belfast BT1 2FF
Telephone: +44 2890 230965
Opening hours / start times:
Tuesday 11:00 - 16:00
Wednesday 11:00 - 16:00
Thursday 11:00 - 16:00
Friday 11:00 - 16:00
Saturday 11:00 - 16:00
Admission / price: Free