The Power of Us
Friday 31 March 2023 – Sunday 14 January 2024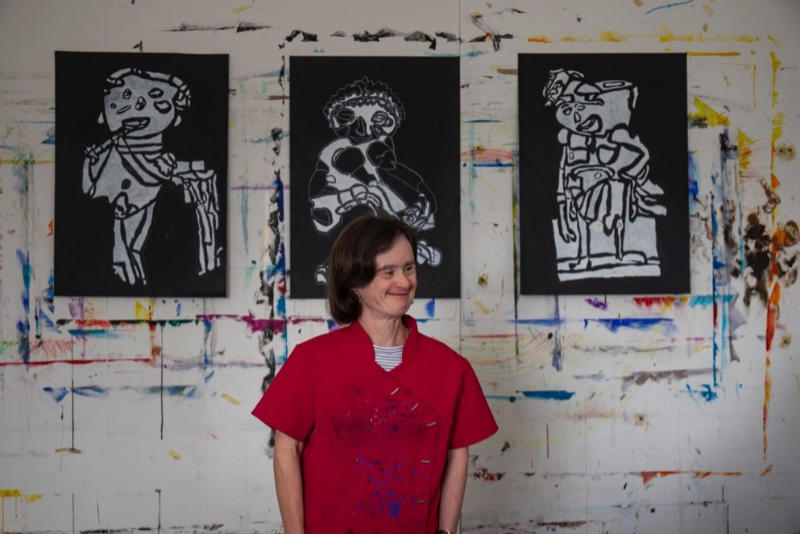 The films in the screening programme The Power of Us tell stories of people who are passionate about what they do. Inspiring and innovative the subjects of these films, shown throughout the year, possess deep knowledge of their occupations. At a time when there exists a suspicion of the expert these films acknowledge individuals who come together with their expertise to make ripples and sometimes waves in our society.
The Power of Us will include works by Lisa Fingleton, Anthony Haughey, Michelle Dea with more to be announced and each film will screen for approximately 6 weeks.
---
Screening until Sunday 7 May
Portraits of the Artists
Clare Keogh
Portraits of the Artists by filmmaker and photographer Clare Keogh features eight of the eighteen artists who work in Crawford Supported Studios – an integral part of Crawford Art Gallery.
Depicting intimate portraits of the working processes of featured artists Ailbhe Barrett, David Connolly, Brid Heffernan, John Noel Kenneally, Mary Rose Marshall, Stephen Murray, Eoin O'Brion and Katie Whelan.
Crawford Supported Studios provide the artists safe studio spaces, art materials, equipment, two long-term studio facilitators, and assistance with transport and communications. It also enables the artists' access to exhibitions, audiences, peers, and further support in terms of professional training and development.
Established in 2018, Crawford Supported Studios are a partnership project between Crawford Art Gallery and MTU Crawford College of Art and Design to support artists originally from Glasheen Art Studio Programme (GASP) founded by Hermann Marbe, and Cúig (Creativity Unlimited Integrated Group) founded in 2008 by Mayfield Arts Centre.
Dedicated studio days take place in the gallery and the college each week.
Over the years the artists have collaborated with L' Arche, Cope Foundation and SECAD to support artist members, nurture individual creative projects and to create artist video portraits. The Studio is outward looking and builds links with organizations, artists, schools, community groups and fellow supported studios.
Crawford Supported Studios are a legacy project which honour and sustain the remarkable work that Artist and Nurse, Hermann Marbe, initiated at the John Birmingham Day Care Centre, Cork, in 2009.
The work of Supported Studio Artists is represented in the National Collection.
Image: Photo of Ailbhe Barrett © Clare Keogh
Friday 31 March 2023 – Sunday 14 January 2024
Emmet Place, Cork
Telephone: +353 21 4805042
Opening hours / start times:
Monday 10:00 - 17:00
Tuesday 10:00 - 17:00
Wednesday 10:00 - 17:00
Thursday 10:00 - 20:00
Friday 10:00 - 17:00
Saturday 10:00 - 17:00
Admission / price: Free