The Postcard Show
Friday 2 December 2016 – Sunday 12 February 2017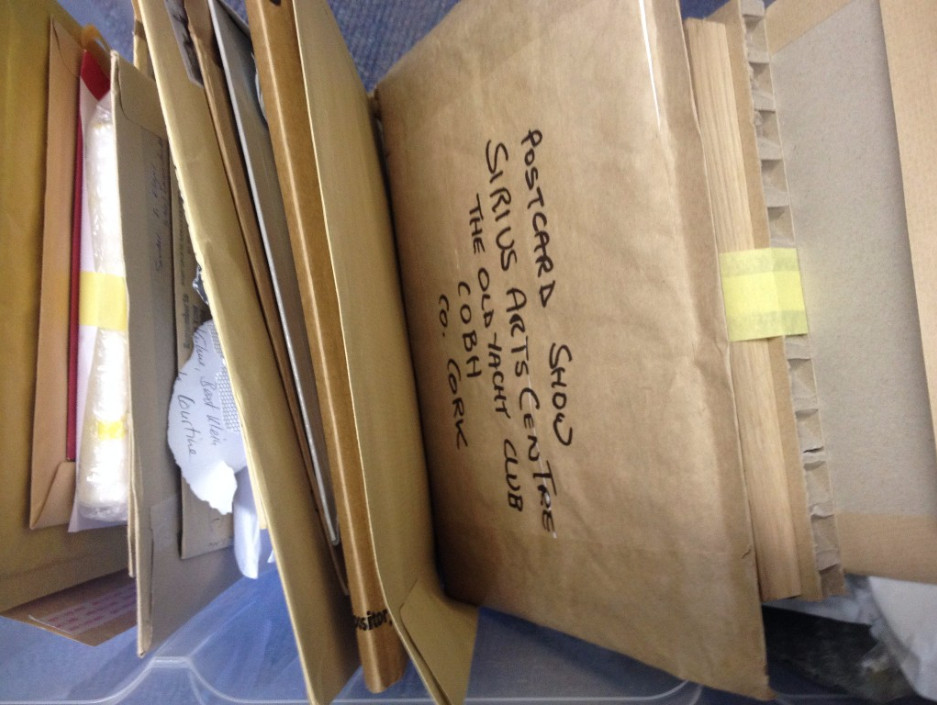 Works available to purchase online from 2 December
Following on from the success of the first edition in 2013, the Postcard Show 2016 is a large fundraising exhibition at Sirius Arts Centre that will showcase unique, small-scale works in a variety of media from emerging and established local, national and international artists.
While the Sirius Arts Centre programme is supported by the Arts Council and Cork County Council, additional financial support must also be generated annually through fundraising initiatives to meet the needs of the programme. The Postcard Show 2016 will play a vital part in this fundraising initiative, thanks to the generosity of many friends, colleagues and supporters from all over the world who have donated artworks for the exhibition. Works from over 150 well-known and emerging artists will be shown in all three galleries and will be available for visitors to purchase from the arts centre or online for a mere €35 each, with all proceeds going towards the artistic programme at Sirius Arts Centre.
The artworks will be exhibited anonymously and can be viewed online through a dedicated website (details coming soon). Each artist's name will be revealed after a purchase. Works will be available for purchase at the opening from 7pm and through the website from 2 December right through until the 22 December.
For more information contact us on +353 (0) 21 481 3790 / info@siriusartscentre.ie
How to take part:
We are still accepting submissions up to 25 November. To take part send us an original artwork in any type of media that can be wall mounted. There is no restriction to the theme or material, we only require that the final piece submitted be a maximum of 21cm at its longest edge. The works will be exhibited anonymously in all three galleries as well as through an online gallery. The artist's identity will only be revealed after a work is purchased.
If you would like to take part, please let us know by email as soon as possible. Sirius Arts Centre endeavours to support artists and build relationships through its projects, exhibitions and residencies programme. Your support and interest is hugely valued, thank you in advance for your time, creativity and support!
Address for postage:
Sirius Arts Centre
The Old Yacht Club
Cobh
Co. Cork
Ireland
Friday 2 December 2016 – Sunday 12 February 2017
The Old Yacht Club
Cobh, Co. Cork
Telephone: +353 21 481 3790
Opening hours / start times:
Wednesday – Saturday, 11:00 – 16:00
Admission / price: Free