The Narrow Gate of the Here-and-Now: The Anthropocene
from Friday 24 September 2021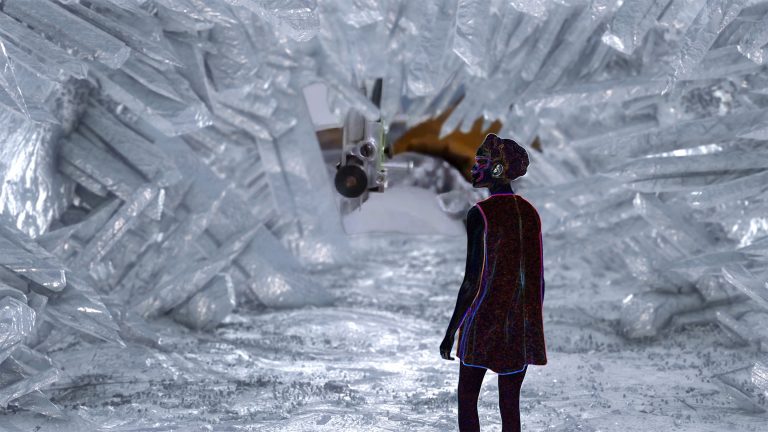 ――― Venue + online ―――
Ongoing debates over the start date of the Anthropocene reveal the politics of time that underpin it. Proposed origins include the 15th-16th centuries – marking the period of European colonisation of the Americas, the establishment of the transatlantic slave trade, genocides of indigenous peoples and mass transfer of plants, animals, peoples, diseases and ideas across continents. Other dates include the Industrial Revolution of the 18th century and the mid-20th century nuclear bomb detonations, in particular the Trinity atomic device detonated in New Mexico on 16 July, 1945. These varied timelines, and the power structures they make visible, trouble the generic 'Anthropo' (human) of the Anthropocene – which suggests that all humans are equally responsible for climate change.
Viewable online here.
The Narrow Gate of the Here-and-Now opens in four phases throughout 2021, with each new chapter exploring the past three decades through different thematic approaches. Chapter One: Queer Embodiment opened on 30 July; Chapter Two: The Anthropocene opens on 24 September and is followed by Chapter Three: Social Fabric on 5 November; and Chapter Four: Protest and Conflict on 19 November. This is the first time that the Museum has been given over entirely to showing the IMMA Collection and will showcase a selection of recently acquired artworks to the Collection through a fund from the Department of Tourism, Culture, Arts, Gaeltacht, Sport and Media. Alongside this, several key loans will augment the artworks in the Collection and Archive. The exhibition is designed by the collaborative architecture and design practice led by Jo Anne Butler and Tara Kennedy.
The exhibition positions IMMA's inception in 1991 as part of a crucial moment in the history of globalisation, within the European context. Around this time, several museums of contemporary art in countries such as Poland and Lithuania were redefining their cultural identities in the context of a post-Communist Europe. These and wider shifts towards globalisation, with the dawn of the internet and rise of neoliberal politics in the West, provide the context for thinking about IMMA's role in relation to the global contemporary.
Image: The Otolith Group, INFINITY Minus Infinity, 2019, Video, 56 min. 51 sec., Collection Irish Museum of Modern Art, Purchase, 2020
from Friday 24 September 2021
Royal Hospital, Kilmainham
Dublin 8
Telephone: +353 1 612 9900
Opening hours / start times:
Tuesday 11:30 - 17:30
Wednesday 11:30 - 17:30
Thursday 11:30 - 17:30
Friday 11:30 - 17:30
Saturday 10:00 - 17:30
Sunday 12:00 - 17:30
Admission / price: Free
Bank Holidays open 12:00 – 17:30.