Alice Maher and Rachel Fallon: The Map
Tuesday 18 October – Sunday 30 October 2022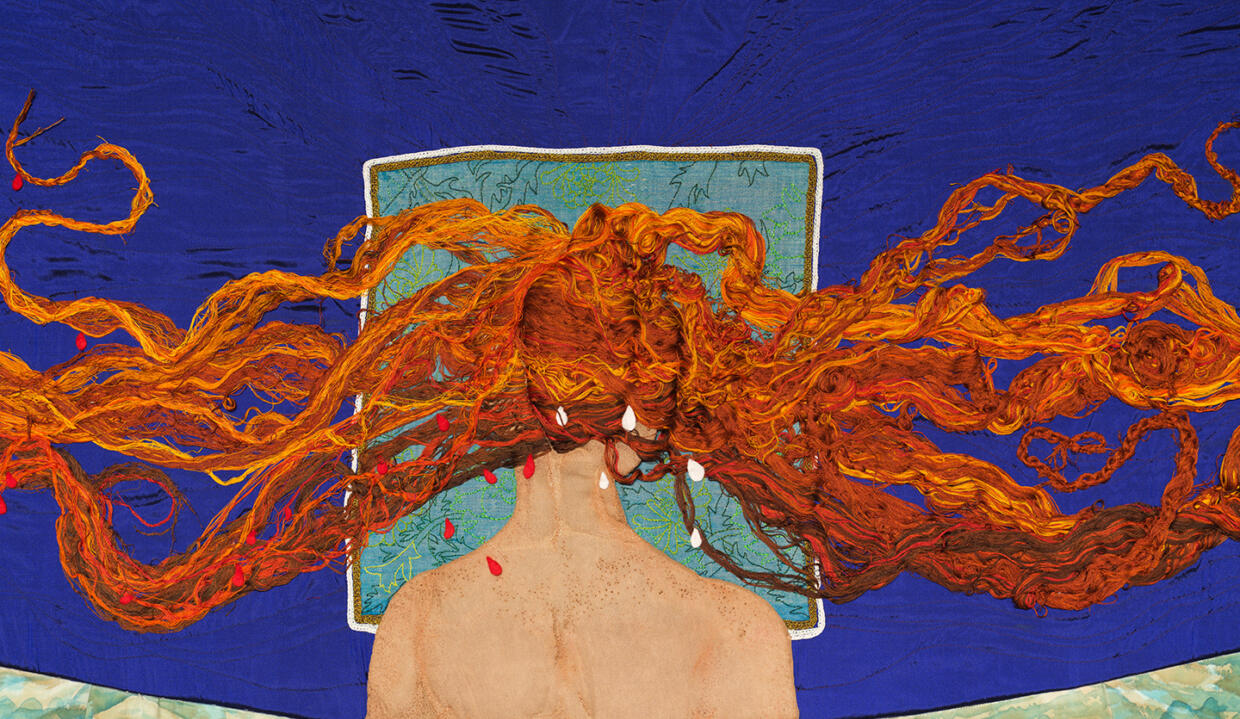 As part of the Hugh Lane's diverse education programme in tandem with Bones in the Attic, The Map, a monumental textile sculpture created by artists Alice Maher and Rachel Fallon will be displayed in gallery 17.
With its own continents, winds, currents, and constellations, The Map draws the viewer in, inviting a reorientation. Its richly worked surface is an epic Mappa Mundi where the structures and languages of cartography are used to imagine and re-imagine the life, legacy, and mythology of Mary Magdalene and her impact on women's lives. An alternative topographic and psychic landscape is uncovered in this witty, complex un-picking of the established narrative of Mary Magdalene.
The Map was originally commissioned by Rua Red as part of the Magdalene Series*, curated by Maolíosa Boyle and resonates strongly with themes explored by artists in our current exhibition Bones in the Attic. This special project The Map @ Hugh Lane Gallery, curated by Jessica O'Donnell Head of Education and Community Outreach, will be accompanied by a series of discursive talks by artists Alice Maher and Rachel Fallon as well as Rua Red director Maolíosa Boyle.
Regarding Maolíosa Boyle's Coffee Conversation on Wednesday 19 October at 11am please see here
To book a place for the In Conversation with artists Rachel Fallon and Alice Maher on Sunday 23 October at 1pm please see here
Further details of We Are The Map to follow.
____
*The Magdalene series features the work of five of Ireland's leading artists Amanda Coogan, Jesse Jones, Grace Dyas, Alice Maher, and Rachel Fallon. They were commissioned by Rua Red in 2018 to create work in response to the history and legacy of Mary Magdalene and her association with the incarceration and institutionalisation of women, and to propose a new world uncurbed by religion, political, or societal doctrine. It is a world viewed through the lens of contemporary feminism and feminist theology.
Tuesday 18 October – Sunday 30 October 2022
Parnell Square North
Dublin 1
Telephone: + 353 1 222 5550
Opening hours / start times:
Tuesday 10.00 - 18:00
Wednesday 10.00 - 18:00
Thursday 10.00 - 18:00
Friday 10.00 - 17:00
Saturday 10.00 - 17:00
Sunday 11.00 - 17:00
Admission / price: Free