The Kingcat of Keshcorran
Friday 21 November 2014 – Friday 13 March 2015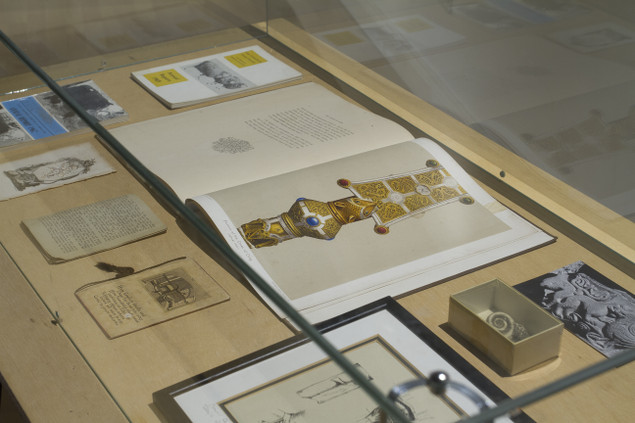 An exhibition by visual artists Sean Lynch & Michael Holly with Roscommon-based ephemera collector Liam Byrne
Roscommon Arts Centre is delighted to present The Kingcat of Keshcorran. The entire ethos of the visual arts programme has been developed with a view to expanding the scope for participation in the arts centre's activities while also initiating relationships with the local population, interest groups and specific communities. The resulting exhibition is a film by Sean Lynch and Michael Holly that will be presented alongside items of local historical and geographical interest from the ephemera collection of local history enthusiast, Liam Byrne. Collecting stories plays a huge role in Sean Lynch's art practice while Liam is the collector of the objects, relics and ephemera that document these stories.
The exhibition begins in the pages of poet and mystic Ella Young's book The Wonder-Smith and His Son, where the main character An Gubbaun Soar roams aimlessly through a stoney landscape. Suddenly, out of the sky, a bag of tools fell to the ground. He instantly became a master stonemason, and travelled to the nearest town, where he carved, upon a window the Kingcat of Keshcorran, "with insinuating grace and with infinite cunning, losing itself at the last in loops, and twists, and foliations and intricacies that spread and returned and established themselves in a mysterious, magical, spell-knotted forest of emblems."
Sean Lynch came across the story when researching the carvings of James O'Shea in Oxford of 1859. Having been rebutted by Oxford authorities for his attempting monkey carvings on the new museum building, O'Shea carved a group of feline-like creatures onto a window at the museum. While the precise details are now lost, one could speculate that O'Shea remembered the story of the Gubbaun, an old folk tale told amongst stonecarvers, and asserted to bring forth evil monstrous cats to the facade of the museum? Liam's collection features images from Roscommon history that might find a kinship with The Kingcat, while Michael Holly's video of summer solstice activity around megalithic sites in the region reveal the belief systems around land and history.
In the gallery space, Liam presents a collection of material, underneath glass cases he salvaged from a Museum refurbishment some years back. One presentaion details the medieval sculpture of the Roscommon Abbey alongside early geological studies of the region and more recent magnetic gradiometry imagery, placed amongst other tangential material such as a piece of the Berlin Wall now in Roscommon. Another case sees county council annual agricultural reports mingle with a fossil Liam found in a carpark in Offaly and an illustration of the Cross of Cong.
Lecarrow resident Liam Byrne has an infectious passion for local history and heritage. This enthusiasm is best reflected in his amazing online resource at www.roscommonhistory.ie. The site is explained on its home page thus: "Roscommon is a fascinating county, steeped in history, a huge amount of which has been written down. This website is an attempt at showcasing the beautiful county of Roscommon and its rich heritage, through the medium of its publications, documents and ephemera. If you are interested in Roscommon local history, house history or family history, (or if you are interested in media studies, material culture or the history of art and design), then please come in."
Michael Holly is a Kerry-born visual artist living and working in Dublin Ireland. He holds a MA in Visual Arts Practice from IADT Dún Laoghaire, and works with various media in parafictional investigations into local and national identities. His most recent solo project; The Remembering Game was exhibited at Siamsa Tíre in Tralee, Co Kerry. He has exhibited extensively in Ireland and abroad, including shows in Canada, the US, Estonia and the UK. Michael is a founding member of the artists collective SITEATION.
www.mickholly.net • www.siteation.com
Sean Lynch (b.1978, Kerry, Ireland) is a visual artist living in London and Askeaton, Limerick. He studied fine art at the Stadelschule, Frankfurt am Main. He has recently held solo exhibitions at Modern Art Oxford and Dublin City Gallery The Hugh Lane. His artworks have been exhibited at the Camden Arts Centre, London, Irish Museum of Modern Art, Dublin, neugerriemschneider, Berlin and Frankfurter Kunstverein,Frankfurt am Main.
In 2015 he will represent Ireland at the Venice Biennale.
Along with Michele Horrigan, he works at Askeaton Contemporary Arts.
www.seanlynchinfo.com •www.askeatonarts.com
About the Visual Arts Programme
This programme has been developed to respond to a period of intense change being experienced by the County. Huge challenges remain such as how to balance the relationship between urban and rural communities, how to safeguard a plurality of ways of life, how to sustain a balanced ecology and agriculture, how to navigate a path between protecting history and promoting economic development. The programme will unfold in multiple acts and through a range of activities including exhibitions, events, talks, symposium and commissions.
The visual arts programme is supported by Roscommon County Council Arts Office and curated by visual arts curator in residence Linda Shevlin. This curatorial residency is funded entirely by the Arts Council of Ireland Curator in Residence Award.
For further information contact: linda@lindashevlin.com
The visual arts programme for Roscommon Arts Centre is curated by Linda Shevlin through the support of the Arts Council of Ireland's Curator in Residence Award.
Image: installation shot (detail)
Friday 21 November 2014 – Friday 13 March 2015
Circular Road
Roscommon Town
Telephone: +353 90 6625824
Opening hours / start times:
Tuesday – Friday 10am – 5pm; Saturday 2pm - 5pm, on performance days only
Admission / price: Free