The Impossible Conversation – Conversation 5: Thoughts on the 'Impossible Conversation'
Saturday 11 January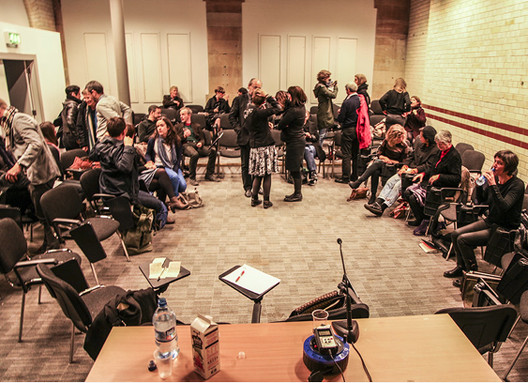 Saturday 11 January , 1 – 3pm • All welcome • Tea, coffee and cakes provided
What is a difficult conversation? What is an impossible conversation? Are there limits to what can be said in social and civic spaces? Why is this? When do we feel we can speak and when do we remain silent? Is there even anything left to say? How can we express ourselves and what do we say when faced with dissenting views? Can we respond to one another without relying on common scripts, polemical positions, reactive responses, silence or numbness? What is the place of the personal story and community stories in civic space? Who may speak and how? How can we learn to listen to one another?
'Thoughts on the 'Impossible Conversation' is the last of a series of public conversations exploring questions raised by the exhibition 'When I Leave These Landings' by Jonathan Cummins which is currently on exhibition in the Shirt Factory, Patrick Street as part of Void Sites for the 2013 Derry~Londonderry City of Culture. See below for further information on the exhibition.
Contributors will offer a series of interventions consisting of short statements or comments addressing the theme. Attendees are encouraged to contribute by offering a pre-prepared short statement that speaks to the theme. The focus of the event is on listening. Contributors to include Jonathan Cummins, Siun Hanrahan, Brian Maguire, Bernadette Devlin McAliskey, Declan McGonagle and Aislinn O'Donnell (text contributions by Bassam El Baroni, Omar Berrada and Declan Long)
Previous discussions at NCAD Gallery and Dublin City Gallery The Hugh Lane considered a number of questions including: the difficulty of sustaining encounters and dialogues, in particular when participants hold extreme and/or conflicting points of view; the role of art and public institutions in creating spaces for potentially difficult conversations; and the social challenge of listening to, trying to understand and absolutely perhaps disagreeing with another's position, yet staying with the conversation. This event creates a space for people to offer their thoughts on the idea or concept of 'An Impossible Conversation' or 'The Impossible Conversation'.
You can download further information on The Impossible Conversationhere.
Conversations programme and symposium convened by Dr. Siún Hanrahan (formerly NCAD) and Dr Aislinn O'Donnell, Mary Immaculate College, Limerick. Shirt Factory event convened in collaboration with Maoliosa Boyle, Void.
Saturday 11 January
Admission / price: Free
Shirt Factory, Void, Patrick Street, Derry