The Human Heart
Saturday 18 July – Saturday 22 August 2020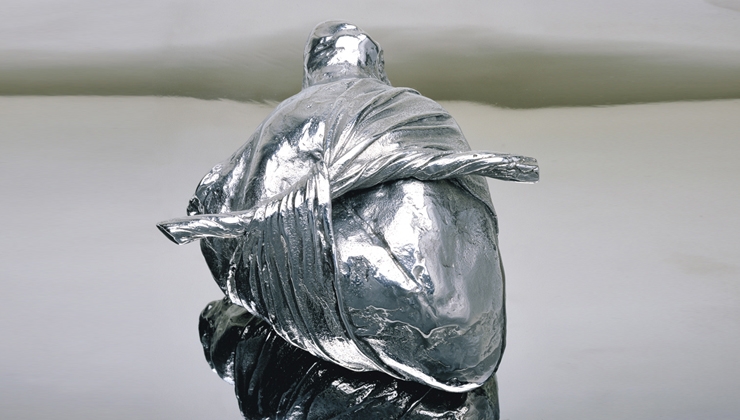 ――― In venue ―――
Four iconic works: Brian O'Doherty, Portrait of Marcel Duchamp; Alice Maher, Collar; Andrew Folan, Flying Heart and Cecily Brennan, Bandaged Heart, form the starting point for this exhibition.
We invited a further 20 artists to respond to the subject with new or existing work.
An essay by Catherine Marshall, former head of collections at IMMA accompanies the exhibition, an extract of which is below.
'What shall I do with this absurdity'? the poet William Butler Yeats cried and went on to reveal that the absurdity in question was his own heart, trapped in an ageing body:
O heart, O troubled heart — this caricature,
Decrepit age that has been tied to me
As to a dog's tail? [1]
Yeats was dealing with serious but personal demons – worries about passion and imagination frustrated desires to achieve things that he feared impossible. He was not locked down or worried about pandemics, and indeed neither was Graphic Studio Gallery when they first mooted the idea for this exhibition many months before the first signs of Covid 19 were named and identified. Yet in addressing both human mortality and passion, Yeats pinned down precisely the scientific and emotional drivers that have animated lives on a global scale since the beginning of this year. The ongoing experience of living, working and trying to protect ourselves and those we love has placed great demands on artists and their values as well as on the wider society. We are pulled between a backdrop of medical and scientific reports about the status of the virus and the need for artistic expression to give meaning to what it is doing to us.
While we oscillate between science and something more fantastical but emotionally charged it is reassuring to know that artists have been doing just that for generations, and when it comes to the heart, the two can never be fully separated. Brian O'Doherty's Portrait of Marcel Duchamp, one of a series of cardiographs from the 1950s, emphasises the point that the heart responds to different stimuli in different ways, speeding up and grinding to a halt as experiential stresses dictate, and constantly changing with the mood or the moment, so no single cardiograph defines the man. Many of the artists in this show follow O'Doherty's lead, proferring images of the heart that connect man to nature or science, or both (Ruth O'Donnell, Rowena Quill, Sarah Roseingrave, Niall Naessens, Jack Barrett, Vaida Varnagiene, Niamh McGuinne and Jenny Lane).
Cecily Brennan and Andrew Folan stress the heart's physicality alongside its vulnerability. Brennan's three dimensional Bandaged Heart from the 1990s' encases the form in a precious metal and ties it into a knotted bandage that suggests feeling rather than cure.
Thomas Barron and Gypsy Ray's Untitled (heart), their last collaborative work before Gypsy's untimely death from cancer at the start of the lockdown take an abstracted look at the heart, built up of Thomas's drawing of multiple life cells, encased in a protective painted halo by Gypsy.  And it is also the abstract emotional qualities of the heart that are presented by Mary Fitzgerald, Anna Maye, Yoko Akino and, cooled to background wall paper by Tom Phelan and the flat colours of advertising by Maser.
– Extracted from an essay by Catherine Marshall, July, 2020
The complete text will be available on our website by the 18th of July.
---
[1]W..B. Yeats, opening lines of 'The Tower', 1926
Alice Maher
Brian O'Doherty
Cecily Brennan
Andrew Folan
 
Mary A. Fitzgerald (Blackchurch Print Studio) 
Oona Hyland (Graphic Studio Dublin) 
Sharon Lee (Graphic Studio Dublin)
Shane O'Driscoll (Cork Printmakers) 
Ruth O'Donnell (Graphic Studio Dublin)
Geraldine O'Reilly (Graphic Studio Dublin)
Tom Phelan (Black Spot Press, Vienna, former master printer at Graphic Studio Dublin)
Helen O'Sullivan (Graphic Studio Dublin)
Yoko Akino (Graphic Studio Dublin)
Anna Maye (2019 NCAD fine print graduate)
Niall Naessens (Graphic Studio Dublin)
Niamh McGuinne (Graphic Studio Dublin)
Rowena Quill (Limerick Printmakers)
Jenny Lane (Graphic Studio Dublin)
Jack Barrett (Graphic Studio Dublin)
Vaida Varnagiene (Graphic Studio Dublin)
Sarah Roseingrave (Cork Printmakers)
Maser (GSD, made in 2017 through the visiting artist scheme)
Kelvin Mann (Master printer at Stoney Road Press)
Stephen Lawlor (Graphic Studio Dublin)
Melissa Ellis (Graphic Studio Dublin)
Thomas Barron & Gypsy Ray 
Image: Cecily Brennan: Bandaged Heart
Saturday 18 July – Saturday 22 August 2020
off Cope Street
Temple Bar, Dublin 2
Telephone: +353 1 679 8021
Opening hours / start times:
Monday 10:00 - 17:30
Tuesday 10:00 - 17:30
Wednesday 10:00 - 17:30
Thursday 10:00 - 17:30
Friday 10:00 - 17:30
Saturday 11:00 - 17:00
Admission / price: Free
Through the Arch off Cope Street (behind the Central Bank)