The Human Animal
Thursday 13 May – Friday 16 July 2021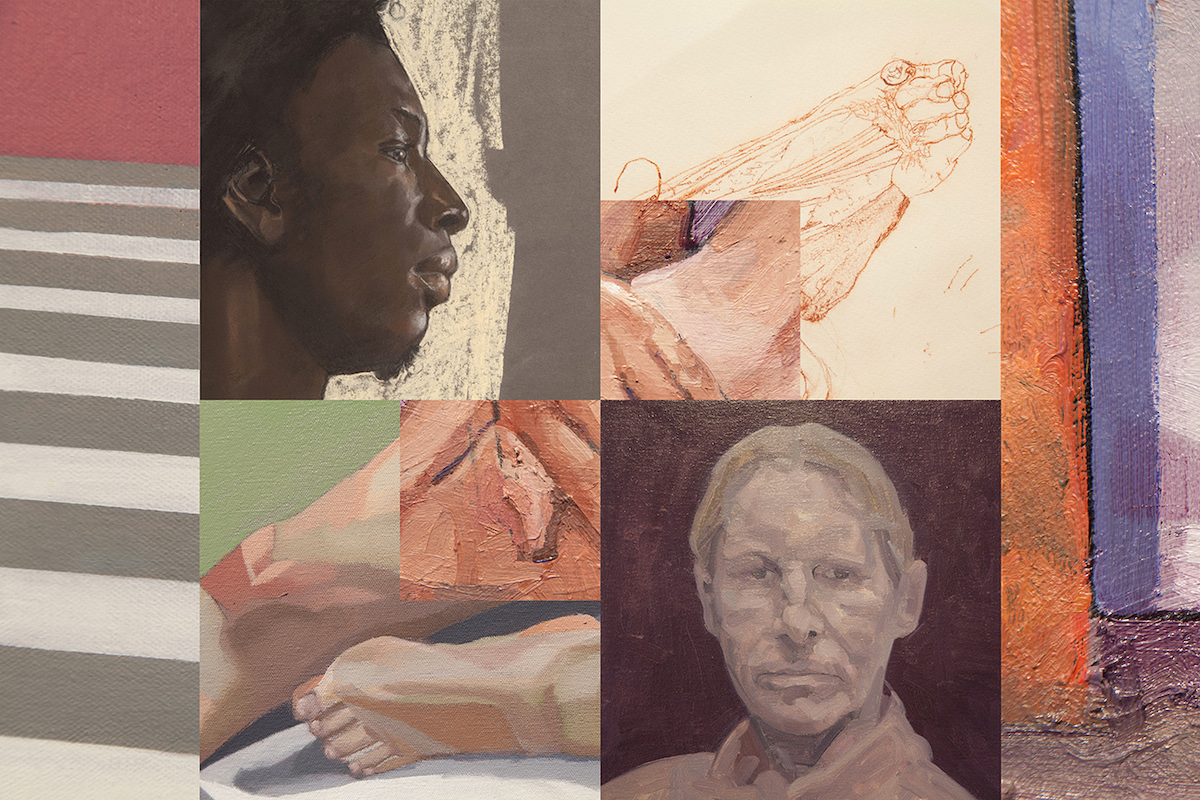 ――― Venue + online ―――
David Barrett, Lorraine Cooke, Stephen Doyle, Megan Eustace, Eileen Healy
Available online now, here. See it 'in the flesh' from 25 May, by appointment only 10am – 5pm Tuesdag– Friday. To arrange a visit please email elaine@backwaterartist.ie in advance. Walk-up requests by email or phone (021 4961002) cannot be guaranteed.
The Human Animal is an exhibition of artwork by Backwater studio members David Barrett, Lorraine Cooke, Stephen Doyle, Megan Eustace and Eileen Healy, curated by Backwater Studio Coordinator Brian Mac Domhnaill. The exhibition features paintings and drawings derived from the practice of life drawing and portrait painting and focusing on the materiality, vulnerability and strength of the human form.
Drawing and painting have formed the core of the diverse range of artistic practices supported by Backwater over the last three decades. This exhibition celebrates the strong tradition of portraiture and life drawing at the studios, from traditional process-based approaches to more contemporary modes of working.
David Barrett is a painter working directly from human subjects on an on-going basis, his art practice having three overlapping areas: the clothed figure, nudes and 'religious paintings'. His work is driven by the challenge of representing the human form in paint and this puts the nude at the centre of his practice. Lorraine Cooke, who is primarily a printmaker, uses drawing as the foundation for all her work which also extends into painting with an emphasis on portraiture. Stephen Doyle's work references queer identity and queer culture through painting and installation. In his paintings the artist seeks to represent members of this community in a medium that historically excludes or obscures their sexual identity. Through her drawing practice Megan Eustace expresses the materiality of the human experience and believes that drawing's ontological nature allows us to perpetually encounter the unknown of that experience. Eileen Healy is predominantly a figurative artist who works mainly in pastel and oil. The paintings she creates are very direct, honest and strong portraits of people who sit for her in her studio.
Further insights into the artists and the work will be published through Backwater's social media channels throughout the course of the exhibition.
The Human Animal, Backwater's 2021 artistic programme is supported by an Arts Council of Ireland Project Award and through the Cork City Council Project Scheme.
Events Schedule:
22-26 Feb: The Human Animal Screenings – Art Short – Online event – YouTube Links
1-5 Mar: Paul Carroll | Redd, featuring Chris Moody – Art Short – Online event
8-12 Mar: Helen O'Shea & 'Natureculture reading' – Art Short – Online event
15-19 Mar: Carolyn Collier | In the making – Art Short – Online event
22 Mar-9 Apr: Carol Anne Connolly & Fiona Kelly | Below, and Time Between – Online event
9 Apr – 7 May: Katrīna Tračuma | Beasts
14 May – 16 Jul: The Human Animal | David Barrett, Lorraine Cooke, Stephen Doyle, Megan Eustace, Eileen Healy
10 Jun – 9 Jul: Padraic Barrett | The Engineering of Consent – Offsite event
30 Jul – 27 Aug: Beyond Survival | Eimearjean Mc Cormack, Lynn Marie Dennehy, Peter Nash, Hehir & Noonan. In association with Cork Printmakers. 
10 Sep – 8 Oct: Deirdre Frost
14 Oct–12 Nov: Helen Farrell | Fetter
Thursday 13 May – Friday 16 July 2021
Backwater Artists Group
Wandesford Quay, Cork
Telephone: +353 21 4961002
Opening hours / start times:
During exhibitions: Tuesday to Friday 10am – 1pm, 2pm – 5pm
Admission / price: Free