The Hodges Effect
Monday 4 October – Monday 11 October 2021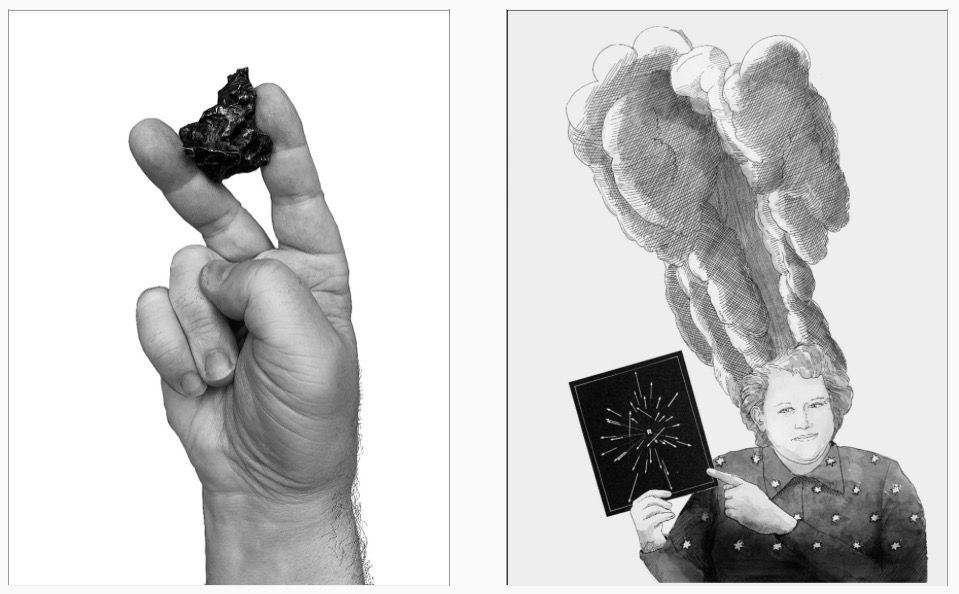 ――― Offsite ―――
In recognition of WORLD SPACE WEEK (October 4th -11th) an international team of artists and scientists celebrate Ann Hodges and begin a campaign to lobby the U.N. for an international meteorite awareness day. Billboards, free public art/science lectures, and performances and letter-writing activism are all included throughout Ireland, the U.K., and the U.S.
THE HODGES EFFECT (Miller/ Taylor 2021) can be described as an existential crisis of being that may occur after a sudden collision between a Homosapien subject and extra-terrestrial materials. The Hodges Effect is an emerging creative concept in the domain of Homosapien encounters and current responses to environmental change.
On November 30, 1954, 34-year-old Ann Elizabeth Fowler Hodges (Alabama, USA), was struck by a meteorite while sleeping. The meteorite crashed through the roof of her home in Sylacauga, Alabama, bounced off a radio, and hit her on her hip.
Despite being bruised and shaken by the incident, she survived and simultaneously became the first and so far, only recorded human to be directly stuck by an extra-terrestrial object. For Ann Hodges, outer space suddenly became jarringly present – close enough to forcibly impact someone in the privacy of their own home.
The Hodges event provides the backdrop to recognise the important role that meteorites and cosmic collisions in general have played in the evolution of our planet and ourselves. Just as one collision changed Ann Hodges world, countless collisions continue to shape our world.
On 4 October 2021, a series of futuristic billboard artworks advertising "The Hodges Effect" will appear in locations around Cork City, Ireland. Conceived by artists Sean Miller (U.S.) and Sean Taylor (Ireland) in collaboration with designer Connie Hwang (U.S.) the billboards will herald a publicity campaign, utilising artworks, zines, panel discussions, lectures, a letter-writing campaign, and live performances to raise awareness about the newly discovered condition known as "The Hodges Effect".
A virtual panel discussion is scheduled at Blackrock Castle Observatory and the National Sculpture Factory of Ireland for October 7th at 7pm (Dublin time) will include Valerie Byrne, Dr. Julia Cartwright, Jade Dellinger, Connie Hwang, Sean Miller, Dr. Niall Smith, and Dr. Sean Taylor.
Click here to access the livestream on 7th October at 7PM
The project is supported by the National Sculpture Factory of Ireland, Blackrock Castle Observatory, Cork, University of Alabama, USA and the University of Florida, USA as part of the celebration of World Space Week 4th -11th October.
Monday 4 October – Monday 11 October 2021
Albert Road, Cork City
Telephone: +353 21 4314353
Admission / price: Free