The Collector's Eye
Thursday 14 October – Sunday 21 November 2010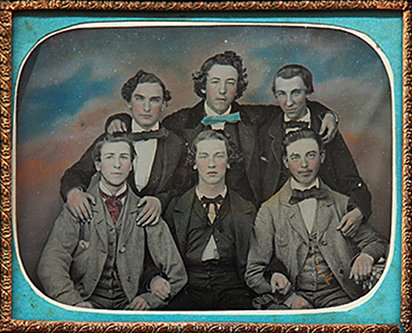 Original vintage prints from the Sean Sexton Collection
This fascinating exhibition offers an intriguing glimpse into Sean Sexton's photography collection – one of the finest and most extensive held in private hands today. It provides a rare opportunity to view some of the earliest photographic records ever made in Ireland as well as extremely rare early daguerreotypes and ambrotypes. In addition, it includes an eclectic range of work, from fanciful 1910's early flight through to dramatic images taken by soldiers in WW2. With over 100 original vintage images on display, the exhibition charts one man's passionate journey through photographic history.
One of the many highlights is a selection of original works by the English gardener and photographer Charles Jones (1866-1959). Jones' photography was unknown until 1981 when Sean Sexton discovered a trunk containing several hundred turn-of-the century photographs at Bermondsey market. These simple studies of vegetables and flowers anticipate the modernism of photographers such as Edward Weston and Karl Blossfeldt. Now acknowledged as works of genius, Jones' photographs have been shown in many prestigious exhibitions and are valued at thousands. This is the first time they have been exhibited in Ireland.
For Sexton the photograph does not merely illustrate written histories. "Photography has a voice in its own right". This eclectic collection raises questions about how photographic histories are collected, mediated and understood. It includes rare original works from the post-Famine era. During this time, photography was primarily the preserve of the rich, but Sean Sexton has made it his mission to uncover the faces and places of the ordinary people. Images such as 'Unknown Labourer' (c1858) powerfully reveal the shocking poverty and social inequalities of the era, while at the same time they underscore the dignity of the individual.
Public Talk: Dr Justin Carville will talk about the Sean Sexton Collection on Wednesday, October 27th at 1.15pm. All welcome, admission is free.
About Sean Sexton: Born in Co Clare in 1946, Sean Sexton emigrated to London, where in 1973 he acquired his first Irish historical photographs. His collection is still growing and now includes over 20,000 images, documenting every aspect of Ireland's past and illustrating the development of the photographic art form. His books include 'Ireland – photographs 1840-1930, introduction by J.J. Lee (1994); 'The Plant Kingdoms of Charles Jones' (with Robert Flynn Johnson) (1998); and 'The Irish' Introduction by Christine Kinealy (2002).
The exhibition was curated for the Gallery of Photography by Trish Lambe & Tanya Kiang in collaboration with Sean Sexton.
Image: Group of young men, Grafton Street Studio of James Robinson. Ambrotype Print c.1858 from the forthcoming exhibition
Thursday 14 October – Sunday 21 November 2010
Meeting House Square
Temple Bar, Dublin 2
Telephone: +353 1 6714654
Opening hours / start times:
Tuesday - Saturday 11am - 5pm. Mondays by appointment for education, artists archiving and training. Closed Sundays
Admission / price: Free