The 38th EVA International at IMMA
Friday 6 April – Sunday 27 May 2018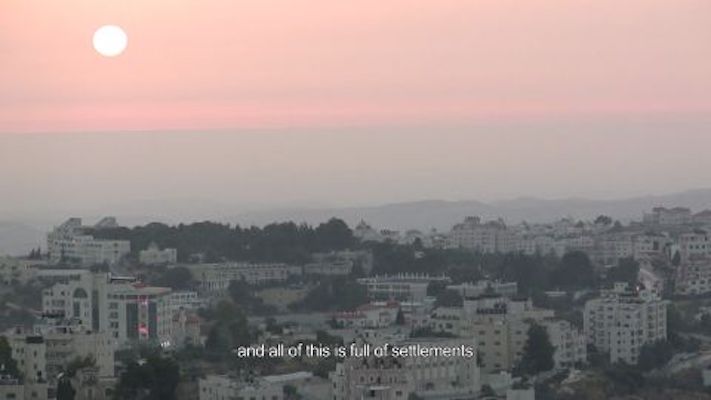 Devised as 'Cosmology of Exhibitions' by Curator, Inti Guerrero, the 38th EVA International – Ireland's Biennial of Contemporary Art takes place across various venues in Limerick city with an expanded programme to include IMMA, Dublin. The exhibition at IMMA features works by contemporary artists exploring the politics of communication.
Works at IMMA include Locky Morris's 1992 installation Comm which references the history of clandestine messaging between Republican prisoners during the conflict in Northern Ireland, Roy Dib's Mondial 2010 which uses the video form itself to transgress sexual and territorial boundaries in the Middle East, and a sequence from Marlon T. Riggs' seminal Tongues Untied film, exploring language in the African-American gay community.
Presented as part of an exhibition and production partnership between EVA and IMMA, and curated by Inti Guerrero, this exhibition is a remote but integral segment of the biennial that takes place across various venues in Limerick from 14 April to 8 July 2018. For more information on EVA please visit www.eva.ie
Works on Exhibition
Locky Morris, Comm (1992) is a work that references the system of covert messaging used by Republican prisoners during the Troubles. The practice involved writing tiny messages on toilet or cigarette paper and wrapped in cling-film, typically exchanged through a kiss between prison visitors and inmates. Comm is an installation that uses similar materials, but enlarged (as though magnified) as a series of wall-mounted semi-figurative objects.
Roy Dib, Mondial 2010 (2014) is a discussion of institutional borders in modern day Middle East. It uses video as a device to transgress boundaries that are inflicted on people in spite of them. It is a travel film made in a location that doesn't permit travel, starring two male lovers, in a setting where homosexuality is a punishable felony. Shot with a hand-held camcorder, Mondial 2010 borrows the aesthetics of a travel video log. It normalises the abnormal, and by doing so creates its own universe of possibility.
Marlon T. Riggs, Tongues Untied (1989) explores language in the African-American gay community. An edited sequence from this seminal film shows the appropriation of the 'snap' gesture as a codified language within the African-American gay community. This, and other works by Riggs have created an important cultural legacy which reinforces his campaign to allow a voice for African-Americans, and to re-identify what he describes as the 'brutalising matters of race and sexuality.'
Associated Events
Introductory Talk

Introductory talk and conversation with EVA Curator Inti Guerrero, followed by an informal conversation between EVA Director Matt Packer and artist Locky Morris
Location: Lecture Room, IMMA
Date: Friday 06 April
Time: 1pm
Free but Ticketed / Book Now
Eva and IMMA
Devised as 'Cosmology of Exhibitions' by Curator, Inti Guerrero, the 38th EVA International – Ireland's Biennial of Contemporary Art takes place across various venues in Limerick city with an expanded programme to include IMMA, Dublin. Programming at IMMA encompasses Production Residencies for artists Sam Keogh and John Rainey to work on new commissions by EVA International supported through the Arts Council Ireland's Open Call programme and an EVA exhibition in the Project Spaces at IMMA featuring works by Locky Morris, Roy Dib and Marlon T. Riggs. Running from 06 April to 27 May 2018, the exhibition at IMMA will be launched with an introductory talk by EVA Curator Inti Guerrero. EVA International opens across other venues in Limerick city on 13 April and continues until 08 July 2018.
Eva Production Residencies
The EVA Production Residency with Sam Keogh | Jan – March 2018
Sam Keogh's Production Residency focused on a new commission by EVA International supported through the Arts Council Ireland's Open Call programme. While on residency at IMMA Keogh developed a new installation and performance which will be opened on 14 April 2018 in Limerick as part of EVA International. The work takes the form of a vast defunct control panel which sets the stage for performance where an astronaut returns to addresses the audience directly in the mode of a TED talk or Silicon Valley Sales pitch. Sam Keogh's work melds performance, installation and sculpture into scrappy and mutable wholes. Sculpture and collage often serve as props and mnemonic devices for performances but are also in excess of these functions, spilling over with idiosyncratic detail and extraneous information.
Sam Keogh's performance Integrated Mystery House, a mixed media installation and performance for EVA will take place at 5pm on 13 April at the Cleeve's Condensed Milk Factory, Limerick.

The EVA Production Residency with John Rainey | March 2018
John Rainey's short IMMA Production Residency focused on a new commission by EVA International supported through an Arts Council Ireland's Project Award. The resulting work will be exhibited at The Hunt Museum, Limerick as part of the 38th EVA International, 14 April – 08 July 2018.
About The 38th Edition of EVA International
The 38th edition of EVA International takes its starting point from the painting Night's Candles are Burnt Out (1927) by Irish artist Seán Keating. The painting presents an allegory of the Irish psyche at the advent of the construction of Ardnacrusha, a hydroelectric dam, built that same year on the border of County Limerick. Ardnacrusha was a symbol of early twentieth century engineering, which accelerated the Irish economy and radically shifted the society of the new state. Night's Candles are Burnt Out takes part in the dialogue of contemporary and historical artworks addressing narratives on nationhood, electricity, and the metaphors of power. Rather than a monolithic thematic exhibition, the biennial exhibition proposes itself as a kaleidoscope of essayistic, retinal and bodily narratives of artistic presentation.
The 38th EVA International has no title, breaking with a tradition of the biennial that dates back to 1990. This decision, taken by Guerrero is designed to emphasize the word 'International' that is central to EVA's identity. Guerrero explains, "in our current state of nationalisms, hard-borders, protectionism and a complete change of course in humanity, where the liberal belief of a 'never again' seems to be dismantling, the word 'International' suddenly carries an important weight worth embracing. Since its foundation in 1977 in Limerick, EVA has been a forerunner in understanding the world through art in a transnational, transcultural, international dialogue, presenting its contradictions, anxieties and possibilities."
EVA International is Ireland's Biennial of Contemporary Art. Every two years EVA International works with guest curators to create a 12-week programme of exhibitions and events that engage with the people and city of Limerick, Ireland. Since its foundation in 1977, EVA International has worked with some of the world's leading artists and curators, bringing outstanding exhibitions and international audiences to the west coast of Ireland. Artists' projects are selected through an international open and invited call for proposals and exhibitions take place in both gallery and non-gallery spaces.
About the Curator
Curator of the 38th edition of EVA International in 2018 Inti Guerrero (b. 1983, Bogotá, Colombia) is a young and highly acclaimed curator who is based in Hong Kong. Guerrero is currently Estrellita B. Brodsky Adjunct Curator of Latin American Art in Tate, London and was previously Associate Artistic Director and Curator at TEOR/éTica, an independent not-for-profit art space in San José, Costa Rica. After studying History and Theory of Art and Architecture at the University of Los Andes in Colombia and the University of São Paulo in Brazil, he completed the Curatorial Programme at De Appel arts centre in Amsterdam.
About the Artists
Locky Morris (b. 1960, Ireland) has exhibited both regionally and internationally since the mid-1980s. Morris's work touches on a broad range of subjects, from the highly personal and familial, to the political. Renowned for his early work that explicitly dealt with The Troubles in Northern Ireland, Morris has also received acclaim for his quietly powerful and intimate work, infused with a dark wit. Morris has presented solo shows at Naughton Gallery, Queens University, Belfast 2016; mother's tankstation, Dublin 2010; and Mannheimer Kunstverein, Germany 2008; and recent group shows at The Mattress Factory Museum, Pittsburgh, USA 2017; the Museum for Contemporary Art, Belgrade 2014; and the Czech Museum of Fine Arts, Prague 2006. In 2016 Morris received the Irish American Cultural Institute's O'Malley Award for Art.
Marlon T. Riggs (1957 – 1994, USA) was a filmmaker, artist and gay rights activist. His filmmaking addressed questions of cultural memory and race relations in America, and more personal topics such as sexuality or HIV. Riggs produced, wrote, and directed several television documentaries, including Ethnic Notions, Tongues Untied, Color Adjustment, and Black is… Black Ain't.
Roy Dib (b. 1983, Lebanon) works and lives in Beirut. On both formal and conceptual levels, the artist and filmmaker challenges common notions of space and boundary, weaving together archival material, scripted text and hypothetical circumstances to chronicle the political narratives of our day. His work was presented at MAXXI Museum 2017; Sharjah Biennial 13 2017; ALFILM 2017; JCC 2016; Beirut Art Center, Uppsala International Short Film Festival 2014; Queer Lisboa 2014; Images Festival 2016; and Toronto, Contemporary Art Festival SESC_Videobrasil 2013, 2015, 2017.
Sam Keogh is based between Ireland and London. He recently completed the Rijksakademie residency in Amsterdam and selected solo exhibitions include Kapton Cadaverine, Kerlin Gallery, Dublin 2018; Eurocopter EC135, Dortmunder Kunstverein, Germany 2016; Four Fold, Douglas Hyde Gallery, Dublin 2015 and Mop, Kerlin Gallery, Dublin 2013. Group exhibitions include Something II be Scared of, Syndicate Gallery, Cologne 2017; DARKWATER; The Dead of the Night curated by Tai Shani and Anne Duffau, CPG London 2017; ECTOPLASM curated by Pádraic E. Moore, 1646, The Hague 2016; Riddle of the Burial Grounds, curated by Tessa Giblin, Extra City, Antwerp 2016. Current and forthcoming exhibitions include SOMETHING 3 BE SCARED OF, No.w.Here, Bethnal Green, London 2018; Glasgow International, Scotland 2018; 1646 Gallery, Den Hague, The Netherlands 2018; Hotwheels Gallery, Athens 2018 and Illuminations, NUI Maynooth 2018.
Supported By EVA International is supported by the Arts Council / An Chomhairle Ealaíon, Limerick City Gallery of Art, Limerick City and County Council Arts Office, JP McManus Benevolent Fund, OPW, Limerick School of Art and Design, Limerick Institute of Technology, Crescent Shopping Centre, EI Electronics, British Council, Institut Français, Embassy of France in Ireland, Shannon Airport, Holmes O'Malley Sexton, Creative Ireland, IMMA, The Hunt Museum, RHH International, Ormston House, ESB, Maurice Ward, RTÉ Supporting the Arts. EVA 2018's media partners are: Frieze.
Image: Roy Dib, Mondial 2010, 2014, Film, 19 min, Courtesy of the artist.
Friday 6 April – Sunday 27 May 2018
Royal Hospital, Kilmainham
Dublin 8
Telephone: +353 1 612 9900
Opening hours / start times:
Tuesday 11:30 - 17:30
Wednesday 11:30 - 17:30
Thursday 11:30 - 17:30
Friday 11:30 - 17:30
Saturday 10:00 - 17:30
Sunday 12:00 - 17:30
Admission / price: Free
Bank Holidays open 12:00 – 17:30.