Teresa Ward: New Paintings
from 27 May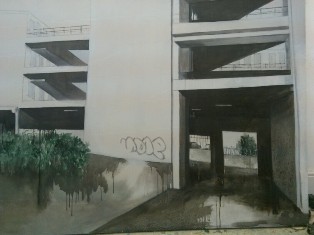 Teresa Ward is the 2013 recipient of the Mentored Residency Award, an annual award supported by Galway County Council, Galway City Council and Galway Arts Centre. The Award is given to a graduate of the Centre for Creative arts and Media (CCAM), GMIT each year and consists of a 6 month studio in Galway Arts Centre and a bursary.
Teresa's new body of work further explores her research on the urban environment which she began while in her final year at CCAM. Teresa is drawn repeatedly to societies and changes which occur within them. Her work revolves around disconnected environments, looking at architecture and spaces contained in these places, which the artist explores through paint. This investigation is contextualised by the failure of post-modernism and its effects, on identity, alienation and the detachment of communities is prevalent in all urban environments. The riots in the Paris Projects, the London riots and the more recent riots in Sweden highlights to Teresa a lack of voice, neglect and social deprivation that pockets of society are experiencing right through out Europe. Teresa's work documents these spaces, which in turn addresses her own position of autonomous artist in a conflicted society.
During her residency in Galway Arts Centre's Dominick Street studio, Teresa specifically addressed the changes developing in Galway society. Where once Galway communities would have revolved around the Catholic Church, it has now evolved into a multi-cultural society. Old shops and wholesalers are giving way to soulless multi-corporate chain stores and shopping centres. The identity of Galway itself is evolving as a City and is caught in a transition between 'old and new'. Teresa captures this transition in her paintings by looking at architecture and spaces from older parts of Galway and to contrast them against the new. Her work invites the viewer to consider the way in which the two sit side by side and the effects they have upon the other for example Teresa depicts sections of walls strewn with graffiti around Nuns Island, where old and new collide, the disconnected members of our new society making their mark transforming the old, the familiar and the remembered.
Teresa Ward completed a part-time degree at CCAM, GMIT in 2012 and the following year graduated from an honours degree in Fine Art (paint). Since then she held a solo show in Clifden Arts Week and also exhibited in the Claremorris Open Exhibition 2013.
For more information on the Mentored Residency Award, please contact maeve@galwayartscentre.ie The Award is open to 2014 Honours Degree Graduates of GMIT only.
from 27 May
47 Dominick Street
Galway
Telephone: + 353 91 565 886
Opening hours / start times:
Monday 10:00 - 17:30
Tuesday 10:00 - 17:30
Wednesday 10:00 - 17:30
Thursday 10:00 - 17:30
Friday 10:00 - 17:00
Saturday 10:00 - 14:00
Admission / price: Free