Tatyana Feeney: The Perfect Rain
Monday 9 September – Friday 8 November 2019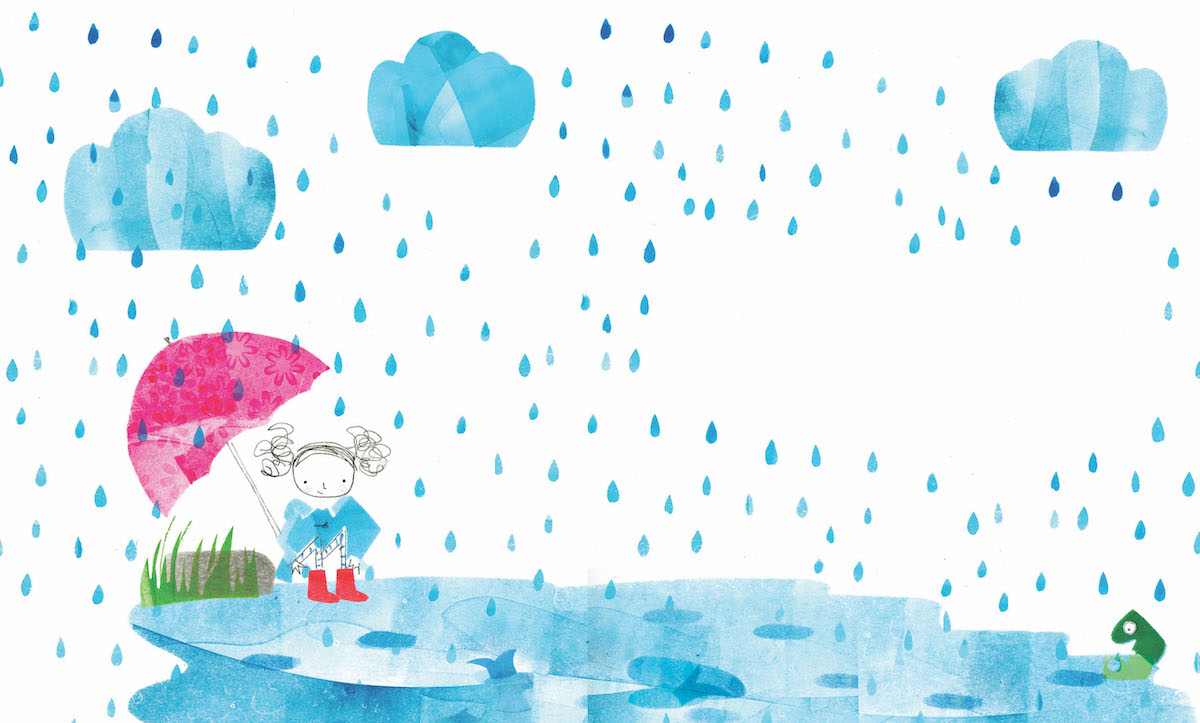 Meath County Council Arts Office is pleased to present The Perfect Rain, a solo exhibition by Meath based children's author-illustrator Tatyana Feeney.
Originally from North Carolina, Tatyana has lived in Trim, Co Meath for the past 15 years where she draws inspiration for her art works and stories from the irregular Irish weather.
Her latest publication entitled Eva and the Perfect Rain (The O'Brien Press), follows a little girl's pursuit for perfect umbrella rain: not too windy, too thundery or too drizzly. This book and the imagery therein form the basis of the exhibition which also features accompanying artwork developed from experiencing Irish weather as a non- native.
The artist states:
'It is a record of my journey to embrace the rainy days; to recognise the beauty in the colours and textures that evolve in the landscape and environment during the rain; and to appreciate the weather through the language used to describe it, positive or negative. In Ireland weather shapes the landscape and the people. There is a beauty and a fortitude created by the rain and this is what I hope to have shown both through my book and through my artwork'.
Coinciding with this year's Children's Book Festival, the exhibition will be bolstered by an access and education programme. Further information can be obtained by contacting Aedín McGinn, Assistant Arts Officer on artsoffice@meathcoco.ie or 0469097411
Tatyana Feeney is an award-winning children's book author-illustrator. Her illustrations are a combination of printmaking, watercolour, collage and coloured pencil. Although she assembles her final art using digital media she feels traditional, handmade art creates the most authentic and satisfying illustrations for her stories. Her books include: Small Bunny's Blue Blanket, Little Owl's Orange Scarf, Little Frog's Tadpole Trouble and Small Elephant's Bathtime (all from Oxford University Press), Socks for Mr. Wolf and most recently, Eva and the Perfect Rain (The O'Brien Press). Her work has been nominated for several awards including: The UKLA Book Award, the Waterstone's Children's Book Prize, and the Kate Greenway Medal.
Little Owl's Orange Scarf was the winner of the Rotherham Children's Book Award in the Picture Book Category.
Visit Tatyana at tatyanafeeney.com or www.illustratorsireland.com.
Monday 9 September – Friday 8 November 2019
Ashbourne Cultural Centre
Ashbourne, Co. Meath
Telephone: +353 46 9097414
Admission / price: Free