Tapes Under the Bed:  Exploring endangered film & video archives of the 1980s onwards
Saturday 26 November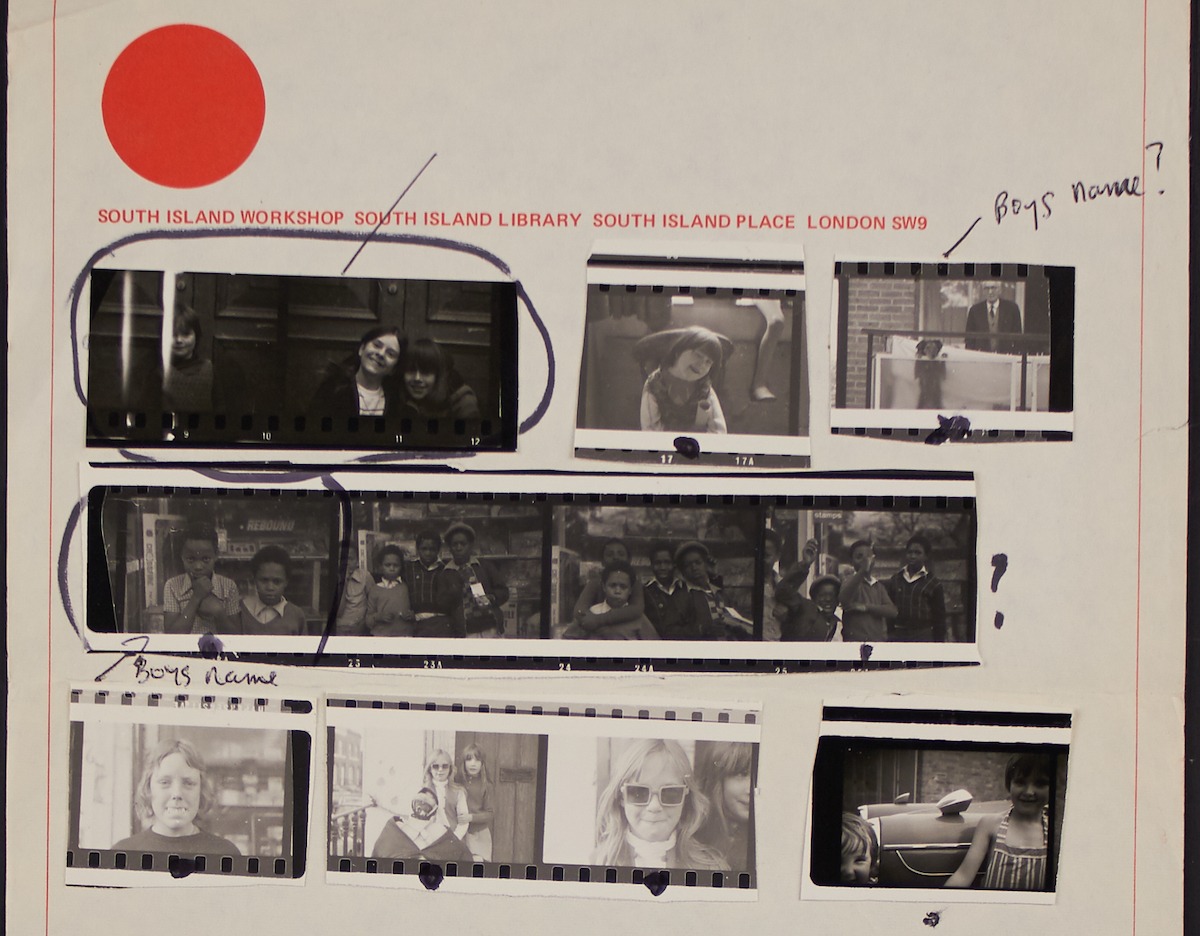 ――― Offsite ―――
Presented in association with The Otolith Group: Xenogenesis, Tapes Under the Bed is a curated selection of screenings and talks, that draws from current research and practical concerns about the material legacies of various art and film collectives from the 1980s in the UK and Ireland, each of whom worked from anti-imperialist, anti-racist, queer and/ or feminist positions. The materials that remain include video tapes, recordings, posters, documents and other ephemera and may not yet have found an appropriate archive or collection for their preservation however are now increasingly part of contemporary discourse. We ask how we can work effectively, sustainably, appropriately and ethically with material that has been stored by artists or others over the years in private attics, drawers, or under the bed? Contributions include:
Derry Film and Video Workshop: Response by Margo Harkin.
Cinenova Feminist Film and Video: Response by Ash Reid.
Mayday Rooms: Response by Rosemary Grennan.
Poster Collective: Contribution by Christine Halsall.
AIDS Video Activism: Response by Ed Webb-Ingall.
Retake: Responses by Aditi Jaganathan and Suman Bhuchar.
Channel Four Workshops: Response by Rod Stoneman
This talk and screening event is presented in association with the IMMA exhibition – The Otolith Group: Xenogenesis showing until 13 Feb 2023. Complementary lunch and refreshments are provided for all ticket holders. The event will be followed by a drinks reception and publication launch in the Project Art Centre, Dublin from 6 – 7pm.
Tapes Under the Bed
Tapes Under the Bed is an event comprising talks and screenings that brings together a range of international researchers, curators, artists, archivists and collectives who work in various ways with material that sprang from a common context. Over the course of the day, we will think about the difficulties of archiving as well as the current imperative to do so given the historical significance of this work and its continuing lack of resourcing, as well its value to the public across these islands.
Our guests consider how we can think and act carefully with vital archival materials from our interconnected past, and reflect on methodologies, ethics, access, organizational structures, and futurity (to include storage, distribution and funding). We will reflect on the task of preserving living archives and protecting the intellectual property rights and sensitivities of the original artists/activists/makers when formal archives arrangements and funding are not yet in place. The following questions informs the event.
Where the material resides or has resided over the past four decades, whether that's changed, and whether there have been environmental hazards?
Political or social motivation or goals of those works, and the organizational structure and working methods of the group as well as how that has evolved in the interim period?
What are/ were the working conditions under which the material was made (e.g. state intervention, racist, homophobic or otherwise discriminatory funding, support and distribution regimes, Channel 4's radical ethos and/or the limits of that)?
What is the relation between the people who made or gathered the original work and the people who hold on to it?
How to navigate the daily ethics of working with a living archive (for example, of deciding what material can or cannot be seen or shared with others, who or what impacts that decision, how that's informed or revised, the effect that collective structures, both the original groups and the organisations currently working with the material, can have on this)?
Who gets paid for their work and how is that decided?
How to establish and protect the intellectual property rights of the original artists/ activists/ makers, if no such arrangements are in place?
How to establish systems that balance future artists', researchers', activists' (and audiences') access to the archive with these protections and sensitivities?
Speakers & Groups
Ed Webb-Ingall is a filmmaker and researcher working with archival materials and methodologies drawn from community video. He collaborates with groups to explore under-represented historical moments and their relationship to contemporary life, developing modes of self-representation specific to the subject or the experiences of the participants. He is Senior Lecturer on the BA Film and Screen Studies course at London College of Communication, University of the Arts London and is currently writing a book for Bloomsbury/BFI with the title BFI Screen Stories: The Story of Video Activism.
AIDS Activist Video (UK): including excerpts of three recently uncovered AIDS activist videos that were found during a period of research looking into the history of UK AIDS Activist Video, most of which appeared to have been lost or forgotten. These videos are Cock Crazy or Scared Stiff, an educational safer sex tape from 1991/92 made by Sunil Gupta, Compromised Immunity, a video adaptation of a play by Gay Sweatshop about the relationship between a heterosexual nurse and a gay man living with AIDS, made in 1987 and a video by Mark Harriot in 1994 for the queer video magazine POUT.
Ash Reid is a PhD researcher based at Goldsmiths, University of London. She is a former member of the Cinenova working group, and is currently writing about and around its histories. Reid is also an artist, performer and sometimes videomaker, mostly interested in the relation between public space and the construction of national identity.

Cinenova is a volunteer-run charity preserving and distributing the work of feminist film and video makers. Cinenova was founded in 1991 following the merger of two feminist film and video distributors, Circles and Cinema of Women, each formed in 1979. Cinenova currently distributes over 500 titles that include experimental film, narrative feature films, artists' film and video, documentary and educational videos made from the 1920s to the present. The thematics in the work at Cinenova include oppositional histories, post-colonial struggles, domestic and care work, representation of gender and sexuality and the relations and alliances between these different struggles. More details here
Rosemary Grennan co-runs MayDay Rooms, an archive and educational space in London which seeks to connect histories and documents of resistance to contemporary struggle. She is also completing a PhD in Material and Visual Culture from University College London. Lukasz Risso is MayDay Rooms' Archivist.
MayDay Rooms is an archive, resource space and safe haven for social movements, experimental and marginal cultures, and their histories. The archive focuses on social struggles, radical art, and acts of resistance from the 1960s to the present: it contains everything from recent feminist poetry to 1990s techno paraphernalia, from situationist magazines to histories of riots and industrial transformations, from 1970s educational experiments to prison writing. MayDay Rooms' vision proceeds from the understanding that social change can happen most effectively when marginalized and oppressed groups can get to know – and tell – their own histories "from below". The archival collections challenge the widespread assault on collective memory and the tradition of the oppressed. Mayday Rooms aim to counter the narratives of historical inevitability and political pessimism with living proof that many struggles continue. More details here
Margo Harkin was a founder-member of feminist film collective, Derry Film and Video Workshop (DFVW). She produced the banned documentary Mother Ireland (1988), before co-writing and directing the drama, Hush-a-Bye Baby (1990) with DFVW. In 1992 Harkin founded Besom Productions, producing TV and theatric release films over many years including Bloody-Sunday: A Derry Diary and Waveriders. Her extensive archive of documents, kept for over 30 years, formed a large part of recent exhibitions on DFVW in EVA International and Project Arts Centre.
Derry Film and Video Workshop (DFVW), also known as Derry Film and Video Collective (DVFC), was established in Derry in 1983, incorporated in 1984, and lasted until 1990. Collective members, at different points in time, included Anne Crilly, Margo Harkin, Trisha Ziff, Geraldine McGuiness, Jim Curran, Stephanie English, Tommy Collins, Therese Friel, Brendan McMenamin, and Jamie Dunbar, most of whom had no prior experience of filmmaking. They came together with a sense of urgency to address overlapping political tensions around gender, class, the Irish 'national question' and legacies of British imperialism.
Rod Stoneman (Professor) is the Director of the Huston School of Film & Digital Media at the National University of Ireland, Galway. He was Chief Executive of Bord Scannán na hÉireann / the Irish Film Board until September 2003 and previously a Deputy Commissioning Editor in the Independent Film and Video Department at Channel 4 Television in the United Kingdom. He has made a number of documentaries, including Ireland: The Silent Voices, Italy: the Image Business, 12,000 Years of Blindness and The Spindle, and has written extensively on film and television. He is the author of Seeing is Believing: The Politics of the Image; Chávez: The Revolution Will Not Be Televised; A Case Study of Politics and the Media and the coeditor of 'The Quiet Man'… and Beyond: Reflections on a Classic Film, John Ford and Ireland (with Seán Crosson) and Scottish Cinema Now (with Jonathan Murray and Fidelma Farley).
Christine Halsall was one of two founder members of The Poster Collective in '72 and the last one to still be engaged with making and distributing in 2017. She recently produced a book of the posters and history of the collective, Art as a mass political weapon: The Poster Collective 1972-1982.
The Poster Collective formed in 1971 at the Slade School of Art, University College – initially to produce posters in response to the miners strike and on the wars in both Vietnam and Ireland. The collective sought to develop a coherent visual style and to address urgent political issues of the time; these included armed struggles against colonisation in Africa, the struggle of women for equal rights and the continuing struggle against racism. The group included practising artists, photographers and filmmakers and worked from a number of different bases over the 70s and 80s, including North London Polytechnic, and for many years, an abandoned building in Tolmers Square. Broad-based and non-aligned, over two decades the Poster Collective produced numerous hand printed posters to support campaigns and a large series of educational posters challenging the dominant views of history. Core members of the group included Bernadette Brittain, Andrew Darley, David Fox, Judith Fox, Christine Halsall, Jonathan Miles, Nancy Schiesari, Steven Sprung, Sylvia Stevens, Martin Walker, Annie Grove-White. More details here
Dr Aditi Jaganathan is a researcher, writer and educator, a thinker and dreamer. With a particular interest in creativity as decolonial praxis, she situates the imagination as a radical site of refusal and resistance. Her research work examines the different ways in which Black and Brown cultural production has activated autonomous modes of meaning-making and self-determination in London over the past four decades, through contesting racialised norms and (re)imagining racialised postcolonial subjectivities. And it is through an ethic of jazz that Aditi curates this work. She recently completed her PhD in Brunel University and teaches her own course, 'Rhythm, Race, Revolution' independently, as well as lecturing in the Department of Art at Goldsmiths, University of London.
Suman Bhuchar is an independent producer and curator. An associate of www.bhucharboulevard.com, she is currently producing Evening Conversations, a solo show which is part memoir and part political journey reflecting on being an artist of colour and finding your place in the world.
Retake Film and Video Collective was Britain's first all-Asian film and video collective set up in the early 1980s. It brought British Asian stories to public attention through the exploration of such identities on British television. Although conventional in its approach to format, its members adhered to the collaborative approaches and democratic work ethics of the workshop movement when making cultural-political films. Original members were Mahmood Jamal, Ahmed Alauddin Jamal, Asad Qureshi, Latif, Bahauddeen and Sebastian Shah. More details here
Discussion Chairs
Dr Isobel Harbison is an art critic and Lecturer in Critical Studies in the Department of Art at Goldsmiths, University of London. She writes regularly for a range of magazines, journals and catalogues. Her first book, Performing Image (The MIT Press, 2019), examined the historic interrelation of performance and moving image in contemporary art and its bearing on the age of social media. She is currently researching artists' filmmaking in Northern Ireland from 1968 to present day in relation to media and politics.
Sara Greavu (Curator of Visual Arts at Project Arts Centre, Dublin) is a curator, writer and organiser. She has a particular interest in how art can recognise existing social structures, propose alternative histories and genealogies, and prefigure different social relations. Previous curatorial and development roles include Centre for Contemporary Art Derry~Londonderry, VOID, and Outburst Arts, Belfast; in addition to working independently. Open the book at a different page, a research project with artist Ciara Phillips and former members of the Derry Film and Video Workshop, dealt with intertwined political and cultural initiatives in Derry in the 1980s.
Venue + Online Access
Off Site Venue Details
Lecture Hall, EQ002, East Quad (See Map Number 19 on link below), City Campus, School of Art and Design, TU Dublin, Grangegorman, D07H6K8, Ireland. You can find more details on travel and location here
Online Access
If you are interested in attending the event remotely (online) please email your expression of interest to talksandlectures@imma.ie with the subject line: TAPES UNDER THE BED (closes on Monday 21 Nov)
The School of Art and Design TU Dublin
The emergence of the creative and cultural sector as a critical agent of social and economic transformation has long been documented. At the School of Art and Design TU Dublin, our vision is to lead education, practice and research for Ireland's creative and cultural industry and act as a national and international benchmark for the creative arts.
Doctoral Research within the School of Art and Design TU Dublin is delivered by The Graduate School of Creative Arts and Media (GradCAM), which is also based in TU Dublin's new campus at Grangegorman.
GradCAM provides a unique programme of staged development for creative arts and media Doctoral research through a programme of study in research methods and methodologies, philosophy, ethics and research integrity in the context of the Arts and Humanities, Art and Design, and Media Practice. GradCAM also provides opportunities and collaborative exchanges and secondments across extensive European and international networks.
Saturday 26 November
TU Dublin
Admission / price: Free
Lecture Hall, EQ002
East Quad, City Campus
School of Art and Design
TU Dublin, Grangegorman
D07H6K8