Tales from a Green Post Box – A Performative Lecture by Jane Locke
Wednesday 22 March – Saturday 25 March 2017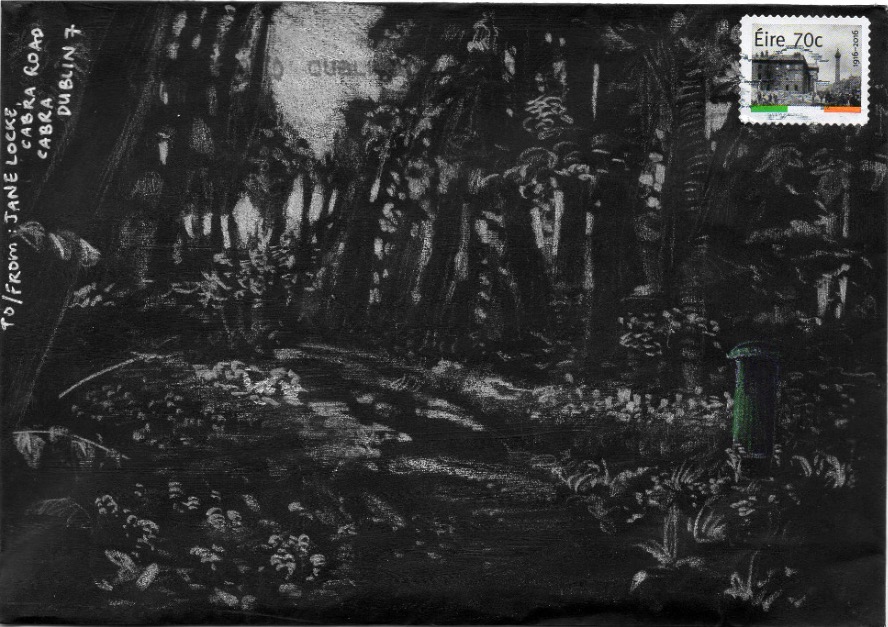 Performance times: Wednesday 22 March, 6pm • Saturday 25 March, 1pm • Saturday 25 March,  3pm • THESE PERFORMANCES ARE NOW FULLY BOOKED
The RHA is delighted to present a number of performative lectures by artist Jane Locke as part of her participation in Futures, Series 3, Episode 1, that runs at the RHA from 17 March to 23 April.
The Irish postal system is sufficiently entwined with our society that we leave a hole in our front doors for their workers. So what does it say about us as a nation that our post boxes still bear royal emblems?
In an entertaining talk, artist Jane Locke wonders at the inner workings of the postal service – and describes how in her attempts to infiltrate the system she happened across a series of unexpected and interconnected tales; tales that will ensure that you won't look at post boxes the same way again.
Jane Locke is an artist whose work fuses historical and scientific facts with almost imperceptible fictions – encouraging the audience to look, and look again.
Jane Locke was educated at the Dun Laoghaire College of Art, Design and Technology and received a BA in Visual Arts Practice (First Class Honours) in 2007. In 2014 she received a Masters in Fine Art from NCAD. She also holds a BSc in Analytical Science from Dublin City University and has over ten years experience working in the pharmaceutical industry.
Image: Jane Locke: Black Envelope 6, 2016, pencil on painted envelope, 16 x 11cm; image courtesy of the artist.
Wednesday 22 March – Saturday 25 March 2017
15 Ely Place, Dublin 2
Telephone: +353 1 661 2558
Opening hours / start times:
Monday 11:00 - 17:00
Tuesday 11:00 - 17:00
Wednesday 11:00 - 19:00
Thursday 11:00 - 19:00
Friday 11:00 - 19:00
Saturday 11:00 - 19:00
Sunday 14:00 - 17:00
Admission / price: Free