T. P. Flanagan: Painter of Light and Landscape
Friday 13 September – Saturday 21 September 2013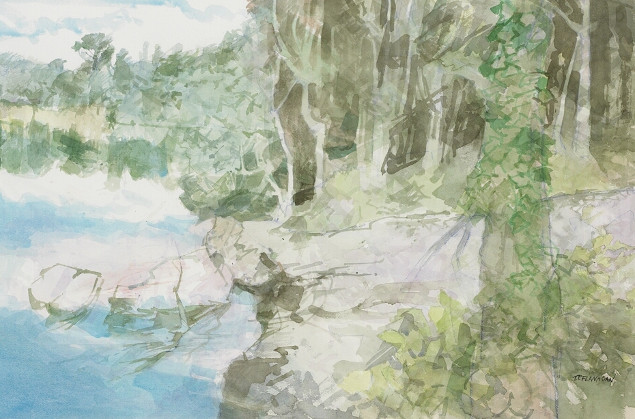 Book Launch and Exhibition Opening Thursday 12 September
Taylor Galleries is delighted to present T.P. Flanagan: Painter of Light and Landscape, an exhibition of selected work by T.P. Flanagan (1929-2011) that accompanies the launch of Dr. S.B. Kennedy's newly published monograph on the artist.
Often focusing on the landscape of his home county of Fermanagh and neighbouring Sligo, T.P.Flanagan captures the soft light of the western seaboard subtly and decisively in his virtuoso handling of watercolour and oils. He is best known for the brisk, understated style that he used to examine the underlying structure of the landscape while allowing his delicate colouration to communicate the beauty that he found in his surroundings.
Featuring a foreword by Séamus Heaney, the generously illustrated 200-page hardback book is published by Lund Humphries and will have its official launch at the gallery on 12 September 2013. T.P. Flanagan: Painter of Light and Landscape and a signed limited-edition version of the publication will both be available to purchase from the gallery at the launch and for the duration of the exhibition.
Following the launch at Taylor Galleries the book will also be launched at the following venues:
James Wray & Co.
Belfast
Saturday 14 September 2013, 12 to 2pm
Castle Coole
Enniskillen
Thursday 26 September 2013, 7.30 to 9pm
Gordon Gallery
Derry/Londonderry
Friday 27 September 2013, 6.30 to 8.30pm
Born in 1929 and brought up in Enniskillen, Co. Fermanagh, T.P. Flanagan studied Fine Art at Belfast College of Art from 1949 to 1953 and combined his work as a renowned painter of landscapes with a long and successful career in art education. In 1964 he was elected a member of the Royal Ulster Academy and he was the recipient of the RUA Gold Medal in 1976. From 1978 to 1982 he served as President of the RUA and he was elected a member of the Royal Hibernian Academy in 1983. Flanagan's first solo show was held at CEMA in Belfast in 1961 and he exhibited on a regular basis with the Hendriks Gallery, Dublin and the Caldwell Gallery, Belfast during the 1970s and 1980s. A major retrospective of his work from 1945 to 1995 was held at the Ulster Museum, Dublin City Gallery The Hugh Lane and the Stadsmusueum in Gothenberg, Sweden in 1995. His work is represented in numerous private collections as well as the public collections of the Ulster Museum, The Arts Council, Dublin City Gallery The Hugh Lane, Dublin, Irish Mueum of Modern Art, Arts Council of Northern Ireland and the National Self-Portrait Collection, Limerick. T.P. Flanagan died in Belfast in 2011.
Image: T.P. Flanagan: Tow Path, 2001, watercolour on paper, 19½ x 29½ in
Friday 13 September – Saturday 21 September 2013
16 Kildare Street, Dublin 2
Telephone: +353 1 676 6055
Opening hours / start times:
Monday 10:30 - 17:30
Tuesday 10:30 - 17:30
Wednesday 10:30 - 17:30
Thursday 10:30 - 17:30
Friday 10:30 - 17:30
Saturday 11:00 - 15:00
Admission / price: Free