Sven Anderson & Mit Jai Inn: Field Recording
Friday 5 October – Saturday 1 December 2018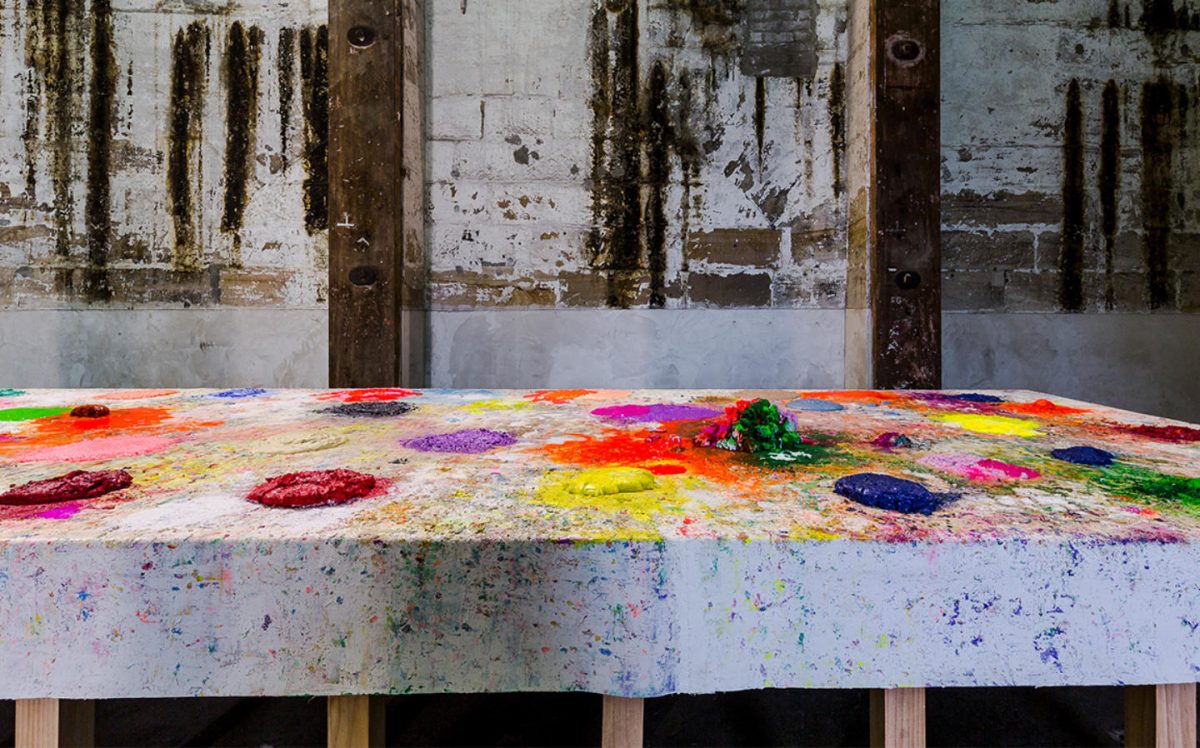 Curated by Jennie Guy
Field Recording is an exhibition of new works by artists Sven Anderson and Mit Jai Inn, exploring how we position ourselves in order to observe and react to complex events and stimuli that unfold around us. This show at Rua Red marks the first time the two artists have exhibited together.
The task of field recording, as a proposition to capture a dynamic, expansive, and situated sound environment, suggests the active trajectory of the exhibition. However, this brief is fulfilled by neither of the artists. Instead, the exhibition embarks with this title as a metaphor to approach the visual, displacing this task of field recording to the viewer. The syntax of the exhibition materialises through intersections between Anderson's concise video assemblages and Jai Inn's unfurling canvases. Between these forms is a field in which minute fluctuations of light, sound, colour and movement emerge as the primary protagonists. The tension between elusive video material barely contained within the flat monochrome of CRT screens, and the dimensionless, textured excess of warped canvases evolving through the space of the gallery develops its own topological drama, charting forms that slip between landscapes and mediascape.
The two artists' works combine to form a sensorial infrastructure that activates a continuous periphery, always shifting beyond the frame, exploring a field that exceeds both surface and duration. Within this space, we witness an optimistic energy that demands that we reconsider events outside of the gallery space with this decentred strategy for apprehension close at hand.
Born 1977 in Boston, USA, lives and works in Dublin.
Sven Anderson's artworks manifest as parasitic installations, systems and performances, responding to details of the immediate built environment, the bodies of the audience, and fragments of local history and ecology to suggest emergent,site-specific forms. Working primarily with sound and multi-channel video, Anderson's projects explore both excess and minutiae, relying on indeterminacy and variation as intrinsic representational tactics. The scale of Anderson's projects often expands through works that incorporate different modes of shared authorship and long-term collaboration.
Born 1960 in Chiang Mai, Thailand, lives and works in Chiang Mai.
Mit Jai Inn is considered by many to be a pioneer of Thai contemporary art. Defying conventional boundaries, both physically and conceptually, Mit's artworks often appear as hybrid objects – painting that could be sculptures, or sculptures that incorporate painterly methods. Varying in size and format, his paintings disregard traditional methods of display, often appearing as long rolls of canvas that unfurl across the floor or hang suspended in draped loops across gallery walls.
Jennie Guy is an artist, curator and educator based in Dublin. Her artistic practice embraces visual, textual, performance, and event-based output. She is interested in the rituals surrounding artistic production, seeking alternative modes of observation and response.
Friday 5 October – Saturday 1 December 2018
South Dublin Arts Centre
Tallaght, Dublin 24
Telephone: +353 1 451 5860
Opening hours / start times:
Monday 10:00 - 18:00
Tuesday 10:00 - 18:00
Wednesday 10:00 - 18:00
Thursday 10:00 - 18:00
Friday 10:00 - 18:00
Saturday 10:00 - 18:00
Admission / price: Free