Sustainable Futures
Friday 9 February – Sunday 1 April 2018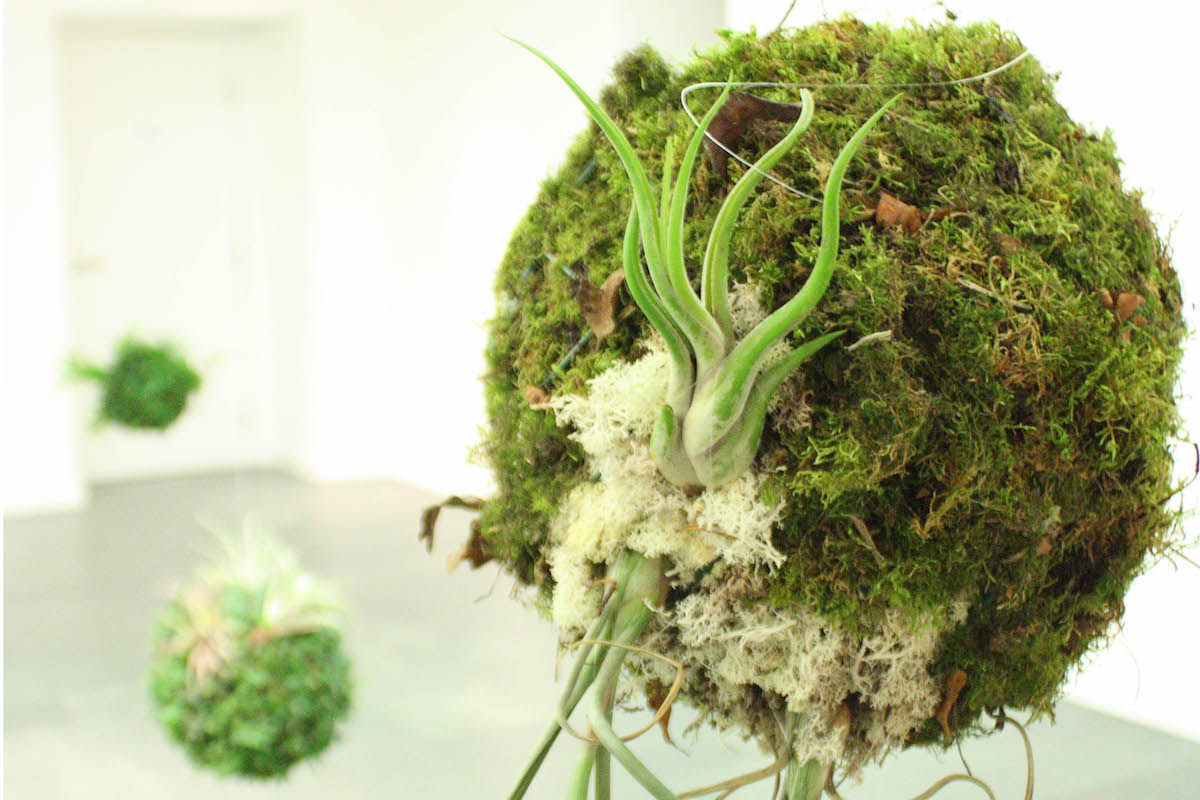 Curated and facilitated by Claire Ryan
Panel discussion with exhibiting artists chaired by Dr Eoin Flynn (ERI) 6pm

What does the future hold for planet Earth and all life on it? How will it cope with the pressures of a world that appears to prioritise unsustainable growth? Now more than ever, there is an urgency for society as a whole to re-evaluate its relationship to our environment and to recognise that individual as well as collective actions can make a difference.
If we do not share the common goal of sustainability, there is a very real threat that we will suffer the consequences of our actions, or indeed our inactions, for generations to come. Scientists offer valuable insights into the impact that excessive consumerism is having on the earth's ability to sustain life. However, ecologically sustainable societies cannot exist without individuals who value the Earth, not merely as a place that exists to serve humankind, but as a highly complex network of systems that we are part of, and the future of humankind is dependent upon.
Sustainable Futures is a multi-part collaborative project, curated and facilitated by Claire Ryan that seeks to open a dialogue around our environment and sustainability. The project encompasses a group exhibition of work by artists Méadhbh O' Connor, Fiona Kelly, David Thomas Smith and Sarah Lincoln; a series of public talks by leading Irish research scientists from the Environmental Research Institute (UCC) and the Centre for Marine and Renewable Energy (UCC). A series of group workshops facilitated by locally based artists will examine and respond to some of the ideas in the exhibition. YMCA Cobh will work with artist Colette Lewis, the Green-Schools committee from Bunscoil Rinn an Chabhlaigh will work with artist Carol-Anne Connolly, and a group of local participants will work with writer Billy O'Callaghan. The outcomes of these collaborations will be presented and discussed in a public forum at Sirius Arts Centre on Tuesday 28th March at 6.30pm.
This project is kindly supported by Cork County Council Creative Communities Scheme.
Méadhbh O' Connor – Biosystem
Méadhbh O'Connor (b. Dublin 1984) is an artist who works at the conjunction of art, science and environmentalism.
Biosystem is a sculptural installation made with living, organic elements. The installation was conceived as a sculptural interpretation of the chemist and environmentalist James Lovelock's seminal Gaia Hypothesis. In this theory the Earth is proposed scientifically and philosophically as a single living super-organism. Formulated in the 1960s before the onset of the environmental movement, this holistic perspective has particular relevance today as the effects of climate change and anthropogenic environmental damage are becoming more and more evident and alarming.
Méadhbh O' Connor website
Fiona Kelly – 'The Distillation of Detritus'
Fiona Kelly (b1985) is a multidisciplinary artist with a practice encompassing printmaking, drawing and sculptural installation. Her research into wasteland and abandoned spaces alludes to disposability, ecology and the interim.
The Distillation of Detritus seeks to explore the potential of re-appropriated materials in a state of rejection; waste concrete from demolition sites, recycled glass, plywood and limestone dust. Motivated by the architectural movement of Bricolage, where the Bricoleur rebuilds using the debris of previous events. Kelly re-builds with an alchemy of debris to visually narrate what she considers to be modern fables for the Anthropocene.
Fiona Kelly website
David Thomas Smith – Anthropocene
David Thomas Smith is a Dublin based, Irish artist who is a graduate of the University of Wales, Newport, where he obtained a (BA Hons.) in Documentary Photography.
Composited from thousands of digital files drawn from aerial views taken from internet satellite images, Anthropocene reflects upon the complex structures that make up the centres of global capitalism, transforming the aerial landscapes of sites associated with industries such as oil, precious metals, consumer culture information and excess. Thousands of seemingly insignificant coded pieces of information are sown together like knots in a rug to reveal a grander spectacle.
David Thomas Smith website
Sarah Lincoln
Sarah Lincoln (b.1980. Based in Co. Waterford) is a visual artist who uses photography, sculpture and moving image to explore complexities bound up in the landscape.
There is a focus within her practice on oscillations between local material remains and abstract/ global phenomena.   Her work relies upon techniques associated with collage to articulate tensions around these positions. The pace of change suggested by phenomena like evolution and plate tectonics influence her practice.
Related Events:
Creative writing Workshops with Billy O' Callaghan. Saturdays: 10th Feb – Sat 03 Mar 1.30pm – 4.30pm. Free.
Science for Sustainable Futures. Delivered by ERI (UCC). Wednesday 21st Feb 6.30pm – 8pm. Free
Softday Event: Sounds of the Unthinkable Saturday 03rd Mar 4pm. Free
Future Coasts Delivered by the MaREI Centre (UCC) and UCD. Tuesday 06th Mar 1pm. Free
See www.siriusartscentre for details
Image: Méadhbh O'Connor: Biosystem ​III​, 2017
Friday 9 February – Sunday 1 April 2018
The Old Yacht Club
Cobh, Co. Cork
Telephone: +353 21 481 3790
Opening hours / start times:
Wednesday – Saturday, 11:00 – 16:00
Admission / price: Free