Susan Connolly: When the Ceiling meets the Floor
Friday 1 May – Saturday 13 June 2015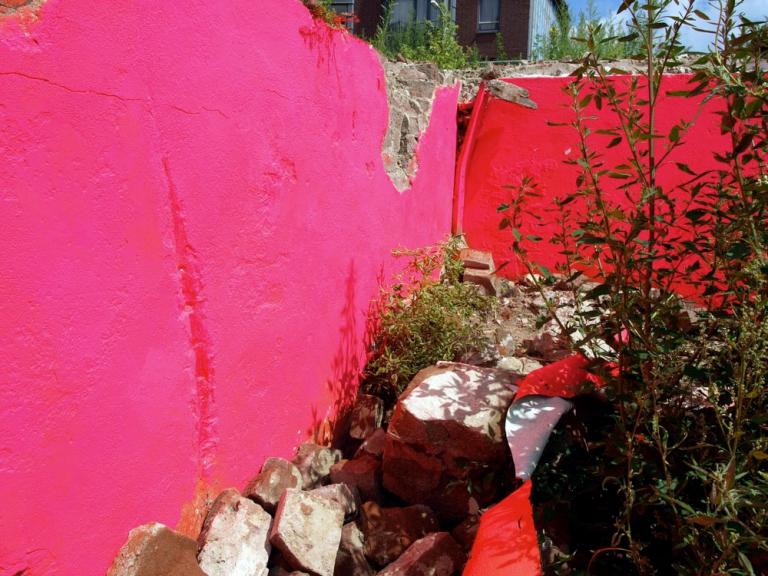 Opening Reception  Thursday 30 April, 6 – 8pm
Susan Connolly's practice explores the 'extendable paint surface' and the provisionality this causes within traditional notions of painting. Playful exploration of the mediums established traditions are explored by imposing questions derived from art historical references which are then allowed, through the making process, to find new means of capturing, sampling and constructing paint within a framework exploring notions of space, gravity and content.
In this exhibition Connolly developed work around the idea of a sitelessness of paint and how the process of 'Making itself' can be examined and proposed as a way of thinking and proposing painting installation within the gallery environment.
Using the gallery as a form of investigation, the walls, architectural features and interior become a site for 'painting', which will be developed and positioned directly upon, within and around the gallery space. The gallery will be transformed from its white cube status to a carefully considered (painting) installation which the viewer will investigate and activate through their viewing of the space being destabilized, doubled,  suspended and as Donald Judd intended, 'experienced as a totality'. This exhibition explores ideas within contemporary thinking of how much of installation art professes contempt for painting, but nonetheless embodies the pictorial within its spaces.
Susan Connolly is a graduate of Limerick School of Art and Design, Degree in Fine Art-Painting (1998), she holds an MA in Fine Art from the University of Ulster (2002), a first class honours MA, Art in the Contemporary World, NCAD, Dublin (2013) and is currently a PhD candidate at University of Ulster (VC Scholarship).
Recent exhibitions include a solo show at The Sunken Gallery, The MAC, Belfast (2014), a two person show Persona, at ArtBox, (2014), group exhibitions include What Is, and What Might be, Highlanes Gallery, Drogehda (2015); The Trouble with Painting, The Pumphouse Gallery, London (2014); Essays for the House of Memory, Ormston House (2013), Limerick; Three Degrees of Painting, Solstice Arts Centre, Navan; Detonate, Limerick Arts, Limerick (2013); Urban Interventions, NCAD/UCD (2012); Connections Rua Red Gallery, Dublin (2011); Airports for Shadow; The Cross Gallery, Dublin (2010); Consellations, EIGSE, VISUAL, Carlow (2010).
Recent awards include; Arts Funding, Kildare County Council (2014/13/11); WARP artist residency, Belgium (2010); Travel and Training Award (2009); DCR Guesthouse Residency, Den Haag, Holland (2009)
Since 2006 Connolly has lectured in the Fine Art Department at Waterford Institute of Technology (WIT), she formerly lectured in the Painting Departments at Limerick School of Art and Design (LSAD), 2002-2003, and Dun Laoghaire IADT, 2006-2009.
Weblinks:
The exhibition is accompanied by a specially commissioned text by Eoin Dara, Assistant Curator, The MAC.
Friday 1 May – Saturday 13 June 2015
Foley Street, Dublin 1
Telephone: +353 1 222 7850
Opening hours / start times:
Monday to Saturday 10am – 6pm. We are currently closed on Sundays.
Admission / price: Free