Sunset Birth: Summer Party 2017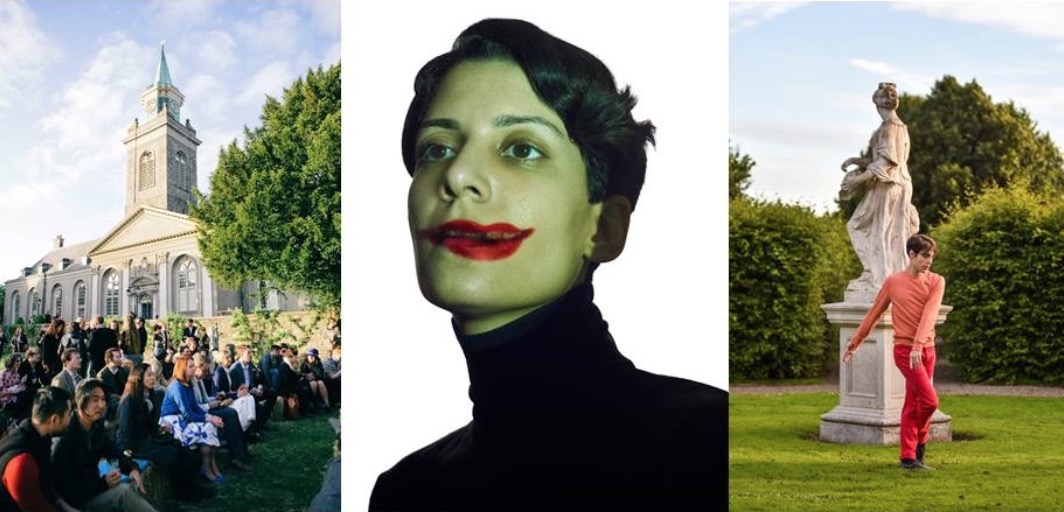 IMMA announces a Sunset Birth of performance, ritual and mysticism for the IMMA Summer Party 2017, sponsored by O'Hara's Craft Beer.
Curated by Linder and Maxwell Sterling with performances from Fatima Al Qadiri, WIFE, Greg Wilson and Conor Thomas among others. Tickets go on sale on Friday 26 May 2017 at 10am.
IMMA are delighted to announce details of 'Sunset Birth', the 2017 IMMA Summer Party taking place on Saturday 15 July. Sponsored by O'Hara's Craft Beer it is curated by the artist Linder and the musician Maxwell Sterling. Responding to the current IMMA exhibition As Above, So Below: Portals, Visions, Spirits & Mystics, the curators have invited musicians and performers whose practice reflects and responds to themes of spirituality and mysticism via music, performance and ritual.
In advance of tickets going on sale later this week IMMA is delighted to announce programme highlights which include Kuwaiti musician and visual artist Fatima Al Qadiri in her first Irish appearance, legendary Hacienda (Manchester) DJ Greg Wilson, Boomkat DJ Conor Thomas, Berlin based WIFE and additional performances from Marcin Pietruszewski  & Tristan Clutterbuck duo, Lauren Fitzpatrick, Teresa Winter, CROWW, Sam Kidel and  Rian Treanor.
Started in 2014, IMMA's Summer Party has become a landmark in the cultural calendar as a celebration of art, music, live performance, food and drink. This year IMMA will create two parties in one, with distinct before and after dark programmes happening on the same night. In the early part of the evening exhibitions will be open in the Main Galleries, food and drink will be on offer on the Terrace and the Gardens will be alive with talks, films, music and art interventions. After dark the party will move indoors with immersive live performances in IMMA's stunning stained glass Chapel and ornate Great Hall. The night will respond to our landmark International exhibition As Above, So Below: Portals, Visions, Spirits & Mystics, and indeed the party title -'Sunset Birth' – takes its name from a painting by the British Surrealist artist Ithell Colquhoun, whose work is currently on view as part of this exhibition.
There will be DJ sets, live performances, dance and live film scores across the night, channelling emotions through different forms and sonic styles ranging from intimate recitals of vocal work through to more intense and highly energised performances.  Several of the musicians performing are affiliated with the record label, The Death Of Rave which was set up by Conor Thomas in 2012. The label is home to a wide variety of music, from Mark Leckey's soundtrack to 'Fiourucci Made me Hardcore', to the work of Sam Kidel, Wold and The Automatics Group. Whilst the label covers a large span of musical genres, there is an overarching connectivity between the artists, rooted in their prescient sound, style and environmental engagement.
Curators Linder and Maxwell have previously collaborated on various film and performances, most recently, Children of the Mantic Stain ballet for British Art Show 8 at the Royal Festival Hall 2016, plus Maxwell composed the five hour score for Linder's Destination Moon. You must not look at her! performance at last year's inaugural Art Night hosted by the ICA, London.
As always, delicious food and drinks will be available to purchase all evening and the grounds and galleries of IMMA will be open to art and culture lovers during the night. We are delighted to partner with O'Hara's this year who will be providing full bars stocked with a range of drinks including, of course, delicious O'Hara's Craft beers and ciders.
A highlight of the summer calendar the IMMA Summer Party has sold out every year so we encourage you to buy those tickets early! Tickets go on sale to the general public on Friday 26 May at 10am, priced €18 and are available through www.imma.ie  A limited pre-sale is available to IMMA Members from Wednesday 24 May.
The Summer Party is part of a Summer Nights Programme at IMMA this July and August including a free live art performance night 'Wilder Beings Command!' on Saturday 29 July which is suitable for all ages, and a live performance by artist Eoghan Ryan on 17 August 2017.  Details for both events will be available in June.
Royal Hospital, Kilmainham
Dublin 8
Telephone: +353 1 612 9900
Opening hours / start times:
Tuesday 11:30 - 17:30
Wednesday 11:30 - 17:30
Thursday 11:30 - 17:30
Friday 11:30 - 17:30
Saturday 10:00 - 17:30
Sunday 12:00 - 17:30
Admission / price: Free
Bank Holidays open 12:00 – 17:30.