Strange Attractor with Mel Mercier
Saturday 9 July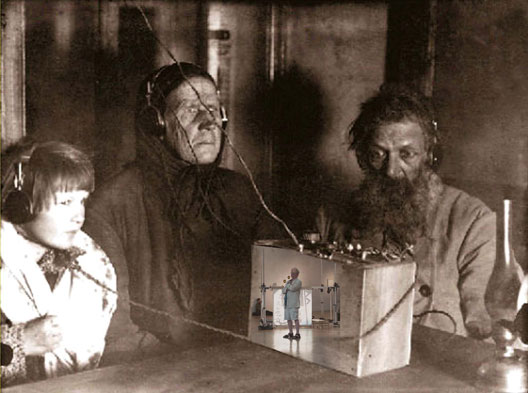 Performance 2 – 4pm, Saturday 9 July
Strange Attractor returns following their hugely successful gallery residency project in the Crawford Art Gallery earlier this year to perform a durational live performance as part of the AVANT festival on Saturday 9 July.
Joining Strange Attractor on this occasion is special guest Mel Mercier. Academic, performer and composer, Mel has performed, recorded and collaborated extensively with pianist and composer Mícheál Ó Súilleabháin, and with John Cage and the Merce Cunningham Dance Company (Roaratorio, Inlets, Duets). His research interests include the revival period in Irish traditional music, American minstrelsy, and two-handed American bones playing.
The performance continues Strange Attractor's collaboration with Crawford Art Gallery in which international guests including David Toop, Stephen Vitiello and Steve Roden have, with the artists, explored ideas and process with open-ended outcomes in creating sound and visual possibilities using sound installation, still and moving images, video documentation and performance.
Further performance dates in Dublin and London are planned for later in 2011 to coincide with the launch of the Strange Attractor publication and DVD. The publication will feature contributions from David Toop, Stephen Vitiello, Steve Roden, Jed Speare and Bernard Clarke amongst others.
An audio CD 'Soundcast 4×4 (+1) is currently available from the shop in the Crawford Gallery and www.farpointrecordings.com. The CD features audio extracts from the first Strange Attractor performance which featured as part of the Avant Festival, July 2009.
The Avant Festival 2011 runs from July 4 -17 see: www.theavant.wordpress.com
For further information please contact: dawnwilliams@crawfordartgallery.ie
DANNY McCARTHY is one of Ireland's pioneers of performance art and sound art and he continues to be a leading exponent exhibiting and performing both in Ireland and abroad. In 2006, he founded the Quiet Club with Mick O'Shea, a floating membership sound (art and electronics) performance group. He is a founding director of Triskel Arts Centre and the National Sculpture Factory. A book + CD on his work entitled "LISTEN Hear" was published by Farpoint Recordings, and his work has appeared on numerous CDs, most recently "Soundcast 4×4(+1)" on Farpoint Recordings. He has been involved in several curatorial projects including INTERMEDIA Festival 1990-2002, "For Those Who Have Ears" book+CD (with Julie Forrester). "Sound Out" (co curated with David Toop),"Bend It Like Beckett" CD Project, "Rediscovering Locality (A Sonology Of Cork Sound Art)" CD project Art Trail. "Just Listen" Seminar +Installations (co curated with Sean Taylor) for National Sculpture Factory.
Selected performances/exhibitions: 2011 "Collective Jukebox 4.04" "Le Temps de l'Ecoute" (Listening Time) Contemporary Art Center ,Villa Arson , Nice, France. "100 Bottles For James Joyce", O'Connell Street, Dublin (Curated by Sean Lynch). 2010: 'Postcards from The CelticTiger', Xuhui Arts Museum, Shanghai; The Quiet Club (tour) World Expo ; 411 Gallery and the Jing An Arts Centre, Shanghai; 2009: Nova, Lyric FM, documentary on the artist."LISTEN Hear" Book +CD Farpoint Recordings, 'Another Gong for Mr. Beckett', Factory Gallery, Berlin 2008: "Listening With The Sound Turned Off" exhibition/installation ,Triskel, Cork. 2007: "(Re)sounding Memories/Watering The Plants", Le Lieu Centre dArte Actuelle Quebec, Canada "Re) sounding Memories/Cleaning The House" C.A.P. Kobe Japan 2006: Curated CD 'Bend it Like Beckett' featuring David Toop, Scanner, Stephen Vitiello. 2005:"TRACE Retrospective2000-2005", Franklin Furnace, New York."Sound Out" co curated (with David Toop) international outdoor sound art exhibition. "Playing John Cage" Arnolfini, Bristol.
IRENE MURPHY's work questions the role of the artist, creative space, and engages with a broader concept of creativity. A common link in her art are ideas about performativeness, site specificity and communality with Murphy's art acts being private interventions into public space. She is active in initiating and participating in many group and collaborative projects and events, such as The YOYO Club, Ideal State Agency, Electric Rain, Us Live and Club House. The creative trio The Domestic Godless use food and hosting as their chosen medium. Murphy is a founder member of the Cork Artists Collective and The Guesthouse.
Selected performances/exhibitions: 2010: Art=Adding Szczecin Poland. 'What Happens Next is a Secret', Domestic Godless, Irish Museum of Modern Art; 2009: Seesound, The Guesthouse, Cork Film Festival; 2008: Plus Minus, The Yellow Box Oland, Sweden. 2007: Diorama, Static, Liverpool 2006: Somethingelse, Helsinki, Joensuu, Turku and Oulu Art museum Finland 2005: INSIDEOUTSIDE, Yuwaku No Mori, Japan, exchange project for Cork Capital of Culture.
MICK O'SHEA works spring from his essential experience in drawing. His medium includes sculpture, drawing, sound and cooking. In 2003 O'Shea and fellow artist Stephen Brandes and Irene Murphy set up the collaborative practice, The Domestic Godless which, through performative cooking events, explores culinary activity as art practice and tests assumptions about the cultural traditions of food in challenging and often irreverent and absurdist ways. In 2006 he formed The Quiet Club with Danny McCarthy to promote and showcase improvised music and soundworks. O'Shea is a member and director of the Cork Artists Collective.
Selected performances/exhibitions: 2010: The Quiet Club, World Expo, Shanghai; ART=ADDING: Szczecin, Poland; 'What Happens Next is a Secret', Domestic Godless, Irish Museum of Modern Art; Sonic Vigil V: 7 hour sound performance, St Fin Barre's Cathedral Cork (curator); Pimping the Maids: Gaitkrash; Cloud Bait: TRACE CD with Paul Hegarty; TESLA: Quiet Club CD with Danny McCarthy; IKIRO: sound collaboration with Takahiro Suzuki; Binary Jam: Quiet Club:, Liverpool 2009: Then + Now: Evolving Art Practice, Lewis Glucksman Gallery, Cork; The Cabinet of Curiosities: Cork Midsummer Festival; Salon Bruit: Berlin.
ANTHONY KELLY & DAVID STALLING have been collaborating on a series of sound and visual works since 2003. Their work encompasses a shared practice of recycling 'objets trouveés' of sound, visual and text material in their ongoing collaborative sessions. The juxtaposition of contrasting material results in a series of audio/visual 'musique concrète' pieces. Kelly & Stalling founded the sound art label Farpoint Recordings in 2005, publishing projects by artists such as Danny McCarthy, Alan Lambert, Linda O'Keeffe and Damo Suzuki amongst others alongside their own work.
Selected performances/exhibitions: 2011: Auralog Fourth Draft: The Presence Of Trees, The Return Gallery, Goethe Institu, Dublin, Yellow, SOMA, Waterford, Just Listening, LSAD, Limerick, Strange Attractor, Crawford Art Gallery, Cork. 2010/11: Shorelines, touring exhibition, venues include Sir Wilfred Grenfell Gallery, Cornerbrook, Newfoundland, The Rooms, St. Johns, Newfoundland, Mermaid Arts Centre, Wicklow and Siamsa, Co. Kerry and Ten Days On The Island, Tasmania. WAFER at SOMA Contemporary Art Box, Waterford, Sonic Vigil V, St. Fin Barre's Cathedral, Cork . 2009: Unknown Point as part of Visualise Carlow & Eigse, Frequencies at the Basement Gallery, Dundalk. 2008: Two Places at Ormeau Baths Gallery, Belfast & Limerick University, The Incubation Space – artist residency (Aug – Nov) at The LAB, Dublin. Auralog at This Is Not A Shop gallery Dublin as part of DEAF festival, screenings at Anthology Film Archives, New York, 2006 & 2008. www.farpointrecordings.com
Saturday 9 July
Emmet Place, Cork
Telephone: +353 21 4805042
Admission / price: Free