Strange Attractor [7]
Thursday 14 April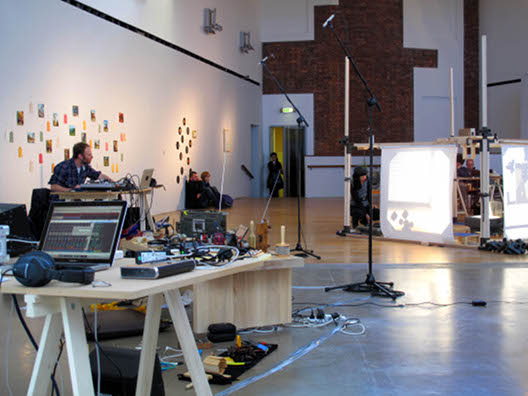 Performance Thursday 14 April, 7 – 9pm
Strange Attractor is a dynamic multi-dimensional series of collaborative ventures between five artists, Anthony Kelly, Danny McCarthy, Irene Murphy, Mick O'Shea, David Stalling and guests.
After some very well received collaborative performances with David Toop, Mary Nunan, Stephen Vitiello, Rhodri Davies and Steve Roden the Crawford Gallery are pleased to present Strange Attractor [7] a two hour sound performance at 7pm in the Crawford Gallery on 14th April.
This is the seventh in the series of performances and features guest artist Lee Patterson who is a Prestwich (near Manchester, England) based sound artist and improvising musician. Alongside an array of invented sonic devices and processes, he uses recorded material in solo improvisation and installation, as well as working with a host of experimental and improvising musicians from around the globe.
During summer 2006, he produced the radio show, Audio Sketchbook, for Resonance FM, London and summer 2007 saw him work with and alongside Toshiya Tsunoda, producing outdoor sound installations for NVA's Half Life, Scotland (www.arika.org.uk). Ongoing projects include an improvising trio with Rhodri Davies and David Toop, a duo with Graham Halliwell, a quartet with Angharad Davies, David Lacy and Paul Vogel as well as recent collaborations with Helena Gough, including a trio with Ben Drew.
For the month of April this evolving collaboration will takes its form in a month long residency where the artists will work in the galleries of the Crawford Art Gallery, both as a group and as individuals using improvisational 'informal' sound performance, experimentation with technology and combined media to explore creative possibilities resulting in an experience that offers multiple points of entry for the audience. The residency is a platform for the exploration of ideas and process with open-ended outcomes thus creating sound and visual possibilities using sound installation, still and moving images, video documentation and performance. Throughout the month scheduled and impromptu performances will occur with the artists inhabiting and changing the spaces around them.
Thursday 14 April
Emmet Place, Cork
Telephone: +353 21 4805042
Opening hours / start times:
Monday 10:00 - 17:00
Tuesday 10:00 - 17:00
Wednesday 10:00 - 17:00
Thursday 10:00 - 20:00
Friday 10:00 - 17:00
Saturday 10:00 - 17:00
Admission / price: Free