Stephen McKenna: Drawings & Watercolours 1974 – 2013
Saturday 8 March – Sunday 20 April 2014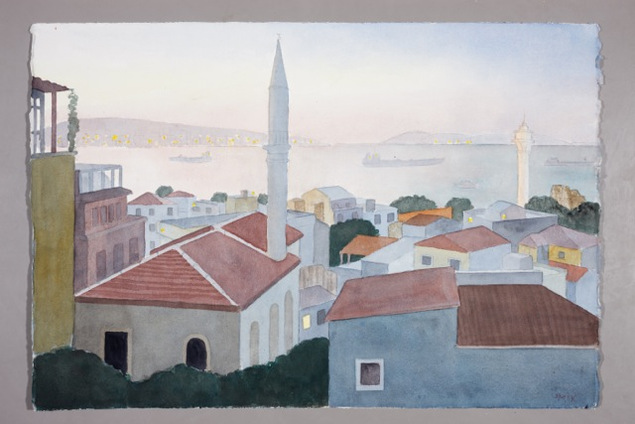 Opening Reception Saturday 8 March, 2 – 4pm
The Butler Gallery is honoured to present Stephen McKenna: Drawings and Watercolours 1974-2013.
McKenna's studio is situated in a large old schoolhouse in Bagenalstown, County Carlow. It was a visit to his studio with members of the Butler Gallery in 2012 that prompted an invitation to the artist to exhibit at the gallery. The selected works on view nicely illustrates the complexity and range of this highly accomplished artist.
Stephen McKenna has a thriving practice that has evolved over six decades of mastering his craft with firm dedication. In that time, he has distinguished himself as a champion of form and precision in his drawings and paintings. Highly prolific and internationally renowned, McKenna's work is included in many of the finest museum and private collections worldwide. McKenna was born in London in 1939 but has been based for the most part in County Carlow since 1998. In his lifetime he has travelled far and wide, with return visits to the places that most speak to him. In this exhibition we are given a glimpse of some of these locations by way of works made in Derry, Donegal and Dublin in Ireland, Carrara, Naples and Pompeii in Italy, Berlin and Munich in Germany, Galicia, San Sebastian and Santander in Spain, Lisbon in Portugal and Istanbul in Turkey.
Although McKenna is not an architect he has a dedicated knowledge of architecture and architectural drawing. His drawings of buildings are beautifully orchestrated compositions of horizontal and vertical planes. Drawing is one of the most fundamental forms of artistic expression. It may be the most intimate and honest of all art mediums. Its portable materials enable artists to work almost anywhere and often impart their efforts with truth-telling transparency, distilling an artist's sensibility to its essence. While some of McKenna's drawings act as allegories of history, they also act as allegories of drawing, metaphors for rational techniques of picturing space and ordering the world.
In this exhibition we see the fluency of McKenna in motion revealed magnificently in drawing after drawing. We see landscapes and seascapes that celebrate nature as a place of being, and cityscapes, interiors and still lifes that show the evolution of a pictorial language that expresses McKenna's beliefs in art. We are very fortunate to have McKenna rest his easel in County Carlow after the itinerant years that bring to us this wealth of observation and reflection.
Image: Stephen McKenna: Sultanahmet Istanbul, 38x57cm, 2008, watercolour, photo Denis Mortell
Saturday 8 March – Sunday 20 April 2014
Evans' Home
John's Quay, Kilkenny
Telephone: +353 56 7761106
Admission / price: Free
Closed 13:00 - 14:00 until March.