Stephen Loughman: WI
Thursday 13 October – Saturday 12 November 2016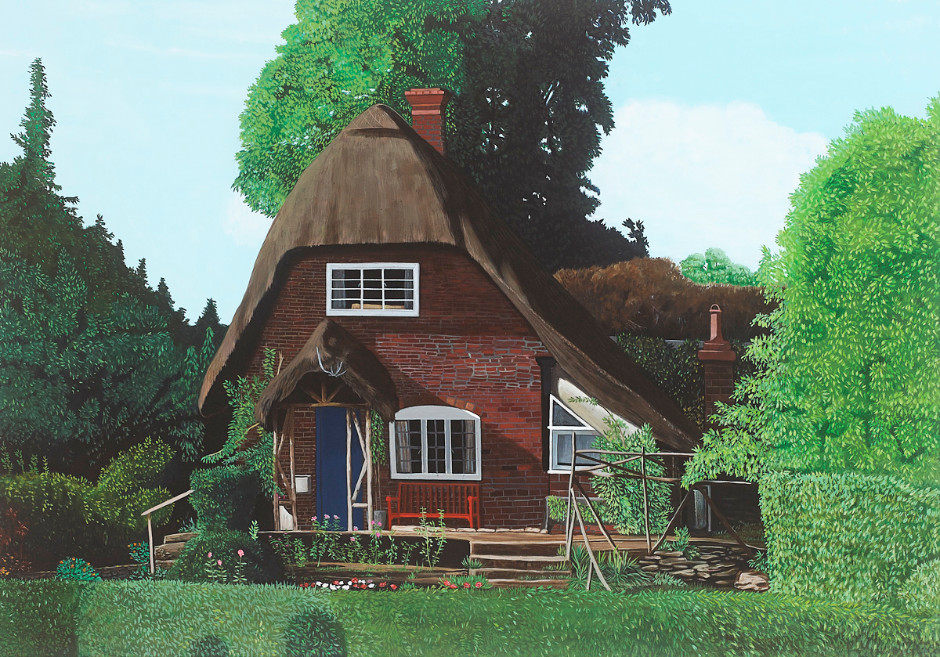 And did those feet in ancient time
Walk upon England's mountain green?
And was the holy Lamb of God
On England's pleasant pastures seen?
And did the countenance divine
Shine forth upon our clouded hills?
And was Jerusalem builded here
Among those dark satanic mills?
– extract from Jerusalem by William Blake
Kevin Kavanagh is pleased to present WI, an exhibition of new work by Stephen Loughman. These paintings take vintage postcards issued by the Women's institute as their source material and subject matter – a departure from Loughman's previous method of painting from film stills, and yet the work retains a filmic quality. Images of the English countryside appear lushly detailed though curiously deadpan and while the source material documents picturesque landscapes, their corresponding paintings appear densely ominous, as plotted points within a broader narrative.
Through time spent with Loughman's paintings, it begins to emerge that a history has been obfuscated or perhaps veneered. These seemingly idyllic images appear constricted – imbued with a sense of unease or discomfort. The implication of such a device within WI attests to Loughman's ability to connect the depiction of rural England with its simultaneous social history and, as in the artist's previous work, to modify or drastically alter the mood or tone of an image through the medium of paint.
The above is extracted and condensed from a text by Ingrid Lyons, the full version of which will be available alongside the exhibition.
Thursday 13 October – Saturday 12 November 2016
Chancery Lane
Dublin 8
Telephone: +353 1 475 9514
Opening hours / start times:
Tuesday 10:30 - 17:30
Wednesday 10:30 - 17:30
Thursday 10:30 - 17:30
Friday 10:30 - 17:30
Saturday 11:00 - 17:00
Admission / price: Free