Stephen Johnston: The Tommy Bowe Series
Wednesday 29 January – Thursday 20 February 2014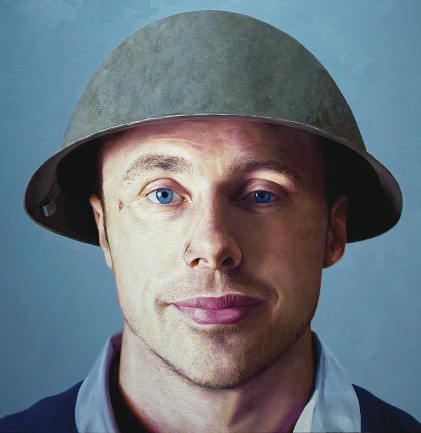 Opening Reception Wednesday 29 January at 7pm
Stephen Johnston, one of Ireland's most promising young artists begins in 2014 body of work with a dramatic series of portraits of top Irish rugby international Tommy Bowe.
The Irish, British Lions & Ulster wing is one of the most popular and recognised faces on the Irish sports scene, but Belfast artist Stephen Johnston has painted his image in a style and context that most rugby fans would never expect!
Stephen's latest works portray the rugby ace in very unconventional and quirky manner… including wearing a soldier's tin hat, relaxing in a wheelbarrow & carrying a large melon instead of a rugby ball!
Johnston's uniquely creative and surreal approach places very realistic figures alongside everyday & unexpected objects, often placing them in unusual and imposing environments.
"It was a real honour to have Tommy sit for me. He is a powerful and imposing player, as well as a very engaging personality with a strong presence. I'm fascinated by the athleticism and vulnerability of world-class sportsmen such as Tommy, and the huge demands on the top players of a magnificent but often brutal contact sport. I hope I've captured some aspects of this amazing international athlete.
"Hopefully too, the viewers and his many fans will be challenged and stimulated by the somewhat unconventional elements of these portraits.
"My work has been particularly inspired by the classic and modern surrealists, and from observation of everyday life and objects, such as films, nature, books and stories. I aim to engage the viewer with drama, intrigue and humour" Johnston's radical and often experimental art has earned him widespread recognition and numerous awards, including the Diageo Award for Best Emerging Artist, the Towry Award and the Royal Hibernian Academy Award for most distinctive work.
His stunning and often quirky paintings are much in demand and are included in major public and private collections, both here and internationally; they have been exhibited widely, including at the Ulster & Hibernian Royal Academies, in Dublin, Paris, Manchester and at London's Saatchi Gallery.
Hosted by Gormley Fine Art (Belfast & Dublin) Stephen's series of portraits will be unveiled at a reception at Belfast's Merchant Hotel at 7pm on Wed 29th January 2014 and will be on display to the 20th February 2014.
Wednesday 29 January – Thursday 20 February 2014
The Merchant Hotel
Belfast
Admission / price: Free