Stanislaw Ignacy Witkiewicz: Between Honey and Ashes (Part 1)
Friday 21 January – Wednesday 23 March 2011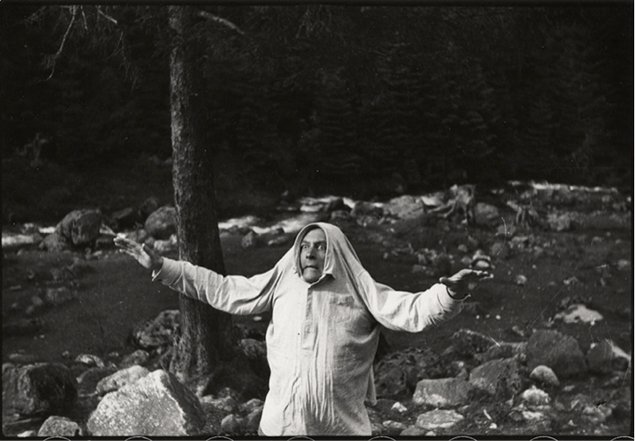 S.I. Witkiewicz, born in Warsaw in 1885, died in 1939 on the day that Poland was invaded by Russia. His father was also an artist. 'Witkacy', as he became known, is mainly remembered in his homeland as a painter, novelist, and playwright; his photographs are only one aspect of his art. Witkiewicz was an intense and troubled man who believed that Western culture was decadent, degenerate, and undermined by the collapse of ethical and philosophical certainties; trapped between a decaying past and an uncertain future, he used photography, perhaps more than other art forms, as a way to explore his existential anxiety.
In Witkacy's view, the individual is essentially alone, confronted by the impersonal indifference of others. He deeply disliked those aspects of life that he regarded as collective and trivial, predicting in his writings on the theory of contemporary culture that they would destroy everything of real value in the world. His portraits, which make up the majority of the photographic work, attempt to explain, or at least come to terms with, the enigmas of personal existence and the threat of its effacement. His personal despairing pessimism – not unlike that of Antonin Artaud – is the source of the dominant tone of the photographs, which is an almost unbearable tension between closeness and distance. There is madness and violence in many of his images, which may not be entirely unrelated to his occasional use of hallucinogenic drugs, but they also contain a lighter sense of absurdity and buffoonery.
This exhibition focuses on landscapes and the artist's self-portraits.
Invited to choose a selection of S.I. Witkiewicz's photographs for this exhibition and to accompany them with a work of his own, Mirosław Bałka has done so with characteristic enthusiasm and perspicacity. The Douglas Hyde Gallery thanks him warmly for his commitment to the project. We also wish to express our gratitude to Stefan Okołowicz and Ewa Franczak, from whom we have borrowed the original prints in this exhibition. It is largely because of their dedication that Witkacy's photographs have become more widely known in recent times, and for this, as well as their generosity in making them available to us, the Gallery is most thankful.
We are also grateful for the support of the Embassy of Poland in Dublin.
Film, Thursday, February 3, at 11am
Special screening of Sátántangó, Dir. Bela Tarr, 1994 / Hungarian / Black and white / 450 min
Noted for its artistry, uncompromising vision, and tremendous ambition, Béla Tarr's epic seven-hour Sátántangó is based on the eponymous novel by Laszlo Krasznahorkai. In this dark and melancholic film, which reflects on the collapse of a Hungarian farming collective in the final days of the communist regime, Tarr employs his characteristic long takes to convey the torpor of a disintegrating world that has come to a virtual standstill.
Because of the length of the film visitors are welcome to come and go as they wish!
With warm thanks to Mokép-Pannónia Kft.
Talk
Wednesday, February 23, 1:15pm
Sheena Malone will give a talk on the life of S.I. Witkiewicz.
Image: Stanislaw Ignacy Witkiewicz: Ghost, c. 1930-35 Photograph 8.8 x 14 cm Collection of Ewa Franczak and Stefan Okolowicz
Friday 21 January – Wednesday 23 March 2011
Trinity College, Dublin 2
Telephone: + 353 1 896 1116
Opening hours / start times:
Monday 11:00 - 18:00
Tuesday 11:00 - 18:00
Wednesday 11:00 - 18:00
Thursday 11:00 - 19:00
Friday 11:00 - 18:00
Saturday 11:00 - 16:45
Admission / price: Free