Stan Douglas: Mise en Scène
Thursday 4 June – Sunday 20 September 2015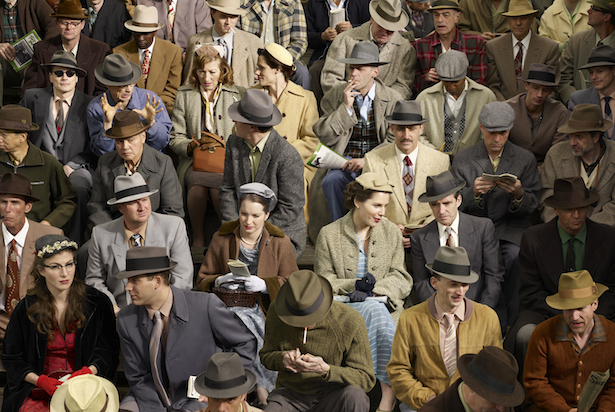 IMMA presents the work of Stan Douglas, one of the most interesting and important artists of our time. The exhibition, Mise en Scène includes over 40 works, with a special focus on the photographs Douglas has produced since 2008, providing a rich introduction to the artist's practice.
Stan Douglas came to international prominence in the 1990s when his film installation Der Sandmann was one of the highlights of Documenta X in 1997. Born in 1960 in Vancouver, Canada, Douglas is known for his films, photographs and installations that use new and outdated technologies, the media of cinema, TV and photography, the conventions of various Hollywood genres (including film noir and the Western) and reference classic literary works (notably, Samuel Beckett, Herman Melville, Joseph Conrad, Marcel Proust, and Franz Kafka), to examine intersections of history and memory in evocative, mesmerising artworks.
The exhibition presents critically-acclaimed photographic works ranging from his Crowds and Riots Series, 2008, to Mid Century Studio, 2010-2011, to some of his latest photographs, such as Hotel Vancouver, 2014. The exhibition also brings together the photograph series Malabar People, 2011, and Disco Angola, 2012, as well as the large-scale series of Interiors, 2009 – 2011. Douglas' major film work Luanda – Kinshasa, 2013 is also presented, which dynamically portrays the documentation of a fictitious Miles Davis jazz recording set in the 1970s.
Over the past decade, Douglas' work has been the subject of solo exhibitions at prominent institutions worldwide, including the Canadian Cultural Centre, Paris, 2013; Minneapolis Institute of Arts, Minnesota, 2012; The Power Plant, Toronto, 2011; Staatsgalerie Stuttgart and Württembergischer Kunstverein, Stuttgart, 2007; The Studio Museum in Harlem, New York, 2005; kestnergesellschaft, Hanover, 2004; and the Serpentine Gallery, London, 2002. He has participated in Documentas IX, X and XI, 1992, 1997, 2002 and three Venice Biennales (1990, 2001, 2005). He is the recipient of many awards, including most recently, the prestigious Infinity Award from the International Center of Photography, New York, 2012, and the Scotiabank Photography Award, 2013.
The exhibition is curated by Seamus Kealy, Director, Salzburger Kunstverein, Salzburg, Austria, and is part of an ongoing tour of Stan Douglas' work, involving Carré d'Art – Musée d'Art Contemporain, Nîmes, France; Haus der Kunst, Munich; Nikolaj Kunsthal, Copenhagen; Wiels, Brussels; Berardo Museum, Lisbon (2013 – 2015).
The exhibition is accompanied by a fully-illustrated catalogue.
Talks and Lectures
IFI + IMMA Presents Screenings and Discussion with Stan Douglas
Wednesday 3 June 2015, 6.00 – 8.00pm
Irish Film Institute, 6 Eustace Street, Temple Bar, Dublin 2
Tickets €9 (IFI Members €8)
A screening of Film (26mins) by Samuel Beckett, and Vidéo (18 mins) by Canadian artist Stan Douglas, that pays homage to Beckett's film.  A discussion follows between Stan Douglas and Walter Asmus (German Theatre/ Film Director and collaborator with Samuel Beckett), moderated by Seamus Kealy. This event is in collaboration between the Irish Museum of Modern Art and the Irish Film Institute on the occasion of the exhibition Stan Douglas: Mise en Scène.
To book tickets visit www.ifi.ie
Artist Conversation with Stan Douglas
Saturday 6 June 2015, 2.00 – 3.00pm, Johnston Suite, IMMA
Stan Douglas and Seamus Kealy discuss the exhibition Mise en Scène at IMMA.                               
Booking essential. Free tickets available at www.imma.ie
Stan Douglas: Mise en Scène is presented as part of SUMMER RISING: The IMMA Festival, a 10 day celebration of art, food, music and performance for all ages in the galleries, gardens and grounds of IMMA.
Image: Stan DouglasHastings Park, 16 July 1955, 2008, digital C-print mounted on Dibond aluminum, 59 1/2 x 88 3/4 inches / 151.1 x 225.4 cm; DOUST0358; courtesy the artist and David Zwirner, New York
Thursday 4 June – Sunday 20 September 2015
Royal Hospital, Kilmainham
Dublin 8
Telephone: +353 1 612 9900
Opening hours / start times:
Tuesday 11:30 - 17:30
Wednesday 11:30 - 17:30
Thursday 11:30 - 17:30
Friday 11:30 - 17:30
Saturday 10:00 - 17:30
Sunday 12:00 - 17:30
Admission / price: Free
Bank Holidays open 12:00 – 17:30.