Spike Island: People and Place 1847 – 1883
Friday 6 April – Sunday 1 July 2018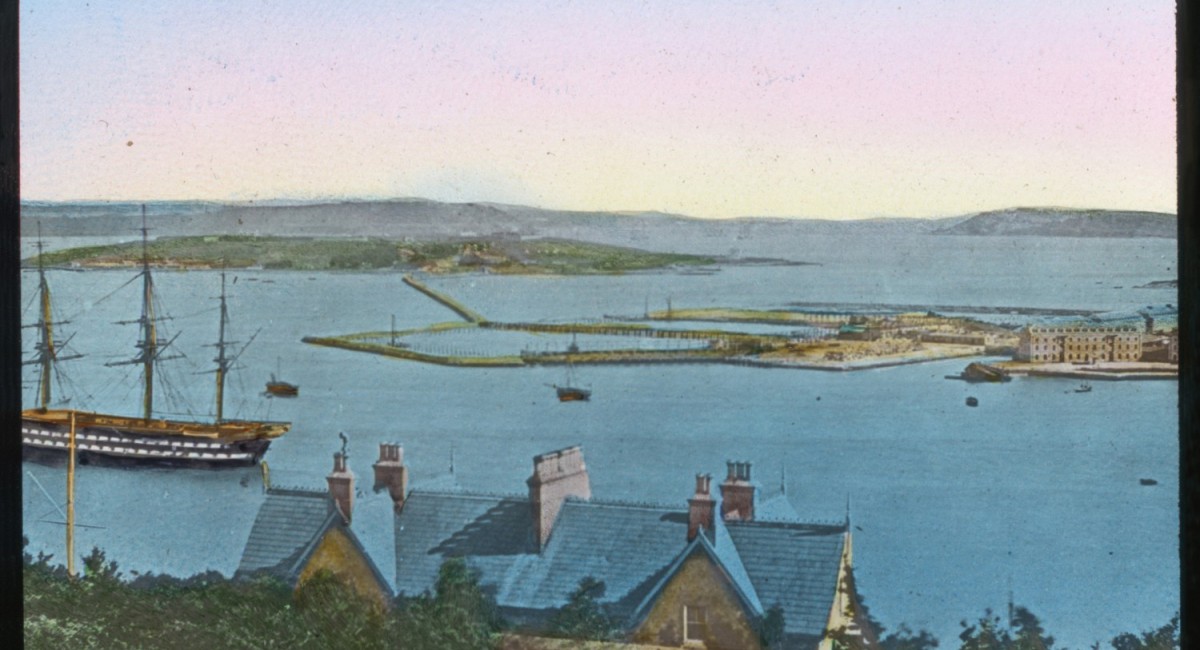 Thursday 12 April, 3pm: Afternoon tea and exhibition tour in association with Cork Photo 2018
Saturday 9 June, 3pm: Public talk by authors Cal McCarthy and Barra O'Donnabhain in association with Cork Harbour Festival.
This exhibition, facilitated by Brian Mac Domhnaill, features some of the visual records pertaining to Spike Island in the Victorian era along with a selection of personal narratives drawn from the book Too Beautiful for Thieves and Pickpockets: A history of the Victorian Convict Prison on Spike Island by Cal McCarthy and Barra O'Donnabhain.
In the book the authors cover the history, geography and operation of the prison from 1847-1883, also placing it in the context of the preceding and ongoing military importance of the harbour and broader national and international concerns. The stories of many infamous convicts as well as some staff are told in great detail. This exhibition will focus on the personal narratives of individuals for whom there is a visual record, primarily in photographic form, and how and why those records came to be. It will also feature a 6" colour 1840s Ordnance Survey map of Spike Island and a later map produced by the School of Military Engineering, Chatham in 1879.
In the 19th Century The Royal Cork Yacht Club had been using various premises in Cobh as clubhouses but eventually in 1854 it moved into the magnificent purpose-built Italiante building that is now home to Sirius Arts Centre. From these glamorous surroundings the Victorian upper class of Cork were afforded stunning views of the harbour, Haulbowline and the notorious Spike Island prison. Today visitors to the former yacht club building can enjoy the same view of the island, more comfortable in the knowledge that Spike is now a leading tourist attraction and not a place of incarceration and suffering.
Records of the time including cartography, photography and hand written administrative documents, were often slowly and carefully handcrafted to serve administrative, military or political purposes. The artistry of these records, be it incidental or intentional, can seem excessive in a context such as the nineteenth century penal system, but processes of documentation were relatively consistent.
In the mid-nineteenth century photography was in its infancy and in Ireland few could afford to have their likeness recorded for posterity. It wasn't until 1857 that inmates at Mountjoy Prison in Dublin were first photographed, with a particular emphasis on 'political prisoners'. Although there are no known photographs taken of convicts upon arrival at Spike Island in the second half of the nineteenth century, a very small number of the prisoners and staff had been photographed elsewhere for various reasons before and after their time at the prison. These images provide important visual reference material for personal narratives associated with the prison but they also illustrate contemporary developments in photography in Ireland.
Too Beautiful for Thieves and Pickpockets: A history of the Victorian Convict Prison on Spike Island by Cal McCarthy and Barra O'Donnabhain was published by Cork County Library and Arts Service (May 9, 2016).
Cal McCarthy is the author of Cumann na mBan and the Irish Revolution (2007), Green, Blue and Grey: The Irish in the American Civil War (2009) and is co-author of The Wreck of the Neva: The Horrifying Fate of a Convict Ship and the Irish Women Aboard (2013). In 2005 he received his MPhil for a thesis entitled, 'The 1918 General Election – The swing to Sinn Féin'. Cal has participated in numerous radio and television productions dealing with various aspects of 19th- and 20th-century Irish history. He has worked for the Department of Transport, the Department of Arts, Heritage and the Gaeltacht and is a former Secretary of the Council of National Cultural Institutions. He currently works for Cork County Council.
Barra O'Donnabhain is a graduate of UCC and the University of Chicago. His publications include the edited volumes The Dead Tell Tales (2013) and Archaeological Approaches to Human Remains: Global Perspectives (2014). Barra has directed and collaborated on archaeological projects in a number of world areas. He began excavations at the 19th-century prison on Spike Island in 2012. He teaches in the Department of Archaeology at University College Cork and is on the Board of Directors of the Los Angeles based Institute for Field Research.
Brian Mac Domhnaill is a project manager, arts administrator, photographer and visual artist with a background in archaeology. He holds an MA in Art & Process from the CIT Crawford College of Art & Design (2014), a BA in Archaeology (UCC, 1997) and an MSc in Palaeoecology (Queens University Belfast, 2002). Following a fourteen year career in commercial archaeology he now fills the role of Manager of Exhibitions at Sirius Arts Centre, Studio Coordinator / Research Assistant at Backwater Artists Group and Photographer / Researcher for The Pallasboy Project. He is a member of The Cork Artists Collective and Administrator of the new Road Books Artist Residency in Inniscarra, County Cork.
Image: Hand-tinted, late 19th-century lantern slide of Spike and Haulbowline islands and the connecting causeway, completed in 1867 Image © courtesy of Collection of Michael Lenihan.
Friday 6 April – Sunday 1 July 2018
The Old Yacht Club
Cobh, Co. Cork
Telephone: +353 21 481 3790
Opening hours / start times:
Wednesday – Saturday, 12:00 – 17:00
Admission / price: Free
Gallery hours during exhibition:
Wed - Fri 10.30-17:00 (Fri 20 Apr 15.00-17.00)
Sat-Sun 13:00-17:00 (Sat 21 Apr Closed)
Mon-Tues Closed