Sonia Shiel: How the Oyster Makes the Pearl
Thursday 11 April – Saturday 4 May 2019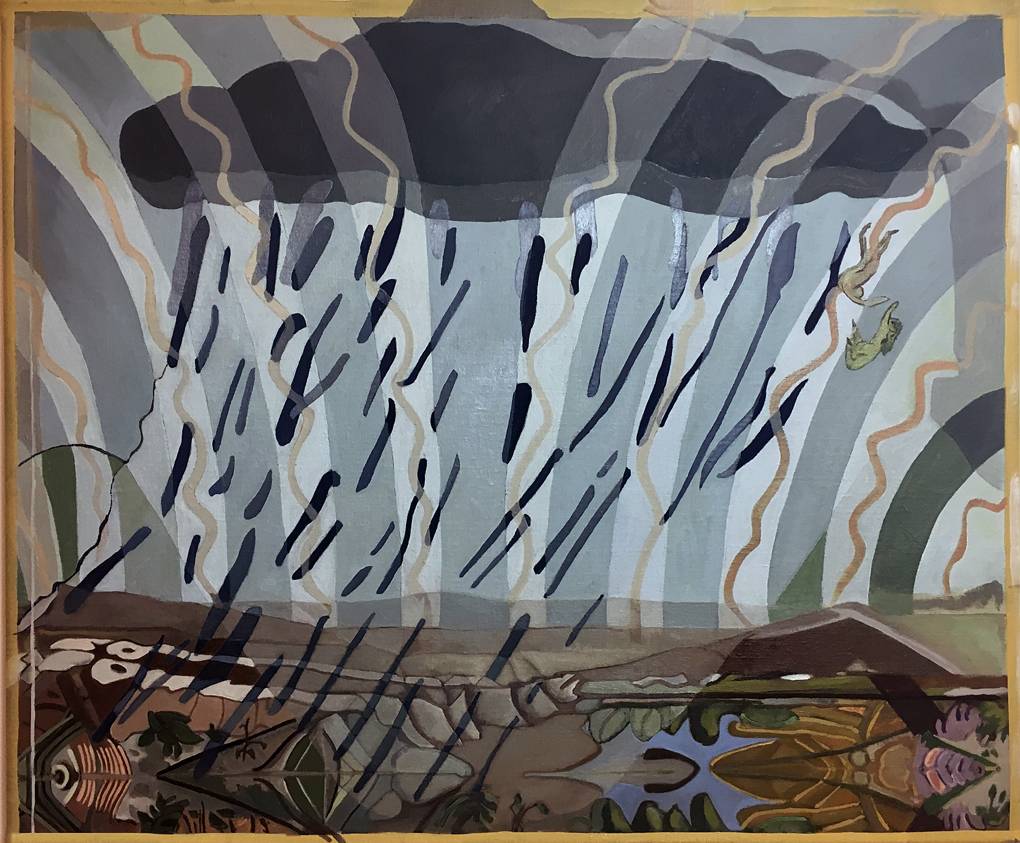 Kevin Kavanagh is proud to present How The Oyster Makes The Pearl, a solo show by Sonia Shiel. Sonia Shiel's interdisciplinary practice combines key methodologies from art, law and theatre to imbue characteristics, autonomy and personal narratives in the inanimate objects and painted works that she creates. Playfully usurping the normal conditions of an artwork with a kind of self-conscious agency usually reserved for living things, her works are often free-standing or traversable; presented with their own volition, backstory, or environment; and sometimes consolidated within installations, audio works, performance or video.
Shiel's collection of paintings for How The Oyster Makes The Pearl presents the world translucently in a careful matrix of tone, opacity and colour. While framed, stuffed or folded like things we intend to keep safe and admire forever, Shiel's flat vanishing spaces are already evanescing. They reveal the shape-shifting dimensions of a sentient landscape, in which reflections abandon their hosts, horizons untether themselves from their axis, gestural marks pose willfully and light plays tricks before disappearing.
Recent exhibitions include The Lexicon Gallery, Dún Laoghaire, VOID, Derry; The Glucksman Gallery, Cork and The Crawford Gallery, Cork. Other exhibitions include The Irish Museum of Modern Art, Project Spaces, Dublin; the ISCP, New York; The Model, Sligo; The Cable Factory, Helsinki; Atelier Frankfurter; Centre Culturel Irlandais, Paris; the RHA Gallery, Dublin; Kulturbunker, Frankfurt; and Temple Bar Gallery and Studios, among others. Shiel has been the recipient of awards including the Tony O'Malley Award from the Butler Gallery; the Hennessy Craig Award from the RHA; and more recently the NCAD Gallery Incubation Residency; UCD's Artist in Residence for Arts and Humanities; the Art and Law Fellowship Program, Fordham University, New York; The Irish Museum of Modern Art, Dublin; The International Studio and Curatorial Program, New York; the Helsinki International Artist-in-residency Program (HIAP/TBGS); The Frankfurt Artist-In-Residence Program; Temple Bar Gallery and Studios Membership, Dublin; and The Banff Centre, Canada. Her work features in many international public and private collections, including the DLR Municipal Collection; the Arts Council of Ireland; the City of Frankfurt; the Glucksman Gallery; and the Office of Public Works. How The Oyster Makes The Pearl is part of a body of work supported by the Arts Council and the Dublin City Council Visual Artists Bursaries for 2018/19.
Image: Sonia Shiel: A Storm For Climbing, 2019, oil on canvas, 50 x 60cm
Thursday 11 April – Saturday 4 May 2019
Chancery Lane
Dublin 8
Telephone: +353 1 475 9514
Opening hours / start times:
Tuesday to Saturday 11am – 5pm
Admission / price: Free