Someone Else's Life
Thursday 13 January – Saturday 19 February 2011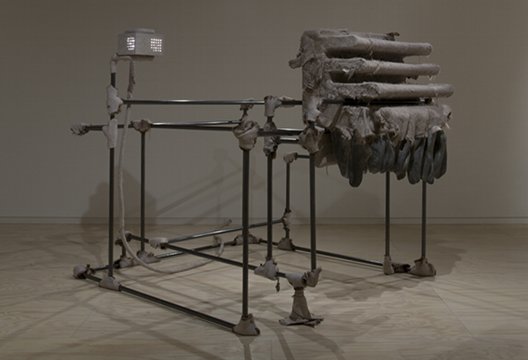 Kerlin Gallery is pleased to announce its first exhibition of 2011, 'Someone Else's Life', featuring new work by internationally acclaimed artists; Liam Gillick, Siobhán Hapaska, Callum Innes and Jaki Irvine.
Liam Gillick
Based in London and New York, Liam Gillick has been exhibiting internationally since the beginning of the Nineties. His ongoing interest in the legacy of modernism has resulted in a truly remarkable and influential body of work and a practice that has developed and extended into many disciplines, acting as sculptor, architect, designer, critic, author and curator. We are delighted to present two powder-coated aluminum and multi coloured plexi-glass structures; a large discussion platform and a tall, wall mounted screen that represents a new recent development.
Solo exhibitions include The Wood Way, Whitechapel Gallery, London, 2002; A short text on the possibility of creating an economy of equivalence, Palais de Tokyo, 2005, the retrospective project Three Perspectives and a short scenario, Witte de With, Rotterdam, Kunsthalle Zurich, Kunstverein, München and the MCA, Chicago, 2008-2010 and a major exhibition of his work at the Kunst und Ausstellungshalle der Bundesrepublik Deutschland in April 2010. He was nominated for the Turner Prize in 2002 and the Vincent Award at the Stedelijk Museum in Amsterdam in 2008 and represented Germany at the 53rd Venice Biennale, 2009
A critical reader titled Meaning Liam Gillick, was published by MIT Press (2009). An anthology of his writing titled Allbooks was also published by Book Works, London (2009). He has taught at Columbia University in New York since 1997 and the Centre for Curatorial Studies at Bard College since 2008.
Siobhán Hapaska
Since her first solo exhibition at the Institute of Contemporary Arts, London in 1995, Belfast-born Siobhán Hapaska has become internationally regarded for her highly inventive, immaculately crafted work that explores tensions between nature and artifice, pleasure and pain, life and death, violence and protection with equal measure of pathos and humour. Recently Hapaska has developed a new series of sculptures that has been presented as solo exhibitions in the Ormeau Baths Gallery, Belfast, and Glasgow Sculpture Studios, Glasgow and has featured in three celebrated museum shows in Magasin 3, Stockholm, Musée d'Art Moderne de Saint Etienne and Kunsthaus Graz, Austria.
We are delighted to present perhaps the most challenging and ambitious new work, 'Tick' which has been described by the critic Francis McKee as 'a hard industrial exoskeleton constructed from gas piping that supports a heavy resinous mass encased in shaved deerskin and displaying a triple row of enormous resinous molar forms. Furiously white LEDs burn in what might be the sculpture's nerve centre. It is a hybrid creature born from an unholy mix of minimalism and surrealism, its' joints bandaged in deerskin as it crouches ready to pounce.'
Notable exhibitions for Hapaska include, Camden Arts Centre, London, 2007 (solo); British Art Show 6, Hayward Gallery, London, 2005 (group); Irish Pavilion, 49th Venice Biennale, Venice, 2001; Siobhan Hapaska, Charles Long, Ernesto Neto, Magasin 3, Stockholm Konsthall, Stockholm, 2001 (group); Documenta X, Kassel, Germany, 1997 (group); St. Christopher's Legless, ICA, London, 1995-96 (solo); among others.
Callum Innes
In the last two years Callum Innes has produced an outstanding body of new paintings that continues his ongoing practice of painting and 'un-painting'. This exhibition will feature two large paintings, a stunning black 'identified form' from 2005 and one of Innes' new works, a large vibrant green painting, where the picture plane is split vertically in half. Two separate colors across have been applied across the entire surface and then rigorously removed on one side. This process is repeated, leaving one half of the painting covered in a rich layering of colour, and the other half 'unpainted' to reveal a gesso ground bearing all but the faintest vestigial traces of color. The result is a tactile and luminous painting that is both conceptually complex and visually evocative.
Innes, who lives and works in Edinburgh, began exhibiting in the mid-to-late 1980's and in 1992 had two major exhibitions in public galleries, at the ICA, London and the Scottish Gallery of Modern Art, Edinburgh. Recently a major solo show entitled 'From Memory' organized by the Fruitmarket Gallery, Edinburgh has travelled to Modern Art Oxford and the Museum of Contemporary Art, Sydney. He has also had numerous solo shows throughout Britain, Europe and North America, and New Zealand. A substantial selection of his best-known series, the 'Exposed' paintings, was exhibited in 1998 at the Ikon Gallery, Birmingham, England, and at the Kunsthalle Bern the following year. In 1995 he was shortlisted for the Turner Prize and he won the NatWest Art Prize in 1998 and The Jerwood Painting Prize in 2002.
Jaki Irvine
Jaki Irvine now lives and works in Mexico City. Irvine's works in film and video, whether in single-screen format or in more complex multi-screen installations, weave together enticing, though ultimately elusive narratives in which image, voice-over and musical score variously overlap, coalesce and diverge. Subjectivities split and fragment as the boundaries that separate self from other, or human from animal, become fluid or permeable.
'Guanajuato 14', Irvine's first work to be shown since moving to South America, presents a deceptively simple observation, a lone humming bird as it feeds. Time itself is beautifully depicted and as with earlier work there is a languid exploration of human interaction with the natural world, the built environment, and with other humans and is suffused with a melancholic lyricism and leavened by a dark, dreamlike quality.
In 1995 Irvine was included in the seminal exhibition of Young British Artists, General Release, at the Venice Biennale, and she represented Ireland at the 1997 Biennale. Numerous solo exhibitions include Project Arts Centre, Dublin 1996; the Staatliche Kunsthalle in Baden-Baden, Germany 1998; Kerlin Gallery 2004 and 2008; the Douglas Hyde Gallery, Dublin 1999 and 2005; Henry Moore Institute, Leeds 2004; The Irish Museum of Modern Art, Dublin 2005; The Model, Sligo 2007 and Chisenhale Gallery, London 2008. She has also participated in numerous group shows throughout Europe, Australia and Japan including Sonsbeek International, Arnhem 1993, NoWhere Louisiana Museum of Modern Art, Denmark 1996, White Noise, Bern Kunsthalle 1998, and Intelligence, Tate Britain 2000. A comprehensive publication on her work was published in early 2008.
Image: Siobhán Hapaska: Tick, 2009, steel gas pipe, fibreglass, deerskin, LED components, slate powder in resin
Thursday 13 January – Saturday 19 February 2011
Anne's Lane
South Anne Street, Dublin 2
Telephone: +3531 670 9093
Opening hours / start times:
Monday 10:00 - 17:45
Tuesday 10:00 - 17:45
Wednesday 10:00 - 17:45
Thursday 10:00 - 17:45
Friday 10:00 - 17:45
Saturday 11:00 - 16:30
Admission / price: Free