Softday: All Things Are Not Quiet Silent
Wednesday 14 July – Saturday 2 October 2021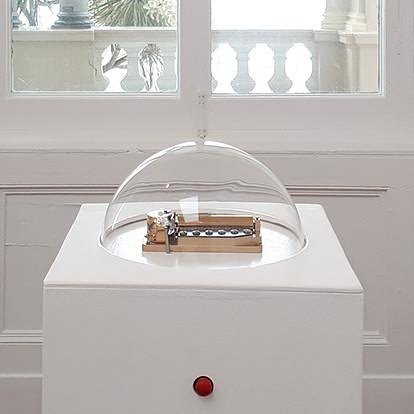 ――― In venue ―――
The collective Softday conducted a residency at SIRIUS in 2017. During that period they collated scientific information relating to possible links between high cancer rates in the Cobh area and pollution caused by the former Irish Steel plant at Haulbowline. They also engaged in dialogue with experts and interested local community members to critically examine the Irish Steel plant's ecological impacts.
In 2021, Softday is producing works that revisit that research, including All Things Are Not Quiet Silent ( 2018–21), a music box activated by the viewer. It features a piece that Softday composed in 2018, in which a musical algorithm 'plays' pollution-related data pertaining to Cork Harbour. The melody is based on 'Cobh Chime' (1948) by Staf Gebruers, former carillonneur at Saint Colman's Cathedral in Cobh, who in turn was taking inspiration from the Catholic hymn 'Jesus, My Lord, My God, My All'. Gebruers' son, Adrian Gebruers, who is the current carillonneur at Saint Colman's Cathedral, performed Softday's piece for the recording on the music box.
Softday is the collaborative practice of @seantaylor398 and @kropotnikus. They create sonifications, objects and performances, operating in the 'cracks' between various media and genres. They explore human relations to, and understandings of, the environment specifically climate change.
This work was commissioned by SIRIUS with the support of @creativeireland County Cork Grant Scheme 2020.
Wednesday 14 July – Saturday 2 October 2021
The Old Yacht Club
Cobh, Co. Cork
Telephone: +353 21 481 3790
Opening hours / start times:
Gallery hours during exhibitions:Wed-Fri 10:30-17:00 • Sat-Sun 13:00-17:00 Closed Mon - Tue
Office hours: Mon - Fri 09:30 - 17:00 • Closed Sat - Sun
Admission / price: Free