Soft Things in Hard Times
Sunday 7 August – Sunday 28 August 2022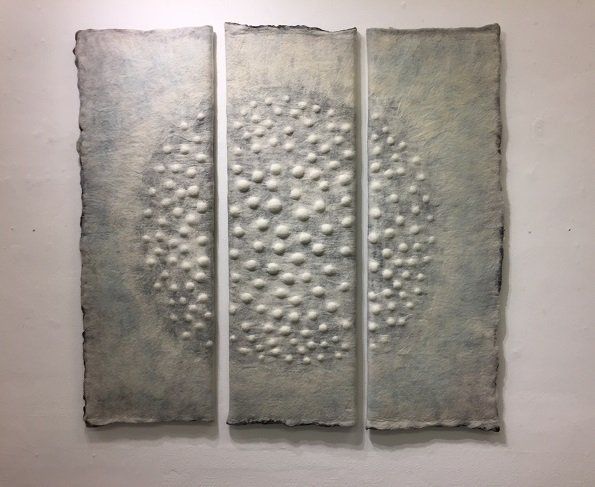 A group show, part of August Craft Month and featuring works in felt and lace by Annika Berglund and invited artists Ramona Farrelly, Fiona Harrington, Fiona Leech and Leiko Uchiyama.
This exhibition is part of August Craft Month and showcases contemporary art in lace and felt. Please note that Annika Berglund's triptych The Circles We Walk, presented in this show, is also part of National Heritage Week 2022.
Annika Berglund is represented by the Olivier Cornet Gallery.
Within the last year and a half, Covid has changed many aspects of our lives. Most of us retreated into the safety of the domestic space except for those whose essential occupations meant they had to risk venturing out in society.The world seemed to shrink to fit inside square walls. It consisted of the circles we walked inside these walls and the bubbles we embraced. The connections to the world outside the squares and circles felt both much more tenuous and infinitely more important as the barriers to physical encounters grew. Life had to continue inside these confines. In our minds and in the virtual world we reached out to connect with a whole new urgency. Creativity and making became more complicated, impossible for some art forms, but bringing forth innovation and change in many instances.
"This new reality led me to focus my practice on the immediate and the simple; the square I felt confined, but also protected me, the circle – the nurturing bubble, but also the sinister round spiky shape of the Coronavirus. Before the pandemic I had already been looking at a shift in materials from clay, glass and bronze to less energy hungry ways of expression. Textiles and fibre arts worked well in that context and proved to work much better in my new, more confined creative space.
My work has always been informed by the character of different materials and in a dialog with their specific possibilities and constraints. Working with felt and mulberry paper turned out to be well suited for making in the domestic setting, but also appealed to me due to the symbology of how these materials come together. In creating this new series, fluffy wisps of wool and soft sheets of Mulberry paper are put together loosely, wetted down with soapy water and agitated to create a very strong fabric of interlocked fibres. The mulberry and wool fibres, through soap, water, rubbing and being knocked around, create connections that hold them together so tightly they can no longer be pulled apart and they become a unified whole. Cohesion through adversity if you will…"
Ramona Farrelly
Ramona Farrelly is an artist based in Co Wicklow, Ireland and is has just completed a part-time two year Level 8 Special Purpose Award: Art Textile at The Crawford College of Art and Design in Cork. Ramona also graduated a four year BA Hons degree in Photography in 2008. Her work in photography, painting and textiles tries to explore the mystical and the ineffable qualities of being, both in a spiritual but also a worldly way through her visual use of materials. She is a member of Feltmakers Ireland.
Fiona Harrington
Fiona studied Fine Art at Crawford College of Art in Cork and spent her twenties living on the Beara Peninsula in Southwest Ireland and in New Zealand. During this time she painted and exhibited extensively and her work has been purchased by a number of private and public collectors. Traditional textile making however was in her blood. Her mother was a lace-maker who had come from a long line of hand-weavers so when the opportunity to train at the Kenmare Lace and Design Centre presented itself, she accepted it with open arms. Here she learned traditional Irish lace techniques including Carrickmacross and Kenmare Needlepoint. She completed a degree in Textile Design at the National College of Art in Dublin and from here she went on to develop an individual style of contemporary Irish Lace. She received a number of prestigious awards including the Thomas Dammann Bursary, the RDS Graduate Prize and the Eleanor De La Branchardiere Award for innovation in Lace Design. Her lace work combines her experience as a painter, her skills as a lacemaker and her knowledge as a designer to produce an original collection of Irish Lace which stays true to the high standard attributed to handmade lace in Ireland.
Fiona's work is inspired by her surroundings, the everyday scenes of the Irish countryside which are so commonplace, they are often overlooked. She sees an almost reverent beauty in trees, flowers, animals, hedgerows and believes that through the meditative process of lacemaking she can connect with that beauty on a deeper level.
Her work featured in 'Lace, Paint, Hair', a 2020 group show curated by Sinéad K. Rice at National Gallery of Ireland.
Fiona Leech
"I'm a Dublin based artist, who has been passionate about design for as long as I can remember with a particular interest in textiles.
I studied theatre set and costume design in the late 80's in what is now TUD and emerged into a post recession, vibrant Dublin theatre scene. I worked as a freelance set and costume designer, 3D and theatre design lecturer with a little scenic art also for about 15 years.
After having my 3 children and being home a lot more I turned back to my biggest passion. I gathered some wools and threads and began experimenting. I discovered my love for felting combined with slow stitching which had the best of both worlds. Hard physical work creating the felt with gentle mediative hand stitching. It's only in the last few years that I've been confident to start showing my work. I am a member of Feltmakers Ireland."
Exhibitions include:
"Something Red" a collaborative exhibition with the Finnish felt organisation, Filtti and Feltmakers Ireland in Finland and Galway 2019
" Endangered" Feltmakers Ireland's annual exhibition at the Visitors Centre, Phoenix Park, Dublin 2020
"Keep Well" Collar and Ruff exhibition by DCCI at Dublin Castle 2021
"Summer Sundown" A selection of my work exhibited at the Moy Mackay Gallery, Peebles, Scotland 2021
"Sculpture in Context" Annual exhibition at the National Botanic Gardens 2021
"Colour our World" Feltmakers Ireland's annual exhibition at the Visitors Centre, Phoenix Park, Dublin 2021
I've been selected again this year for Sculpture in Context which I'm currently working on and preparing a large piece for this year's Feltmakers Ireland's next exhibition "Building Bridges".
Leiko Uchiyama
"I am a felt making artist nestled in the picturesque Blackstairs Mountains of County Carlow, Ireland. My journey here has taken me from my Japanese home as an agricultural and textile design graduate, to New Zealand, where I worked on a sheep farm, to Indonesia where my felt making techniques developed and France, where I relished my aesthetically and culturally rich surroundings.
The experience I have gathered through my making, all the sheep breeds and the many types of wool I have worked with, have helped me to refine my skills. I create wearable pieces with wool and silks which I dye using my own colour recipes. I also enjoy making functional pieces for the home such as tableware, stool tops, wall pieces or rugs.  Felt is such a wonderfully versatile material. I teach felting workshops throughout Europe, America, Australia and Japan and I have exhibited in different countries, it is wonderful how felting has taken me so far and yet I am still learning with every new encounter, every new commission. I believe the origin of craft lies in creating something for someone special, not only to serve a function, but to make our lives more colourful and rich."
Leiko is a member of Feltmakers Ireland.
Image: Annika Berglund
Sunday 7 August – Sunday 28 August 2022
3 Great Denmark Street
(beside Belvedere College)
Dublin 1
Telephone: +353 87 2887261
Opening hours / start times:
Tues to Fri: 11am to 6pm (till 8pm on Thursdays) • Sat & Sun: 12 noon to 5pm • Closed on Mondays (or viewing by appointment only)
Admission / price: Free