Sleepwalkers
Tuesday 19 June 2012 – Sunday 12 May 2013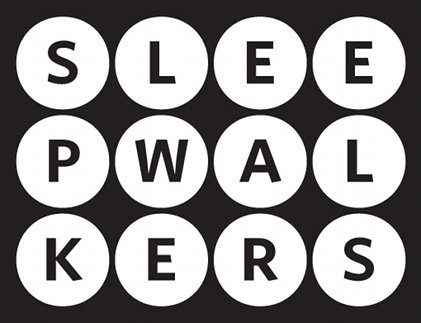 Sleepwalkers is the title for an investigational programming format based on 'exhibition making' where one's non-specific expectations of museums can be stretched out. Through its two strands, Possibilities ~ Contingencies andProduction as Process, it attempts to develop a dialectic process between artist and audience in 'exhibition making' as it asserts itself through the interaction of chance and reciprocity. The moot points explored are the complexities of relationships between individuals and institutions in an exchange which transcends traditional inside/outside or right/wrong binaries.
Following the metaphors explored in the Golden Bough exhibition programme, galleries 8 and 10 are activated as spaces of reflection and debate. The programme reflects upon whether our collective memory is reflected by the museum or does the museum construct a visual narrative of our identity that we internalise? This is of immediate importance in the contemporary debate of re-imagining communities and whether a singular stance is plausible anymore in the disrupting of established hierarchies.
Walker and Walker's installation The Owl of Minervawas shown in Gallery 10 along with their film Mount Analogue Revisited, a reworking of Rene Daumal's book 'Mount Analogue', as the first episode ofSleepwalkers: Possibilities ~ Contingencies from 22nd February until 10 June 2012
Jesse Jones' The Trilogy of Dust was the second response to the Possibilities ~ Contingencies theme, on view in Gallery 10 from 5th July until 7th October 2012. It acted as an edgy point of departure and a catalyst for the other strand of the Sleepwalkers project: Production as Process. As part of this unusual experiment in exhibition making, six artists will be meeting in Gallery 8 for a period of ten months to develop and synthesise their overlapping fields of knowledge into a programme of future site specific installations to be exhibited in 2012 and 2013 at Dublin City Gallery The Hugh Lane. Throughout this period Gallery 8 remains open to the public.
Sleepwalkers: Productions as Process
Artists: Clodagh Emoe / Sean Lynch / Lee Welch / Linda Quinlan / Gavin Murphy / Jim Ricks
Curators: Michael Dempsey / Logan Sisley / Marysia Wieckiewicz-Carroll
Tuesday 19 June 2012 – Sunday 12 May 2013
Admission / price: Free