SIRIUS Summer School: Brian O'Doherty: Reading Time
Tuesday 6 June – Saturday 10 June 2023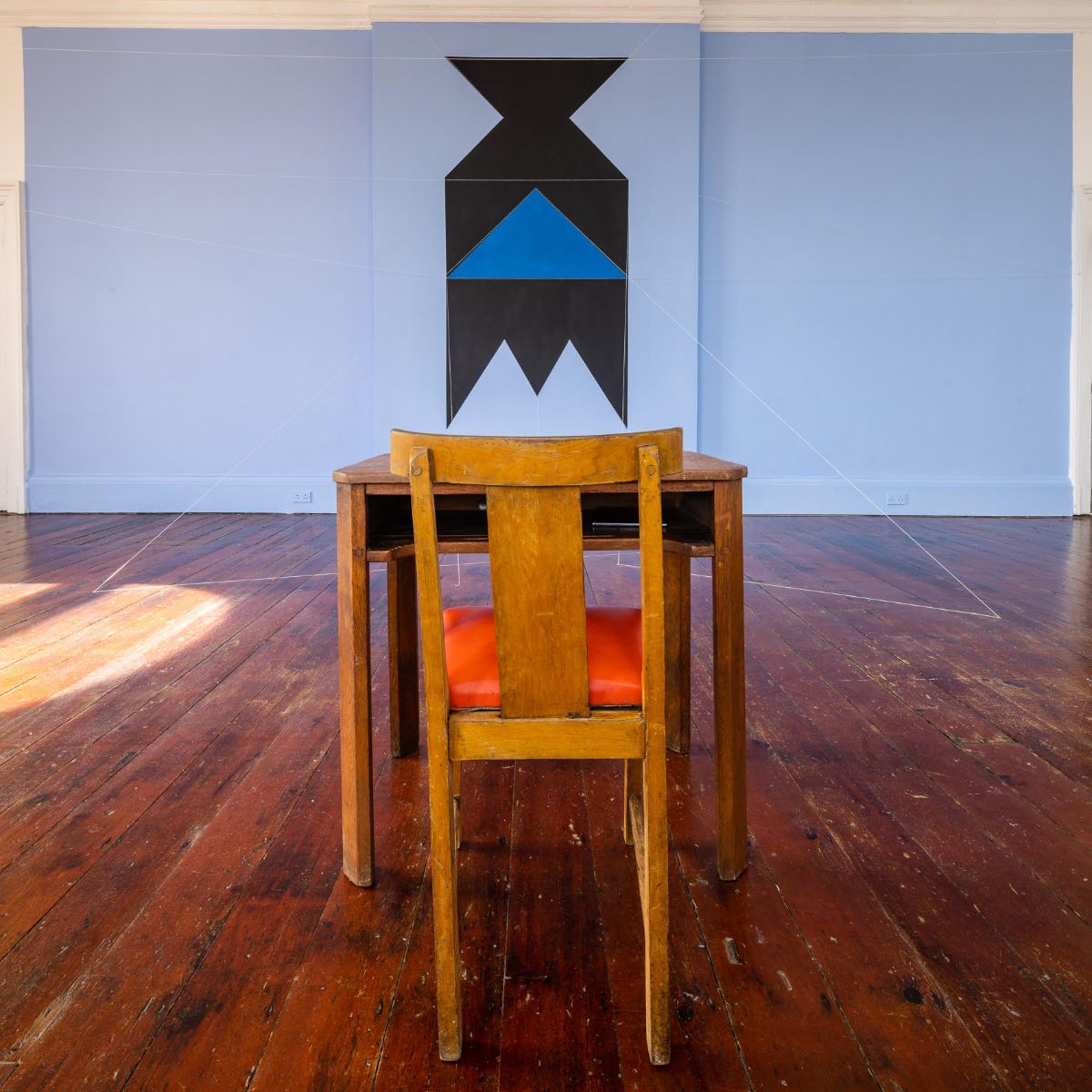 The SIRIUS Summer School examines the relationship between art and politics. The 2023 edition explores the practice of the Irish artist Brian O'Doherty (1928–2022) and the location of SIRIUS. One, Here, Now is the title O'Doherty gave the mural he carried out at SIRIUS in 1996; Cobh is from where he emigrated to the United States in 1957. All of this leads us to consider the art ecosystem's various affordances and potentialities, and what a visionary, strategically thinking artist such as O'Doherty can offer toward our interventions (through art and/or research) in the world. O'Doherty's warmth and generosity were significant ingredients in his work, feeding from his practice's connectedness to his home country. Such features show close ties with the macrocosms we operate in today. How can we, with O'Doherty as our guide, tackle the inequalities and injustices around us?
Led by Christa-Maria Lerm Hayes • Organized by SIRIUS
Christa-Maria Lerm Hayes is a scholar. Currently, she is Professor of Modern and Contemporary Art History at the University of Amsterdam. Previous positions include Professor of Iconology at Ulster University in Belfast and an Irish Research Council post-doctoral fellowship at University College Dublin. She gained her doctorate at the University of Cologne. Her books include Brian O'Doherty/Patrick Ireland: Word, Image and Institutional Critique (Valiz, 2017), Joyce in Art (Lilliput, 2004), and James Joyce als Inspirationsquelle für Joseph Beuys (Olms, 2001).
INFORMATION
SIRIUS
6 – 10 June; 11am – 5pm
Free
Attendance to all sessions is encouraged but not mandatory • Travel and subsistence costs are covered by participants
Registration via Eventbrite is essential
PROGRAMME
6 June
11am–1pm
Brian O'Doherty and Social Practice
2:30–5pm
Brian O'Doherty / Patrick Ireland and (Artists') Instituting Practices: A 'State-Crafting' Irish Emigrant between Ballaghaderreen, Dublin, Cobh, Boston, New York, and Washington
In a discussion at Printed Matter in New York in 2018, the artist and writer Gregory Sholette (who conducted the inaugural SIRIUS Summer School in 2022) encountered Brian O'Doherty for the first time and was surprised that O'Doherty, given that he was from a previous generation of artists who emigrated to New York, had already developed a distinct social practice. Using a recording of O'Doherty's remarks at that event at Printed Matter, we connect O'Doherty's work to current social practice discourse. Developing these thoughts further, we explore the question of O'Doherty both working in institutions and developing an institutionally critical, experimental, and/or interstitial institutional practice, with reference to, among other topics, recent work on 'state-crafting' through art and documenta fifteen (2022).
7 June
11am–1pm
James Joyce's Social Practice Legacies: Brian O'Doherty, Reading Groups, and Art
2:30–5pm
An Expanded Artistic Finnegans Wake Group Reading
Approaching James Joyce's literature through a reader like Brian O'Doherty can arguably help recoup the rich and critical, even dissident and decolonial, charge that Joyce's (late) work unleashed for many readers in 'marginal' or otherwise less-than-privileged communities. Reading groups of Ulysses and Finnegans Wake have flourished since the 1960s and have been found to be affectively rich and enabling for readers. How does literature relate to our lives? How does reading enhance our understanding and acceptance of complexity? What is Joyce's work's impact on readers, communities – and democracy?
8 June
11am–1pm
Art(istic) Research, Brian O'Doherty: Knowing/Not Knowing in Art, Medicine and (Other) ArtScience Fields
2:30–5pm
Participants' Focus
One institutionally critical practice with an affinity to social practice is art research (or artistic research/practice-based research). Brian O'Doherty's work – for instance Aspen 5+6 (1967) – has been considered foundational to this field, as per Lucy Cotter. Sarat Maharaj is another theorist (and curator) of this non-disciplinary discipline, whose concepts have grown out of his formative reading of Joyce. We probe the research elements in/of some of the works in the exhibition Brian O'Doherty: Reading Time, on view at SIRIUS. Participants also have an opportunity to bring their own works to bear on these issues and engage with one another as well as the organisers and convener of the SIRIUS Summer School.
9 June
11am–5pm
Sites of Cork Caucus – Public Space, Social Practice: The Legacies of Empathic Exchange
Cork Caucus is the umbrella term for a wealth of exhibitions, events, and a book coinciding with Cork's status as a European City of Culture in 2005. Cork Caucus was organized by the National Sculpture Factory and guest-curated by Art/Not Art (Fergal Gaynor and Dobz O'Brien), Charles Esche and Annie Fletcher. This initiative profiled and enabled positions from social practice, art research, decoloniality, instituting, and institutional critique. Engaging with Cork Caucus' issues and narratives, we 'read time' and ask questions about both Brian O'Doherty's and the initiative's legacies.
10 June
2:30–5pm
Brian O'Doherty's Work Furthering Empathic Exchange through Art's Multi-Modal Empowerment
This lecture reflects on a week of being with and thinking collectively about Brian O'Doherty – a unique artist and consummate art world operator – and his actions in the art ecosystem's various modes. Christa-Maria Lerm Haye's collaboration with O'Doherty has heightened her sense of empathy, warmth, and generosity as major ingredients of his work. These are also markers of his practice's connectedness to his home country and Cobh specifically. The expression 'empathic exchange' in the title of this lecture is borrowed from the title and concerns of SPACEX, a European Union-funded project in which both SIRIUS and the University of Amsterdam are involved. The lecture also seeks to tie these various elements together – that is, to read Brian O'Doherty/Patrick Ireland in time and place, 'one, here, now', to cite the title of his mural at SIRIUS.
Image: View of Patrick Ireland, aka Brian O'Doherty, HCE Redux, 2004 (remade 2023), SIRIUS, 2023. Paint, cord, table, chair, typed paper. Dimensions variable. Courtesy of The Estate of Brian O'Doherty. Photograph: John Beasley
Tuesday 6 June – Saturday 10 June 2023
The Old Yacht Club
Cobh, Co. Cork
Telephone: +353 21 481 3790
Opening hours / start times:
Wednesday – Saturday, 12:00 – 17:00
Admission / price: Free