Siobhan O'Connor: Structural Process and Possibility
Saturday 9 June – Saturday 30 June 2018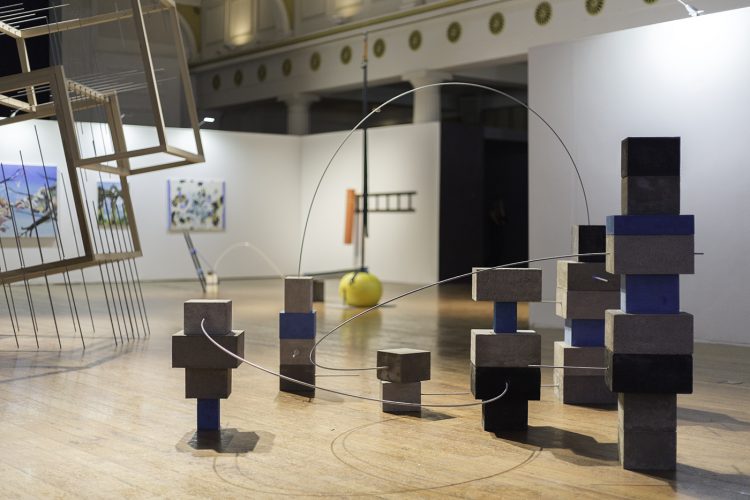 Roscommon Arts Centre is pleased to present Structural Process and Possibility by Siobhan O'Connor, Roscommon Visual Artists Forum Award Winner, 2018.
Castlerea-born artist Siobhan O'Connor's work explores architectonic construction and buildings or structures that are constantly been built, changed or shifted creating our landscape today. The exhibition will feature sculptural structures created using modern building materials such as concrete, metal and wood. Through these sculptural works, the material properties of these often unyielding materials will be pushed, reconfigured, resignified. Process and materiality play a central role in O'Connor's work where she is interested in the potentiality of building from simple lines, basic colours and simplified shapes. Her work considers how structures holds up one another; tension and suspension weight and balance. Her drawings are presented as almost procedural blue prints that can be executed and further used as a plan for works that don't necessarily exist.
This exhibition, entitled Structural Process and Possibility consists of a concrete and metal structure and a series of drawings. The structure is made of handmade concrete blocks, some of which are dyed a black and striking blue. Originally exhibited in the RDS as part of the RDS Student Awards in 2016, the sculptural structure is being reconfigured to respond to the architecture of Roscommon Art Centre's visual art space. The series of drawings consists of ideas of structures that have not yet been built and of structures that have. Central to O'Connor's process, these drawings function not only as devices to illustrate her ideas but also serve to solve intricate engineering problems.
Through the RVAF Award, Siobhan will also produce a new body of work for exhibition at Oonagh Young Gallery, Dublin in September 2018.
Siobhan O'Connor graduated from Dublin Institution of Technology in 2017. She has always been fascinated with technical drawing and the construction of architectural structures in building and shaping our landscape. In June 2016 she was awarded the Fire station Sculpture graduate award which granted her a studio (from September-December 2016) to create and investigate sculptural work. She was also recently shortlisted for the Visual Arts Award 2016 and selected to exhibit in the RDS along with 12 other artists in October 2016.
Saturday 9 June – Saturday 30 June 2018
Circular Road
Roscommon Town
Telephone: +353 90 6625824
Opening hours / start times:
Tuesday – Friday 10am – 5pm; Saturday 2pm - 5pm, on performance days only
Admission / price: As per event