Siobhán Hapaska & Stephen McKenna
Friday 30 November 2012 – Saturday 19 January 2013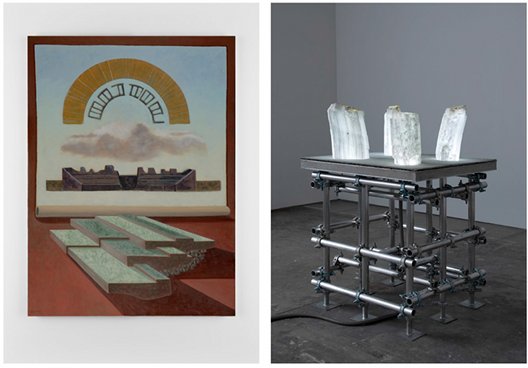 Opening Reception Thursday 29 November, 6 – 8 pm
This exhibition with its unlikely combination of two artists, Siobhan Hapaska and Stephen McKenna, provides a timely opportunity to showcase two highly individual positions on contemporary sculpture and painting.
Siobhán Hapaska is a mid career artist whose work is charged with a number of cultural and socio-political issues. Often difficult to categorize, her work is a poetic play of imagery and ideas that forge discordant connections. It's a complex interweaving of narrative that is articulated through a lexicon of materials incorporating extraordinary objects that range from light to magnets, tumble weeds to selenite. Siobhán Hapaska will present three new sculptures each of which resonate with historical references and the contemporary human condition of displacement and loss while crucially retaining her personal signature of humour and hope.
Stephen McKenna, now 73, is a painter whose work is equally difficult to categorize. Since long before his influential solo shows at Modern Art Oxford (1983) and Institute of Contemporary Art, London (1985) McKenna has remained impervious to changing art fashions with pictorial references ranging from classical antiquity to the time-honoured genres of the still life, the interior, the landscape and the seascape. McKenna draws on the hard won skills and knowledge of the history of painting to create contemporary works that not only never fail to intrigue and fascinate but not surprisingly have the wherewithal to stand the test of time. Selected paintings from 1970 to the present will form the content of this exhibition.
Hapaska has had solo exhibitions in recent years at Andréhn-Schiptjenko Gallery, Stockholm, Tanya Bonakdar Gallery, New York and Camden Arts Centre, London. She has also participated in various group exhibitions at venues such as Kunsthaus Graz, Austria, Musée d'Art Moderne de Saint Etienne, Musée d'art moderne at contemporain, Toulouse, France, Deste Foundation, Athens and Magasin 3, Stockholm. In 1997, she took part in Documenta X and in 2001 she represented Ireland at the Venice Biennale.
McKenna has had major solo exhibitions at the Modern Art Oxford, Stadtische Kunsthalle, Dusseldorf, the Irish Museum of Modern Art, Ca di Fra, Milan and the Douglas Hyde Gallery, Dublin. Most recent exhibitions include The Paradise [36], Douglas Hyde Gallery, Dublin, Ever Since I Put Your Picture In A Frame, 42 Carlton Place, Glasgow, Brillianfeuerwerk, Haus der Kunst, Munich and Tate Britain, Turner Prize Retrospective. In 1982, He participated in Documenta 7 and his work is represented in the collections of the Tate Gallery, London, the Berlinische Galerie, Berlin, Staedtische Sammlungen, Rheinhausen, Musées Royaux des Beaux-Arts de Belgique, Brussels and Fries Museum, Leeuwarden, Netherlands.
Image: Left – Stephen McKenna, Piranesi 1, 2012, oil on canvas, 135 x 100 cm; Right – Siobhán Hapaska, four angels, 2012, selenite, aluminium, forged aluminium fittings, concrete cloth, LEDs & electrical components, 150 x 100 x 100 cm
Friday 30 November 2012 – Saturday 19 January 2013
Anne's Lane
South Anne Street, Dublin 2
Telephone: +3531 670 9093
Opening hours / start times:
Monday 10:00 - 17:45
Tuesday 10:00 - 17:45
Wednesday 10:00 - 17:45
Thursday 10:00 - 17:45
Friday 10:00 - 17:45
Saturday 11:00 - 16:30
Admission / price: Free