Sinéad Ní Mhaonaigh | Struchtúr
Thursday 3 February – Saturday 26 February 2022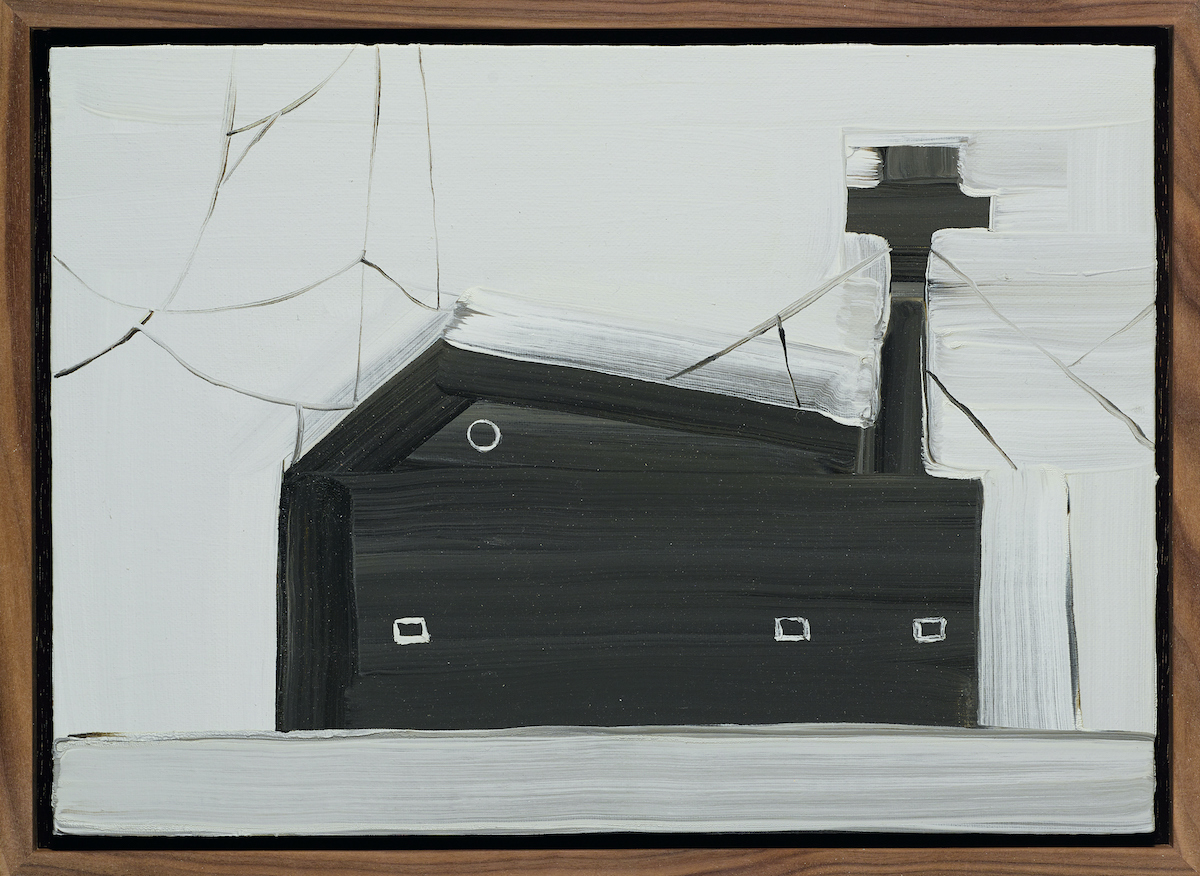 ――― In venue ―――
Within the vernacular of Irish architecture, these angular painted forms seem strangely familiar yet irredeemably distant. Gable silhouettes and steeply pitched roofs recall back-to-back suburban terraces, just as a ramshackle lean-tos and modular off-shoots channel the utility of country life.
Neither formal places of habitation nor industry, agriculture nor recreation, these non-spaces propose a conceptual framework for the built environment. In a Heideggerian sense, this struchtúr embodies the metaphysical schemes of landscape; it frames building and dwelling as existential pursuits, underpinned by our sense of being in the world.
Extract from 'Notes on Struchtúr', an accompanying text by Joanne Laws.
Sinéad Ní Mhaonaigh (b.1977, Ireland) graduated with a BA in Fine Art Painting from Dublin Institute of Technology in 2001. Recent solo exhibitions include Uillinn, West Cork Arts Centre, Cork (2021), Dúil Series, Online Exhibition, Kevin Kavanagh, Dublin (2021), Macalla, Mermaid Arts Centre, Co. Wicklow (2020), Teorainn, Kevin Kavanagh, Dublin (2020), The Dock, Co.Leitrim (2020), Achar, Kevin Kavanagh, Dublin (2018). Galway University Hospital, Galway (2016), Dúil, Limerick City Gallery of Art, Limerick (2016), Sinéad Ní Mhaonaigh, VOLTA NY, New York (2016). Recent selected group shows include Drogheda Municipal Art Collection, Highlanes Municipal Gallery Drogheda (2021), Awakening, Pablo's Birthday, New York (2021), Home : Being and Belonging in Contemporary Ireland, The Glucksman, Cork, curated by Chris Clarke and Fiona Kearney (2021), John Moores Painting Prize 2018, digital presentation, Shanghai Minsheng Art Museum, China (2021), John Moores Painting Prize, Walker Art Gallery, Liverpool (2018).
Image: Sinéad Ní Mhaonaigh, Struchtúr, Oil on panel, 34 x 46 cm, 2021
Thursday 3 February – Saturday 26 February 2022
Chancery Lane
Dublin 8
Telephone: +353 1 475 9514
Opening hours / start times:
Tuesday to Saturday 11am – 5pm
Admission / price: Free