Sinéad Ní Mhaonaigh: Deep Mapping: Unseen Landscapes
Saturday 11 February – Friday 31 March 2023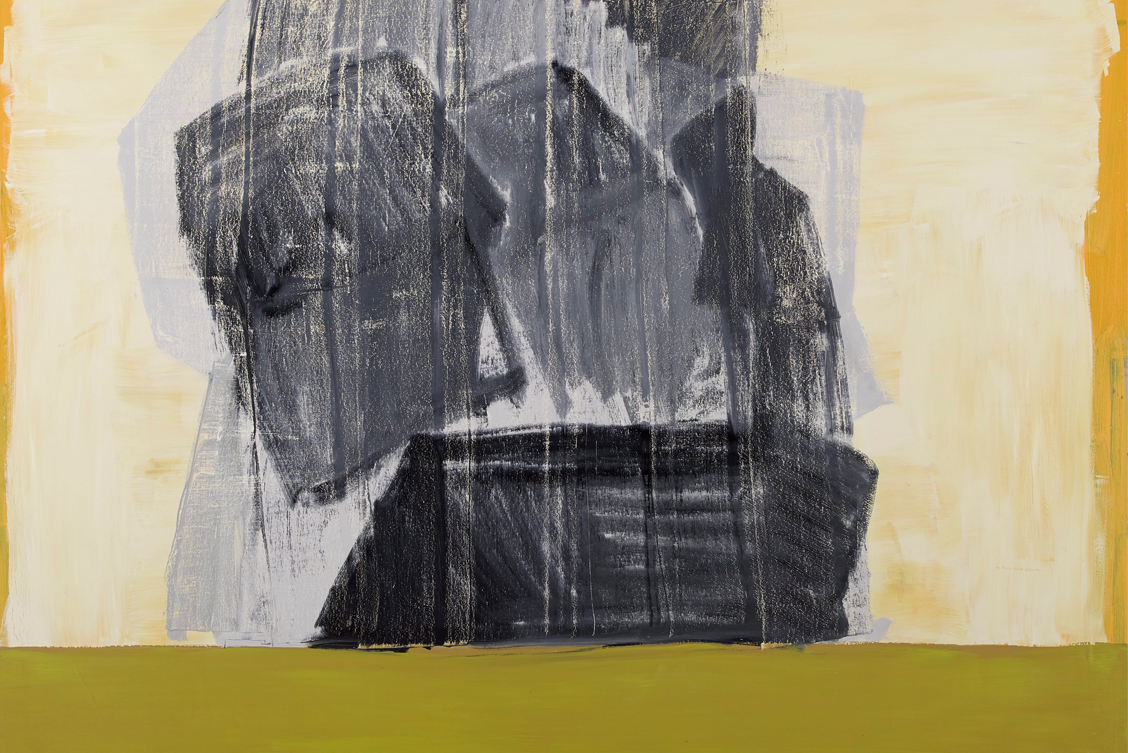 ――― In venue ―――
Exploring her artworks on display, join Sinéad in the gallery on Friday 24 February, where she will discuss her methodical painting process, exploration and elaboration of bound space.
"We need more fluid ways of perceiving the layers that are everywhere, and new ways of calling attention to the passages between old and new, of weaving the old place into the new place."
– Lucy Lippard (i)
In his book, Mapping the Invisible Landscape, American scholar Kent C. Ryden reminds us that landscapes have 'unseen components', made up of subjective experience, memory, and narrative.(ii) According to Ryden, our sense of place consists of deeply ingrained, experiential knowledge, and an awareness of our communal and personal histories. In many ways, it is these hidden aspects of place that Sinéad Ní Mhaonaigh summons each time she paints. Over the course of several decades, the artist has cultivated a semantically rich visual language, comprising three distinct but overlapping strands: that of structure, landscape, and pure abstraction.
For her solo exhibition at Solstice Arts Centre, Ní Mhaonaigh presents a series of new paintings that characteristically feature prominent elements of the built environment: vernacular structures, houses, factories, sheds. However, one notes that over time, some of these buildings have been demolished, therefore reframing the durational function of painting as one of recording a landscape in flux. These works portray absent forms in a moment prior to their erasure; however, they also trace the enduring hum of subatomic particles, or the ways in which enigmatic shadows continue to haunt the horizon. Movingly, the artist describes this kind of spatial and temporal dislocation as "working with an ever-present void."
Deep mapping is described by Mike Pearson and Michael Shanks as attempting to "record and represent the grain and patina of place through juxtapositions and interpenetrations of the historical and the contemporary, the political and the poetic, the discursive and the sensual."(iii) This intuitive and embodied form of mapping allows Ní Mhaonaigh to dig deep into a place. When observed through a spatial lens, landscape becomes a limitless container of knowledge; a site where material and immaterial remnants converge and coexist.
These paintings also consider present-day human relations to the land at a very basic level: How do we dwell? Who determines the value or usefulness of knowledge? How do we cultivate sustainable communities and authentic lives? Representing only the empirical physicality of landscape, traditional maps fail to convey how place is perceived and inhabited by different people over time.(iv) By contrast, through the non-linear act of painting, Ní Mhaonaigh traces unseen layers across exterior and interior registers to purposefully situate herself in the world.
Text by Joanne Laws
______________________________
i.) Lucy R. Lippard, The Lure of the Local: Senses of Place in a Multicentred Society (New York: The New Press, 1997)
ii.) Kent C. Ryden, Mapping the Invisible Landscape: Folklore, Writing, and the Sense of Place (Iowa City: Iowa University Press, 1993) p 17
iii.) Mike Pearson and Michael Shanks, Theatre/Archaeology (London: Routledge, 2001) pp 64-65
iv.) Leticia Sabino et al., 'Empathy Walks' in Phil Cohen and Mike Duggan (eds.), New directions in radical cartography: Why the map is never the territory (Landham, Maryland: Rowman & Littlefield, 2021) p 183
Image: Sinéad Ní Mhaonaigh: Monument No.2 (detail), 2020, oil on canvas, 182 x 182cm; courtesy of the artist, Kevin Kavanagh Gallery, Dublin & 532 Gallery Thomas Jaeckel, New York
Saturday 11 February – Friday 31 March 2023
Navan, County Meath
Telephone: +353 46 9092300
Opening hours / start times:
Tuesday 11:00 - 16:00
Wednesday 11:00 - 16:00
Thursday 11:00 - 16:00
Friday 11:00 - 16:00
Saturday 11:00 - 16:00
Admission / price: Free