Sinéad Ní Mhaonaigh: Contours
Friday 2 May – Friday 23 May 2014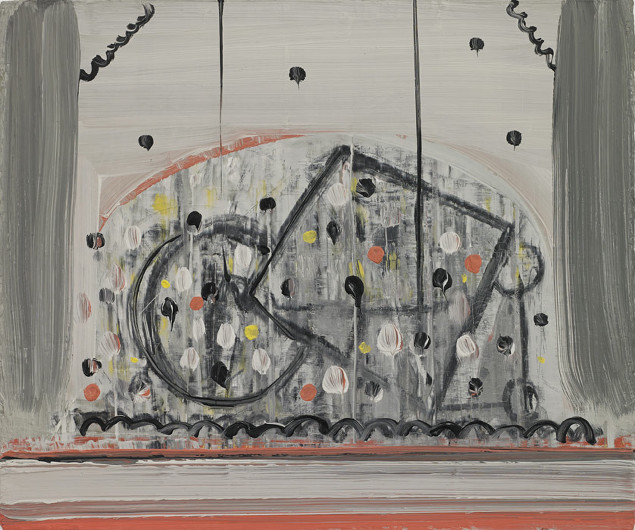 Opening reception Thursday 1 May at 6pm
Speaking recently about the power of painting, the American art critic Peter Schjeldahl noted:
"… there's something irreducible about a rectangular surface covered with marks that are all absolutely on purpose and made of physical stuff like we are. When it's good, it demands – and allows – the highest degree of refinement of our feelings and perceptions."
His words seem to apply directly to Sinéad Ní Mhaonaigh's paintings, for her works extol both the dynamism and complex subtleties of her medium, and get us thinking about the world around us in entirely new ways. Wielding a palette primarily comprised of black, white, pinks and yellow-greens she creates resolute compositions that yield a potent optical charge and induce distinct moods in viewers. Moreover, a powerful sense of physicality adds to their impact. The way she brushes on, dabs, scratches into and scrapes away paint not only delivers striking juxtapositions of colour, texture, pattern and shape, but also impart tactile qualities that intensify each work's presence.
Ní Mhaonaigh's solidly structured pictorial statements hover somewhere between abstraction and representation. Referencing landscape, various types of structures and natural phenomena, the compositions range from the visually dense to austerely minimal and come in closed and open formats – with or without a painted surround that can intimate a window frame, proscenium stage, or the border of a television screen, instagram image or story board. But what the pictures truly convey is open to interpretation. On one hand her scenes propose fleeting glimpses, fragmented memories and discontinuous narratives; on the other the application and manipulation of paint appears to be their focus. One cannot easily skim over her work. At heart, something elemental resides in her blurred vistas, fluffy vehicles and oft kilter constructions, call it a force or tension, which captivates. Its vigour demands protracted engagement and, by necessity, viewing turns out not only to be durational; it also becomes a highly personal experience.
---
James Adams, For New Yorker art critic, all art is contemporary, The Globe and Mail, 21 March 2014http://www.theglobeandmail.com/arts/art-and-architecture/for-new-yorker-critic-all-art-is-contemporary/article17613943/. Accessed 10 April 2014.
Friday 2 May – Friday 23 May 2014
Chancery Lane
Dublin 8
Telephone: +353 1 475 9514
Opening hours / start times:
Tuesday 10:30 - 17:30
Wednesday 10:30 - 17:30
Thursday 10:30 - 17:30
Friday 10:30 - 17:30
Saturday 11:00 - 17:00
Admission / price: Free