Sinéad Ní Mhaonaigh ARHA
Friday 9 September – Sunday 23 October 2022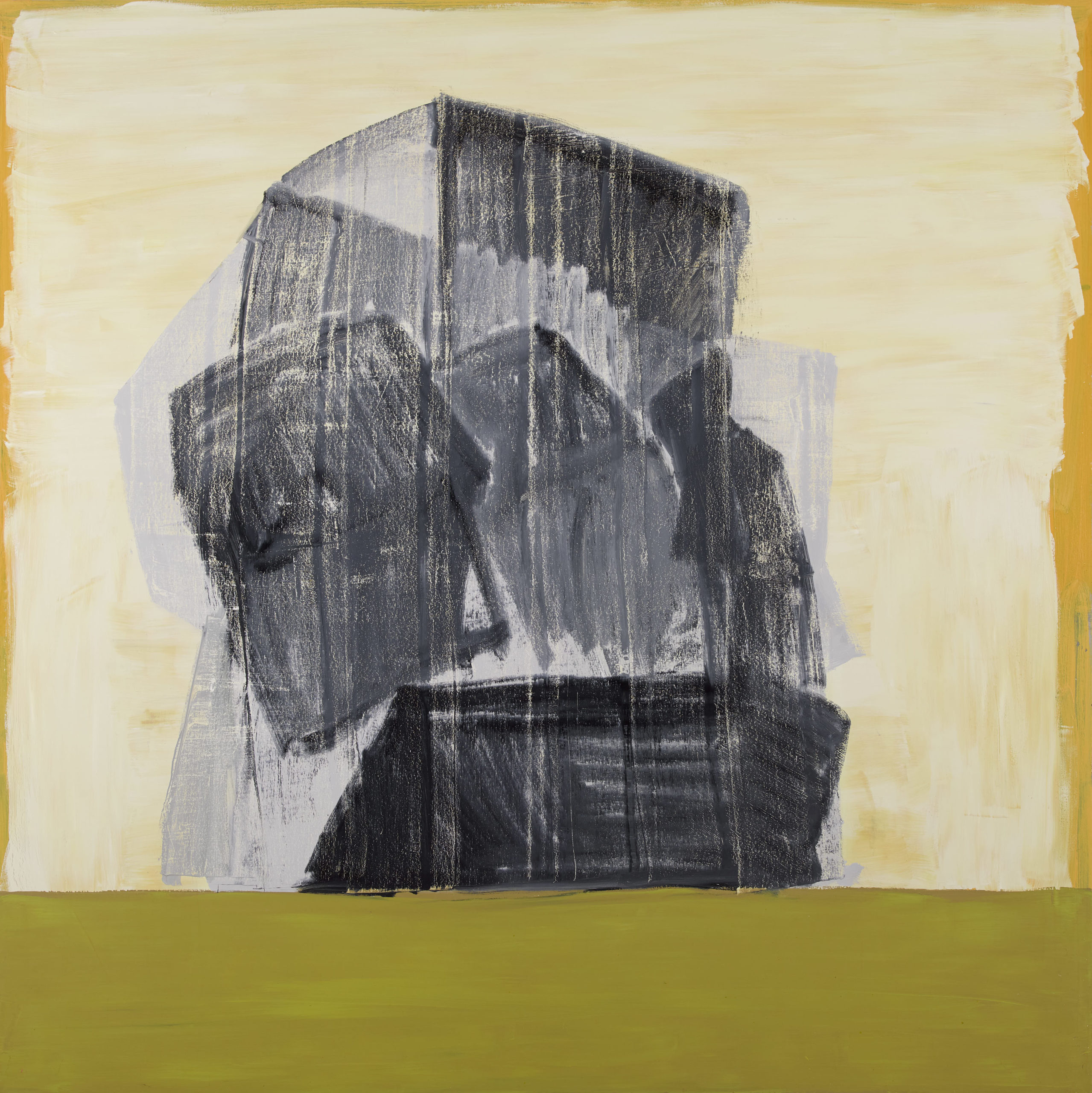 ――― In venue ―――
A selection of works from Sinéad Ní Mhaonaigh ARHA on display in the RHA foyer
'Sinéad Ní Mhaonaigh is innately concerned with the material qualities of paint, and the physical act of painting itself. Resisting the confinements of allegory, she earnestly engages with painting as its own autonomous language. Much like a poet, Ní Mhaonaigh is interested in ambiguity and in anachronisms.'
It has been said that she is a painter who suggests rather than represents. Over the past two decades, Ní Mhaonaigh has presented solo exhibitions whose titles comprise singular words, derived from the Irish language, that describe the lived environment. These include Struchtúr, Cnuasach, Imlíne, Eatramh, Imeall, and Ardán – which translate into English as Structure, Cluster, Contour, Interval, Margin, and Platform. This litany of nouns serves to emphasise prevailing concerns in her work, relating to the exploration and elaboration of bounded space.
One is free to interpret this in formal terms, as the construction of pictorial architecture, or as a gesture towards more symbolic or enigmatic spaces. Indeed, rather than addressing the particular or the parochial, Ní Mhaonaigh's paintings achieve an 'opening up' of landscape to consider universal themes of language, ancestry, and timeless depictions of place.' Artist Statement
Sinéad Ní Mhaonaigh ARHA graduated in 2001 from Fine Art Painting at the Dublin Institute of Technology. Ní Mhaonaigh has exhibited extensively in both Ireland and abroad at venues including Limerick City Gallery of Art, Anthony Slayter-Ralph Fine Art, Los Angeles, Centre Culturel Irlandais Paris, Millenium Court Arts Centre, Armagh, Highlanes Municipal Art Gallery, The Living Room Gallery, New York, Ard Bia Berlin.
Ní Mhaonaigh's work is in represented in numerous public and private collections including The Arts Council of Ireland/An Chomhairle Ealaíon, Office of Public Works, Ernesto Ventós Barcelona, Limerick City Gallery of Art, Beth Rudin DeWoody Collection, Drogheda Municipal Art Collection at Highlanes Art Gallery.
Ní Mhaonaigh has been shortlisted for the John Moores Painting Prize, 2018, The Marmite Prize for Painting V, 2016, Joint winner of The Hennessy Craig Scholarship, 2010, AIB Prize, 2009. The artist is represented by Kevin Kavanagh Gallery.
Image: Sinéad Ní Mhaonaigh, Monument II, oil on canvas, 182 x 182cm, courtesy of the artist
Friday 9 September – Sunday 23 October 2022
15 Ely Place, Dublin 2
Telephone: +353 1 661 2558
Opening hours / start times:
Monday 11:00 - 17:00
Tuesday 11:00 - 17:00
Wednesday 11:00 - 19:00
Thursday 11:00 - 19:00
Friday 11:00 - 19:00
Saturday 11:00 - 19:00
Sunday 14:00 - 17:00
Admission / price: Free