Sinéad Ní Mhaonaigh: Ardán
Thursday 4 February – Saturday 27 February 2016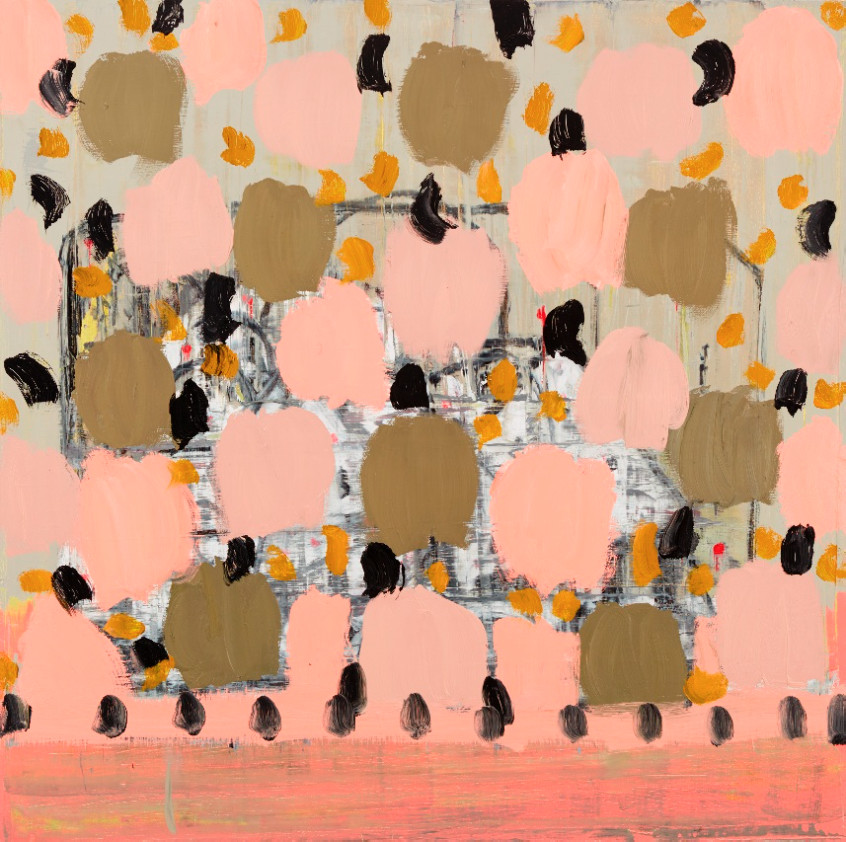 'Sinéad Ní Mhaonaigh's paintings capture texture, surface and form within the realm of abstract painting. Her paintings are exquisitely rich and highly charged; having developed her own distinctive language with each body of work she responds and reflects on the language of painting, disregarding traditional notions of representation for a more ethereal form. Her painting process is rigorous and laborious; the paintings are built up over time and then pared back allowing for chance and improvisation, on close viewing of the paintings the layering and texture of the work is revealed on the surface. The repetition of forms from different angles in each painting allows for a deeper understanding and with each new body of work she reflects on a previous body of work as she systematically resolves the issues she encounters as she moves forward. The architectural form that is present in each work varies in scale, colour and design, one surface visibly laid upon another. As a painter she tends to proceed intuitively, an 'impulse of the psyche' where there is no definitive or absolute. This series of paintings are intimate in scale and have a muted palette, Ní Mhaonaigh often paints a frame within her paintings; the device intonates a 'fictionality or at least artificiality' through which we view the world. It represents the observer of the work or the artist once removed from the canvas.' 
– Excerpted from an essay that will accompany the exhibition, by Mary Cremin.
Sinéad Ní Mhaonaigh (b1977) graduated with a BA in Fine Art Painting from Dublin Institute of Technology in 2001. Ní Mhaonaigh has exhibited widely in Ireland and abroad. Recent solo exhibitions include Imlíne, Triskel Gallery, Cork, 2014, Contours, Kevin Kavanagh, Dublin, 2014, Paintings, Linehall Arts Centre, Mayo, 2012 and Eatramh, Kevin Kavanagh, Dublin, 2011. Ní Mhaonaigh has also taken part in many group exhibitions including Hold to the Now, SLAG Gallery, New York, 2015, Last, The Douglas Hyde Gallery, Dublin, 2012, UNBUILDING, Mermaid Arts Center, Wicklow, 2010 and Futures, Royal Hibernian Academy, Dublin, 2009. Ní Mhaonaigh was awarded the Hennessy Craig Scholarship, and the Wicklow County Council Art Bursary in 2010. Her work is held in many important public collections including the Office of Public Works and Highlanes Art Gallery in Drogheda as well as private collections in Ireland, across Europe and the USA.
Mary Cremin is a curator based in Dublin. She holds a degree in Art History and Geography from University College Cork and graduated with a Masters in Visual Art Practices from the Institute of Art, Design and Technology, Dublin. Recent curatorial projects include TULCA Festival of Visual Arts, Seachange, (2015) which included over 30 national and international artists. 
Thursday 4 February – Saturday 27 February 2016
Chancery Lane
Dublin 8
Telephone: +353 1 475 9514
Opening hours / start times:
Tuesday to Saturday 11am – 5pm
Admission / price: Free