Sinéad Ní Mhaonaigh: Achar
Thursday 26 April – Saturday 26 May 2018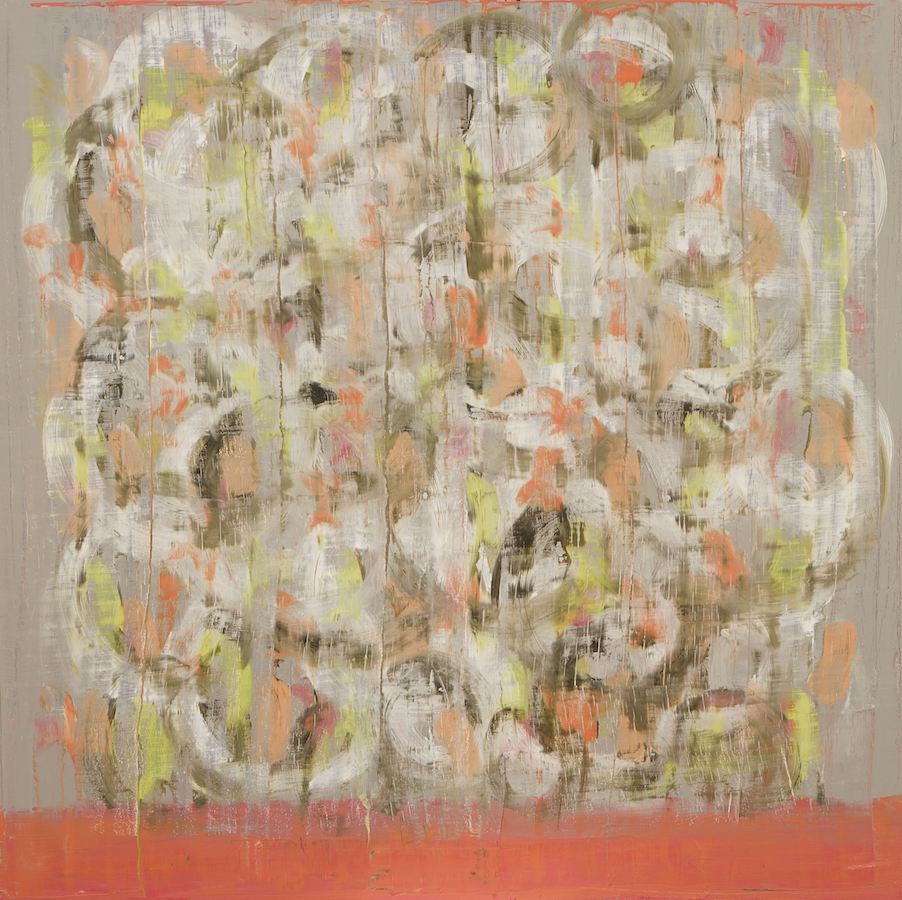 'We again observe the complete preoccupation with paint itself, with the simple play of colours against one another. Many of the recent paintings pulled out from stacks that afternoon in Bray seemed to follow this logic, canvases filled to bursting with dragged daubs of complementary colours: swampy greens and starchy whites, mauves and greys. Within these busy spaces, something like a pattern emerges, aided along by the imperfect repetition of brush strokes — the natural drag of the hand, perhaps, or the physical impact of brush against the canvas skin. Typically, this patterned plane sits within another, bounded in by the sharp border of a second limit point. A border within a border, then, again bringing our attention of the weird leaps of fancy made possible by colour and line. Even within this doubly negated space, space and time appear to happen as though by accident. The eye tracks a line from colour to line, generating a weird rhythm that is something very close to a second kind of, painterly, sight. Incidences like these mean I am constantly surprised when I look and think about painting. Not by the technical skill required to paint, exactly, but the way that skill is communicated through paint. Often, this process — something like the way water tenses with cold, becoming ice — remains indistinct: we are only left to say, this is a good painting, or such and such paints well. Perhaps, then, when we describe someone as a painter's painter it is exactly this mystery that is being brought centre stage. The point at which paint itself assumes something like autonomy, becoming a conduit for skill. And, when I look at and think about Sinéad Ní Mhaonaigh's paintings, I have to remind myself of this point: while painting might be a preoccupation of mine, her works prompt me to accept the limits of my own understanding. And probably to fasten me still further to paint'.
Extracted from an essay titled, A Painter's Painter by Rebecca O'Dwyer
Sinéad Ní Mhaonaigh (b1977) graduated with a BA in Fine Art Painting from Dublin Institute of Technology in 2001. Ní Mhaonaigh has exhibited widely in Ireland and abroad. Recent solo exhibitions include Ardán, Kevin Kavanagh, Dublin (2016), Dúil, Limerick City Gallery of Art (2016), Imlíne, Triskel Gallery, Cork (2014) Contours, Kevin Kavanagh, Dublin, (2014) Paintings, Linehall Arts Centre, Mayo (2012) and Eatramh, Kevin Kavanagh, Dublin (2011). Ní Mhaonaigh has also taken part in many group exhibitions including Hold to the Now, SLAG Gallery, New York (2015), Last, the Douglas Hyde Gallery, Dublin, (2012) UNBUILDING, Mermaid Arts Center, Wicklow (2010). She has also exhibited as part of Volta NY in a solo presentation in 2016. Ní Mhaonaigh has been awarded the Hennessy Craig Scholarship, the Wicklow County Council Art Bursary in 2010 and was shortlisted for the The Marmite Prize for Painting in 2016. Her work is held in many important public collections including the Office of Public Works, the Centre Culturel Irlandais, Paris, the Highlanes Art Gallery in Drogheda and The Arts Council as well as private collections in Ireland, across Europe and the USA.
Rebecca O'Dwyer is an art critic based in Berlin. Her writing has appeared in Paper Visual Art Journal, Enclave Review, frieze, Fallow Media, Source Photographic Review and elsewhere.
Thursday 26 April – Saturday 26 May 2018
Chancery Lane
Dublin 8
Telephone: +353 1 475 9514
Opening hours / start times:
Tuesday to Saturday 11am – 5pm
Admission / price: Free