Sinéad Ní Mhaonaigh
Saturday 12 March – Tuesday 19 April 2011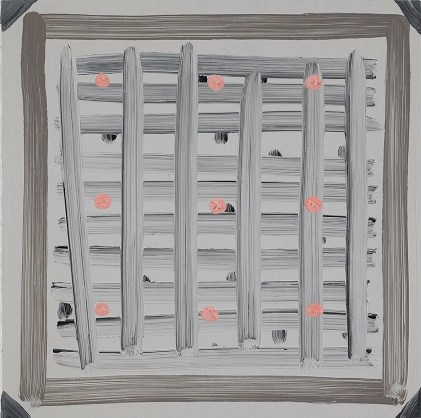 A new exhibition of work opens at Highlanes Gallery on Saturday 12 March 2011 at 2pm
Highlanes Gallery presents a new body of work by painter Sinéad Ní Mhaonaigh.
Sinéad Ní Mhaonaigh's untitled series explores liminal space, that is, the intervening spaces or interstices between objects and forms. Through this exhibition, spaces are presented with varying degrees of density. The exploration of painting in these works is spare, pared down and presented with a dramatic use of colour. They are suggestive of the performative aspect of painting.
Ní Mhaonaigh's painting of the frame draws attention to the edge of each work. This, in turn directs the viewer to the central composition presented. These works explore the complexities of looking and the disparity between the image and the construction of the image.
Sinéad Ní Mhaonaigh (b. 1977) is a visual artist based in Dublin. Her work has been exhibited nationally and internationally. Recent solo exhibitions include Paintings, West Cork Arts Centre, 2010, Paintings, Galway Arts Centre, 2009. Her work has been curated and selected for the following exhibitions, UNBUILDING at the Mermaid Arts Centre, 2010, curated by Cliodhna Shaffrey, Eilis Lavelle and Rosie lynch, Regarding Painting together with artists Diana Copperwhite, Paul Nugent, Sarah Dwyer, Axel Sanson and Esther Teichman, 2010curated by Elaine Byrne at Kevin Kavanagh, Dublin.
Her work is included in many public collections, including Contemporary Irish Arts Society, Arts Council of Ireland, the Office of Public Works, Dublin Institute of Technology, Boyle Civic Collection, The Mermaid Arts Centre and Aspen Insurance. In 2009, she was shortlisted for the AIB Art Prize and was selected for Futures exhibition at the RHA Gallagher Gallery, Dublin, curated by Patrick T. Murphy and Ruth Carroll. In 2010 she won the Hennessy Craig Scholarship at the RHA.
In 2010, her work was acquired for the Drogheda Municipal Art Collection at Highlanes Gallery; the gallery later publishing a catalogue on Ní Mhaonaigh's practice with essays by art critic Aidan Dunne and curator Padraic E. Moore.
The exhibition at Highlanes Gallery is planned to travel to the Centre Culturel Irlandais, Paris, France later in 2011 and in early 2012 to Millennium Court Arts Centre, Portadown, Northern Ireland.
The exhibition will be opened by Séan Kissane, Head of Exhibitions, Irish Museum of Modern Art on Saturday 12 March at 2.00pm. All welcome.
Gallery admission is free, suggested donation €2.00.
Sinéad Ní Mhaonaigh's catalogue is available at the main reception for €40.00
The accompanying programme developed by Highlanes Gallery includes an Adult Workshop led by the artist (Sinéad Ní Mhaonaigh) on Saturday 26 March from 11.00am – 1.00pm and a Workshop for young people (aged 13-17yrs) from 1.30pm – 3.00pm, also led by the artist.
These gallery-based workshops focus on both the practical and conceptual. Booking is advised as places are limited, and all materials are supplied.
Cost: Adult workshop: €10 per adult; workshop for young people: €5 per person. Concessions for Highlanes Gallery Friends, Patrons and Benefactors apply.
Lecture:Abstract Art presented by Lisa Moran
Saturday 26 March at 2:00pm
Abstraction is one of the defining features of Modernism in the twentieth century and a prevailing trend in contemporary art. Focusing on the work of a number of key artists, this talk will look at the emergence of abstraction in early avant-garde movements such as Cubism, Expressionism and Dada, its evolution through Surrealism and Abstract Expressionism and finally consider the significance of abstraction as a tendency within contemporary arts practice.
Lisa Moran is Curator of Education and Community Programmes in the Irish Museum of Modern Art. She studied Fine Art at the Cooper Union School of Art in New York, and has an MA in the History of Art, from the National College of Art and Design in Dublin where she also lectures on visual culture. She is currently undertaking research towards a PhD on the subject of commemoration in contemporary art.
Free, booking advised
The gallery will open on St. Patrick's Day, Thursday 17 March from 12.00-5.00pm.
Image: Sinead Ní Mhaonaigh: Untitled, 2010, oil on canvas, 40 x 40cm, courtesy of the artist and Kevin Kavanagh Gallery.
Saturday 12 March – Tuesday 19 April 2011
Laurence Street
Drogheda
County Louth
Telephone: +353 41 9803311
Admission / price: Free