Sinéad Ní Mhaonaigh
Thursday 3 February – Saturday 5 March 2011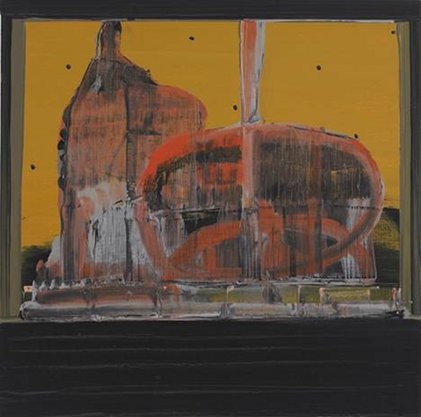 Sinéad Ní Mhaonaigh's untitled series explores liminal space, that is, the intervening spaces or interstices between objects and forms. Through this exhibition, spaces are presented with varying degrees of density. The exploration of painting in these works is spare, pared down and presented with a dramatic use of colour. They are suggestive of the performative aspect of painting.
Ní Mhaonaigh's painting of the frame draws attention to the edge of each work. This in turn directs the viewer to the central composition presented. These works explore the complexities of looking and the disparity between the image and the construction of the image.
Sinéad Ní Mhaonaigh (born 1977) was shortlisted for the AIB Prize in 2009 and was selected for Futures at the RHA Gallagher Gallery, Dublin, curated by Patrick T. Murphy and Ruth Carroll in that same year. In 2010 she won the Hennessy Criag Scholarship at the RHA. Recent shows include, Paintings (solo), West Cork Arts Centre, 2010, Paintings (solo), Galway Arts Centre, 2009, UNBUILDING with Bea McMahon at the Mermaid Arts Centre, 2010, curated by Cliodhna Shaffrey, Eilis Lavelle and Rosie lynch, Regarding Painting with Diana Copperwhite, Paul Nugent, Sarah Dwyer, Axel Sanson and Esther Teichman (2010) curated by Elaine Byrne at Kevin Kavanagh, Dublin. Her work is represented in many collections, both private and public in Ireland including the collections of Contemporary Irish Arts Society, Arts Council of Ireland, Drogheda Municipal Art Collection at Highlanes Art Gallery, Office of Public Works, Dublin Institute of Technology, Boyle Civic Collection, The Mermaid Arts Centre and Aspen Insurance. Next March The Highlanes Gallery, Drogheda, presents a major exhibition of her work and in Autumn she will also show at the Centre Culturel Irlandais, Paris.
Image: Sinéad Ní Mhaonaigh
Thursday 3 February – Saturday 5 March 2011
Chancery Lane
Dublin 8
Telephone: +353 1 475 9514
Opening hours / start times:
Tuesday to Saturday 11am – 5pm
Admission / price: Free