Simon Burch: On Common Ground
Saturday 24 September – Saturday 29 October 2011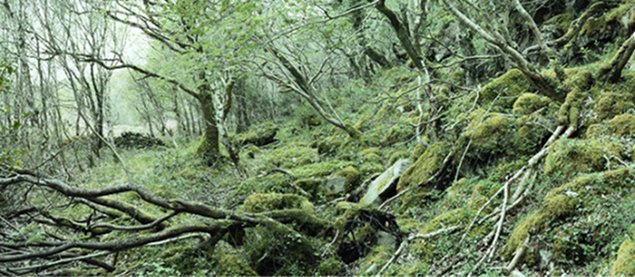 Opening Reception Friday 23 September at 6pm
This exhibition is a continuation of Simon Burch's work concerning the Irish landscape. The large scale photographic prints show two aspects of man and nature's interaction,abandoned woodland and the scorched earth of gorse fires. As land use intensifies these intimate and personal views offer a reflective counterbalance to the preconceived notions of landscape.
Simon Burch is a photographer based in Dublin. Originally from Northern Ireland he worked in London for 8 years, moving to Dublin in1996 to establish a studio. His work practise is divided between assigned and Fine Art work, and this exhibition is a continuation of his previous project 'Under a grey Sky',concerning the Irish landscape.
These large scale photographic prints explore pockets of land in different states of cycle, and can be seen as indicators of a broader record of evolving interaction with Irish landscape.
Simon Burch has won International awards, and his work is held in collections in Ireland and abroad. He has been commissioned by Time Magazine, his work has appeared in the New Yorker, and has twice been an invited artist to the Royal Hibernian Academy Annual Show.
Presented by RUA RED with support from the Arts Council. With thanks to Metro for their generous support.
Saturday 24 September – Saturday 29 October 2011
South Dublin Arts Centre
Tallaght, Dublin 24
Telephone: +353 1 451 5860
Opening hours / start times:
Monday 10:00 - 18:00
Tuesday 10:00 - 18:00
Wednesday 10:00 - 18:00
Thursday 10:00 - 18:00
Friday 10:00 - 18:00
Saturday 10:00 - 18:00
Admission / price: Free